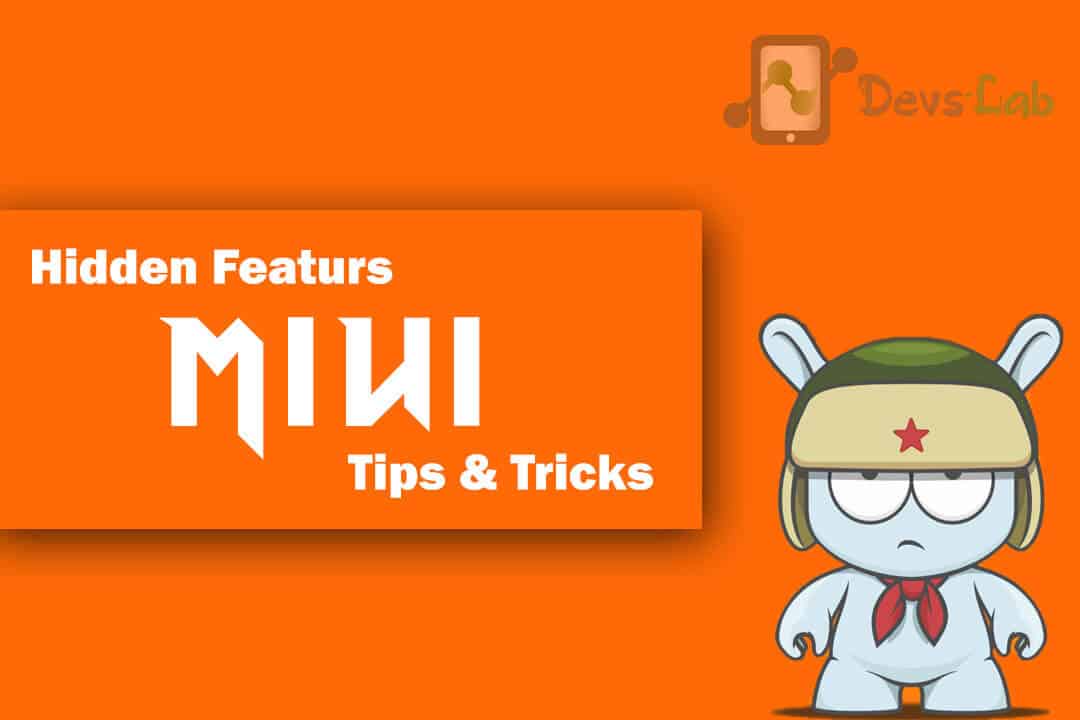 Xiaomi is a Chinese mobile manufacturer who has recently entered Indian markets with various successful devices like Redmi Note, Redmi2, MI, MI4I etc. Since it has created big market, we should identify all hidden features, tips and tricks. Xiaomi is basically a software developing company and hence its mobiles are packed with some exceptional software and features which otherwise you have to install from third party play store application. Here are top tricks and tips to make your Xiaomi even more smarter and none of them require rooting. (All these tips works on MI 4I but can also be helpful on all Xiaomi devices with minor alteration).
1. How to read Regional fonts (Russian/Gujarati fonts) – No root required.
Xiaomi handsets have support for six Indian Languages including Hindi. But there is no support for Gujarati, Marathi, Punjabi and many other Indian Languages. The only solution in other handset is to root your phone and install regional fonts. But With Xiaomi, you just install 'Purple Texture' theme and activate it in fonts. Now you can read all Gujarati WhatsApp messages, Gujarati Websites and everything. To activate, go tothemes>Local>download Purple texture theme. And best part is, the theme is absolutely free to download.
Note: Afterwards if you changed your theme, go to Settings>additional Setting>Font>Choose System Font and then check 'Purple textured' fonts to continue reading regional fonts with all themes.
2. Enable Guest Mode in New Xiaomi
Guest mode lets you hide your photos, messages, notes, call details and etc. from other people.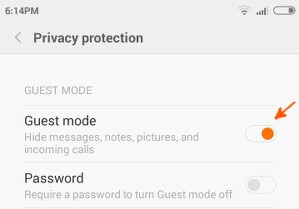 If you ever need to hand over your Xiaomi phone to someone for a while, you can turn on Guest Mode to hide your secret messages or sexy photos.
Activate: Setting>Privacy>Privacy Protection>Guest mode.
3. How to use password to protect apps in MIUI 6,7 – MI & Redmi
Why to install third party application to lock your apps in MIUI 6 ROM or Xiaomi devcie like Mi3, Mi4, Redmi 1s. You can get this feature by default in MIUI 6 ROM, yes no need to install any application to protect your privacy. With the help of this new feature you can lock any of the application on your device and also lock the setting of the phone. Now no one can change the settings of your device and can't see the personal files like images and videos. All it takes is just less than 30 seconds or so to have your device secured enough. In other words no one else other than you can access the app you will to protect without knowing the pass pattern.The process is so simple and one of the best and easiest method to lock gallery, Whatsapp, Messages, FB and any listed that you wish to could be locked. So lets take a look how this works on the MIUI devices.
Activate: Setting>Privacy>Privacy Protection>App lock.
4. Enable One Hand Mode in Xiaomi Mobile Phones
Big screens on smartphones seem to be the order of the day. While it definitely brings ease of reading and better viewing experiences, there poses a problem too: difficulty to use it using one hand. Unless you have big hands, it's pretty hard to move your thumb across the whole screen of a Mi3 or Mi4. Now, you don't have to fear that problem any more!!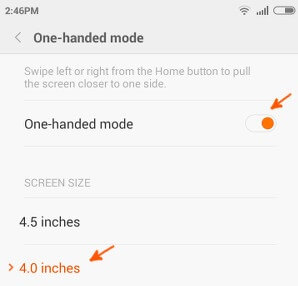 Activate

: You can make the setting of 4 inch or 3.5 inch from setting>Additional Setting>One Handed mode
5. Start Camera from lock screen and other tips to use camera
Redmi features the ability to quickly access the Camera app without having to unlock the device or open the app itself. With this feature, you'll never miss a moment with your Redmi's camera.!!
Method 1: With the Swipe screen enabled, you can tap and slide up the lock image to launch the Camera app.
Method 2: Setting > Accessibility > Buttons
6. Network indicators
You always want to check speed of your internet connection. Here is a tip to do so without installing third party software in Xiaomi handset.  You will always get connection speed in the top notification bar.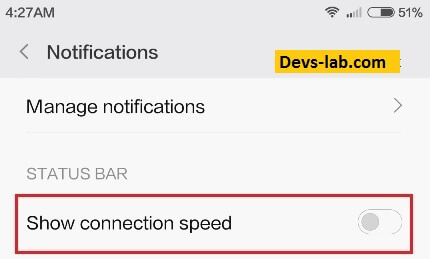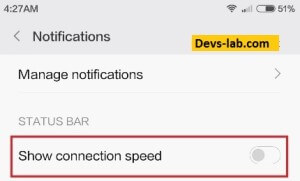 Activate

: Go to setting> notification and turn on connection speed indicator.
7. How to Enable Detailed notification in Xiaomi
You drop down the notification bar and see '04 messages from 02 WhatsApp contacts', you don't want to go to WhatsApp application to see whose messages are those. There is a shortcut tip for this too. Just zoom out in the notification and you will get detailed list of whose messages are those and then you can decide whether to check it or not.
8. Tips to Boost Xiaomi Battery Life
With all smart phones, draining battery is a major concern. We have no option but to install third party software for battery saving. Here is the tip to do it without going to play store. With Xiaomi there is in-built feature to adjust different battery modes. Go to Security> battery> battery profiles (or setting>additional setting>battery). You can choose from Default, Marathon and sleep modes. Also you can switch to battery saver profile automatically when battery reaches certain % or at certain time. Like you can switch to marathon mode when battery reaches 15% or sleep profile between 10 PM and 6 AM. This is another great tip to boost your battery automatically.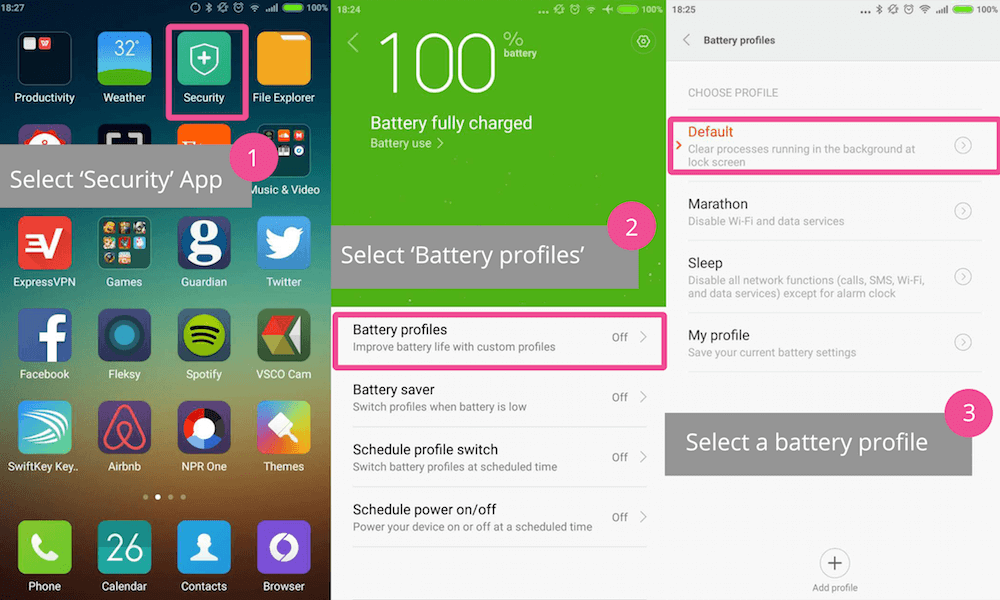 9. How to Restrict data on Xiaomi Mobile Phones
You can use Xiaomi's built-in Data usage feature to track your mobile data usage to avoid additional charges on your bill. so lets go ahead..!! Go to security App
On the Security app, tap Data usage.
Tap , then select Mobile data limit.
Tap Peak data limit to enter your monthly mobile data limit.
Adjust the Data Usage Warning Level slider to set the usage warning level. When the device reaches this level, you will see a usage warning.
Tap Usage cycle reset date to set the date of the month where the data usage is reset to 0.

xiaomi_data_usage
10. How to Restrict Apps from using mobile data
On the Security app, tap Data usage.
Tap Restrict > Downloaded
Find the app you want to restrict the use of mobile data.
Tap the "Allow" button  to change to "Disallow" in the Data column.

xiaomi_data_usage
11. How to Boost RAM (tip using home button)
The left home button works in two-way. Long press it for few seconds and you get access to change wallpaper, windows, themes etc. just tap once and you can get list of all running applications. Just dismiss it by swiping up and you can stop them and boost your RAM. Also, just press the X icon at bottom and you can kill all running applications.
Additional tip: If you don't know what is the application, just zoom out and you will get all details about the running applications as shown in the attached picture.
Xiaomi handset has still many powerful tips and features. We will continue to update you with all those latest in next articles. If you found these tips useful, just leave a thanks in the comment box below and share with your friends. Do let us know if you have any unique trick or not mentioned in this post.