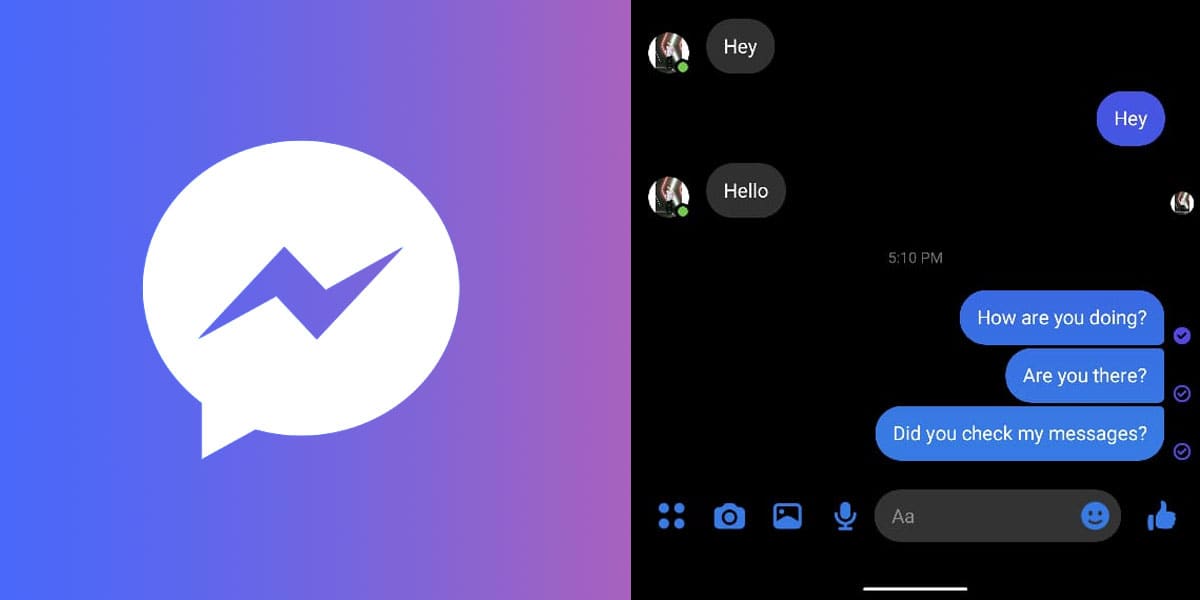 Although technology has undergone massive evolution over the past decade, it has brought significant threats towards user privacy and security. There have been tones of debates already suggesting how social media poses a threat to every aspect of privacy. To tackle this, social media moguls are going to great lengths to ensure maximum user privacy when browsing through any particular application. 
One such social media application is Facebook (Meta). If you are regular to Facebook and want to give yourself a wider privacy space for personal usage, you should know how to read a Facebook message without being seen. At times, we often end up tapping on messages which we were never meant to be seen. This can be awkward at times especially if the message is from the person you have been avoiding and planning on keeping it the same.
In such cases, one should know how to read a Facebook message without being seen. If you don't, we have you covered. In this article, we will walk you through on how to read Facebook messages without the sender knowing.
However, just to be sure, this article will help you read Facebook messages which are sent to you and you don't want the sender to know about it. If you want to read some other persons' Facebook messages then you need to install spy apps. You can refer to this article to install free spy apps for your Facebook messenger.
How to Read a Facebook Message Without being Seen
Reading a Facebook message without letting the sender know is perhaps one of the greatest skills of the 21st century. That way, you can get to know what the other person has sent without letting the person know the same. There are different ways on how to read a Facebook message without being seen. Here are a few of them for you to try out.
1. Check Messages from Phone's Notification
This is as easy as it gets. One of the topmost solutions to not opening a person's Facebook message but also reading it is by checking the message from your phone's notification screen. Every time you get a message on Facebook or any other social media application, your phone will issue a notification about the same on your home screen.
This notification includes the name of the sender and the message in brief. Also, you can further expand this notification to get the time of the message and a deeper insight into what the message is about.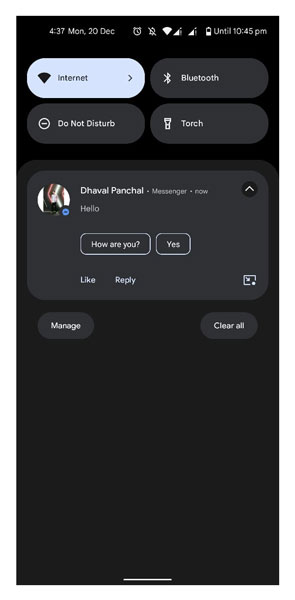 2. Turn Off Internet to Read the Chat
There's book-smart and then there's street-smart, which is precisely what you need to be here. Another smart way of not letting the sender know whether you have read the message is by turning off your internet connection before you read the chat.
Simply turning off your Internet connection will allow you to open and read the chat by preventing the app itself from knowing whether you've seen the message. Once you've read the chat messages, close the app before turning your Internet back on. 
Also read: How to Turn off Chat on Facebook
3. Ignore Conversation
When it comes to ignoring someone, you tend to ignore everything about that person altogether, including their Facebook conversations. You can opt to send the chat to spam and read it there or not read it altogether. To ignore a conversation on your Facebook messenger, follow the given steps
Launch Facebook Messenger
Long-press on any chat you wish to ignore
Select Ignore Messages & Tap on Ignore to continue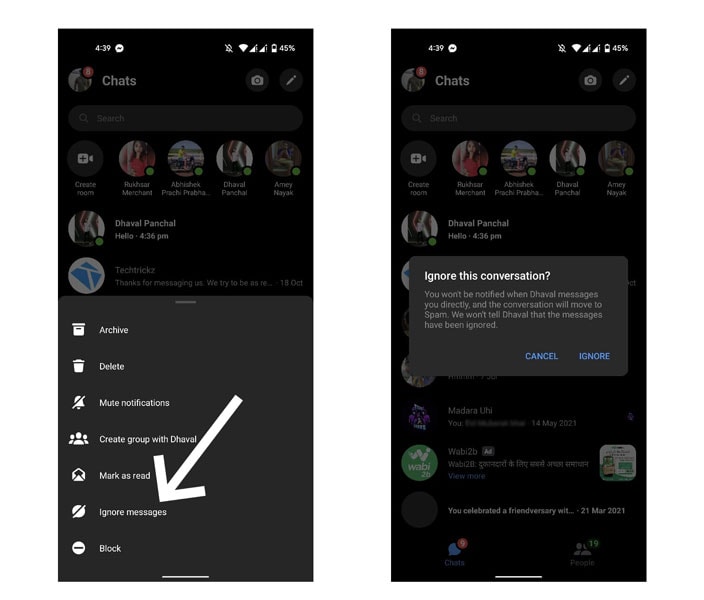 This will now move the message to the Spam folder and you will no longer receive messages for the same
Tap on your profile on the top left corner
Go to Message Requests
Next, click on Spam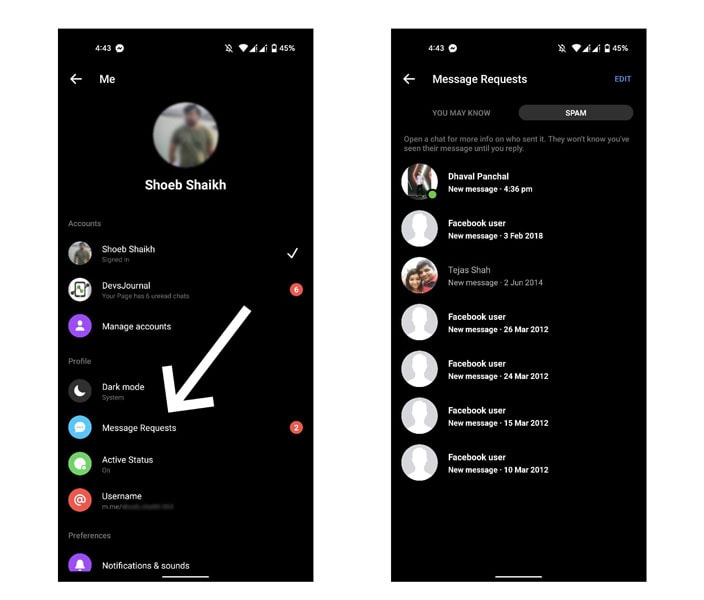 Open the chat and read all the messages present
This will move the chat to the spam folder and all read-receipts will be automatically turned off. Now, you can read all the messages without the sender knowing. If you wish to receive notifications for this chat again, simply reply to any message on the chat to get it out of the spam folder.
4. Read the Chats from the Pop-Ups
As we mentioned earlier, every time you get a notification from any of the social media applications through the notifications on your phone's screen. These notifications will generally appear in the form of pop-ups. You can get a brief idea of the what message is along with the time it was delivered. This way, you can avoid letting the sender know that you have read the message.
5. Using Browser Extensions
We know that browser extensions come off as annoying the majority of the time. However, when you dig in, you will realise that these browser extensions actually come in handy when dealing with such sticky situations. For example, if you are running Facebook on your PC, then you can opt for a few third-party browser extensions. These browser extensions are configured to bypass the read receipt feature.
To get the browser extension on Google Chrome, go to the Chrome Webstore and search for Unseen for Facebook Messenger. Install this extension and then click on Add to Chrome. Then, click on Add Extensions.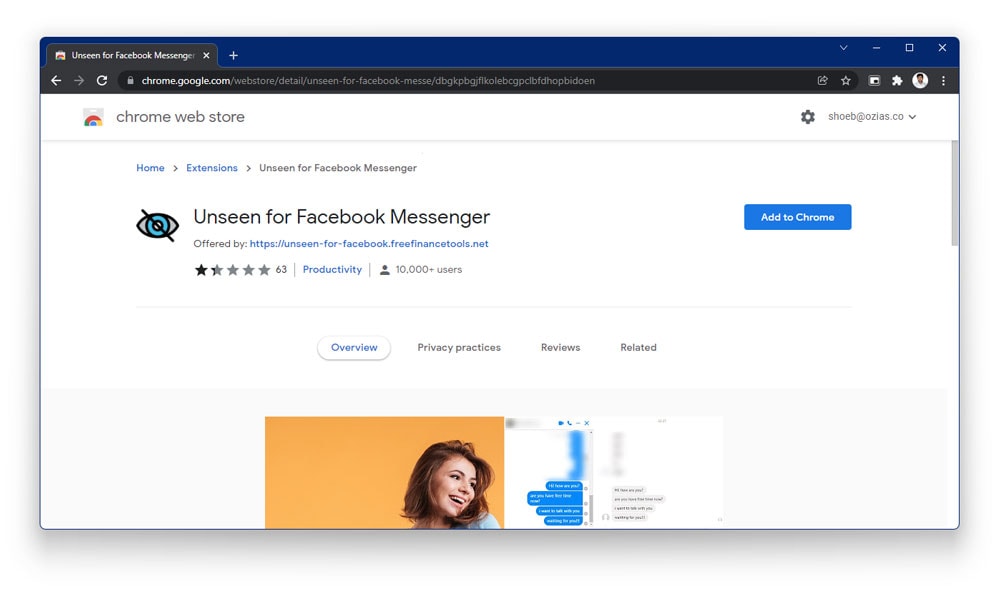 Once this extension is up and running, you can check messages on Facebook without worrying about the sender knowing about it.
Conclusion
These are some of the proven ways on how to read Facebook messages without being seen. If you are looking to widen your private space for personal use, then you ought to know how to read messages on Facebook without being seen. Using any of the above mentioned methods will keep you in the loop about what the sender has sent by giving you a brief insight into the message along with the time stamp.