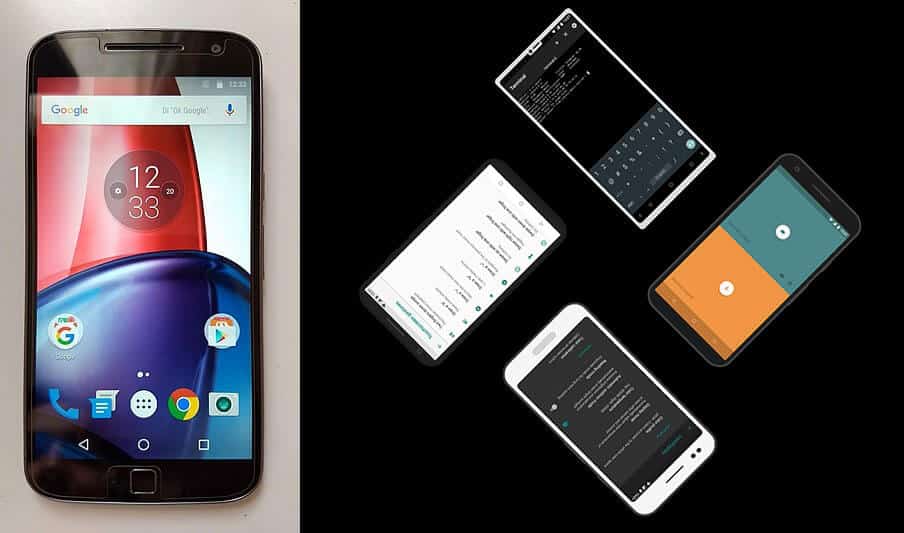 LineageOS is designed to increase performance and reliability over stock Android for your device. Finally the wait has been over for Motorola Moto G (2014) users. They can now taste the all new LineageOS 17 (Android 10.0) ROM which is very stable. Resurrection Remix ROM is designed to increase performance, customization, power and the most new features and it is based on LineageOS, SlimRoms, Omni and original Remix ROM.
Lineage 17.0 (Android Q) for Moto G4 (2014)
If you are using your Moto G4 as your secondary device, you can upgrade to Android 10 as it has enhanced features such as Wi-Fi sharing via QR codes, Dark mode, Smart Reply for all messaging apps & many more. You can go ahead and download the unofficial version of the LineageOS 17.0 ROM from below.
You can try all the new features that come along with the ROM, the only problem with this unofficial ROM version is SELinux is permissive.
Note: We are not responsible for anything happening to your device during this process. We won't suggest you to use this ROM as your daily driver, as most of the main features are not working.
Prerequisites
The instructions provided in this guide are meant for Motorola Moto G LTE 2014 (codename Titan) only. Do not attempt this procedure on any other model, as it could inadvertently brick or permanently damage the device.
Back up your important data and settings on the phone, before you proceed with the firmware installation.
Ensure TWRP recovery is installed on the device and it is rooted.
Verify that your phone's battery is fully charged or has at least 80% battery charge while doing the firmware installation.
Screenshots: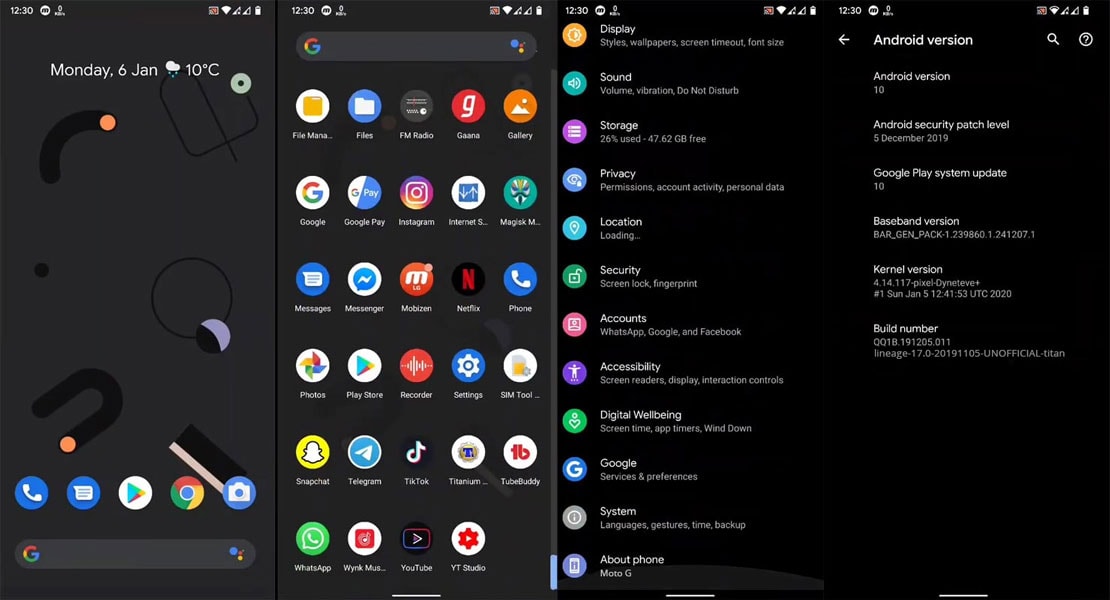 Download LineageOS 17 (Android 10) for Moto G4 (2014)
How to Install LineageOS 17 (Android 10) in Moto G (2014)
Step 1: Download the LineageOS 17 ROM and Gapps zip files from the links provided.
Step 2: Connect your device to PC, and copy the ROM and gapps files to a separate folder on your phone's internal storage. After copying the files, just disconnect the device from computer.
Step 3: Boot your device into recovery mode using Quick Boot app from play store or manually boot into recovery mode as follows:
Turn off your device and wait for 5-10 seconds until the device is fully shut down
Press and hold the Volume down and the Power button together and release them only when the display turns on.
Now, hit volume down button to highlight Recovery option, and then use Volume up button to select it.
Your phone should now boot into TWRP recovery else if you see an Android with exclamation mark, then you need to install TWRP recovery once again.
Step 4: [Optional] Once in TWRP, take a backup of your device. Select Backup, and then choose all the partitions for backup. Then perform the swipe action from the bottom to start taking a backup of your existing firmware with user data.
Step 5: Perform a Factory Reset from TWRP's main screen: tap on Wipe and then do the Swipe action from the bottom of the screen to confirm it.
Step 6: Return to TWRP main screen and install the ROM file: tap on Install, locate the ROM file you downloaded earlier, and then tap on it to select it. Then do the Swipe action at bottom to begin flashing the update.
Step 7: Hit the Home button to return to the main recovery screen. Now, install the Gapps like you installed Marshmallow ROM on your Moto G 2014 earlier.
Step 8: Once Gapps is also installed, just tap Reboot system button to restart the device.
Note: If you face any bootloop issues or Google Play services error, then try reinstalling the ROM once again without flashing Gapps. That should fix the problem.
Lineage 16.0 (Android P) for Moto G4 (2014)
Conclusion
I have personally used the ROM & I didn't feel any lag or instability in LineageOS 17.0. So if you are still using Cyanogenmod 13 in your Moto G4 please upgrade the version to Lineage OS 17 (as it is officially launched) for the better phone performance, customization and power. If you have any questions, comment below.