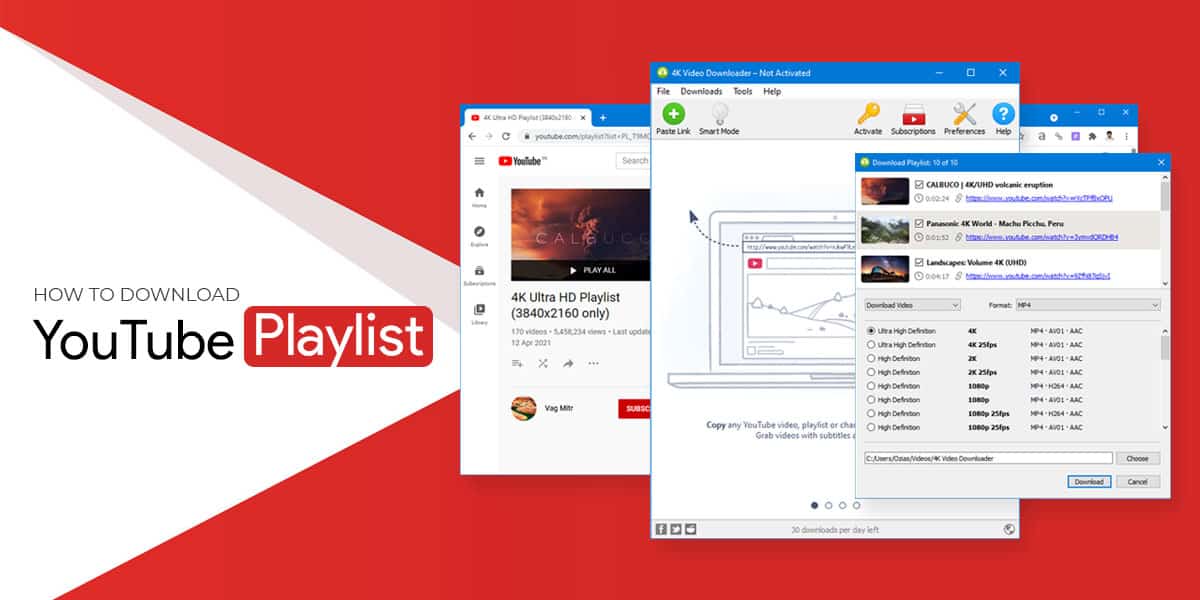 It is not possible to access YouTube everywhere. There are still places on this planet void of internet connections. Even on a flight, you are not allowed to access the internet. Therefore, you may not be able to enjoy your favourite YouTube videos.
There are options available that can be used to downloaded not only YouTube videos, but entire YouTube Playlists. Let's look at some famous platforms which can be used to download YouTube videos and YouTube playlists.
How to Download Playlist from YouTube
There are many software out there that provide users with the option to download YouTube videos. The user interface is very standard for all of them where you can insert the link of the desired video, choose the format for which you like the video in and click download. Though many exist, none can match the download capabilities provided by the 4K Video downloader.
Here are some of the best 4K Video downloader features:
The 4K Video Downloader, like any other YouTube downloading software, has a simple user interface. The 4K downloader provides you with the option to enjoy any video offline. You need to just copy the link, use the "Paste link" option and press Download. But this software offers much more than the others in the market.
Using 4K Video Downloader you can download complete playlists and channels from YouTube. You can also download your YouTube mix and Watch Later videos in a high-quality format. There is an automated option where the software will download new videos uploaded on your favorite YouTube channels.
Most software does not give you the option to download the subtitles which accompany the videos. However, using 4K Video Downloader you can get subtitles in SRT format for every video you download. You can choose from 50 languages of subtitles available for each video and playlist.
While most YouTube video downloaders give you the option to download a video in resolution up to 1080p, the 4K Video Downloader allows you to download videos up to a resolution of 4K. You can enjoy these videos in many formats like MP4, AVI and MKV, to name a few.
Other than YouTube, you can also download videos from platforms like Vimeo, TikTok, SoundCloud, Facebook and Instagram. To keep your identity safe, the 4K Video Downloader gives you the option to connect to a proxy server.
While a free Starter version of the app exists, the download options on it are limited. A Personal version is available for $15 and Pro version is available for $45.
Steps to Download YouTube Playlist using 4K Video Downloader
The user interface of 4K Video Downloader is very friendly and easy to understand. Regardless, let us look at the steps one should take to download a playlist from YouTube using 4K Video Downloader.
Download 4K Video Downloader and Install it.
Copy the link of the playlist you wish to download. It could be a Watch Later playlist or your YouTube mix.
In 4K Video Downloader, click "Paste Link".
Next, you will come across a dialogue box, asking if you want to "Download playlist" or "Download Clip". Choose the first one.
Next, you get to choose the format and resolution of your liking.
Click the "Download" button and wait for the download to finish.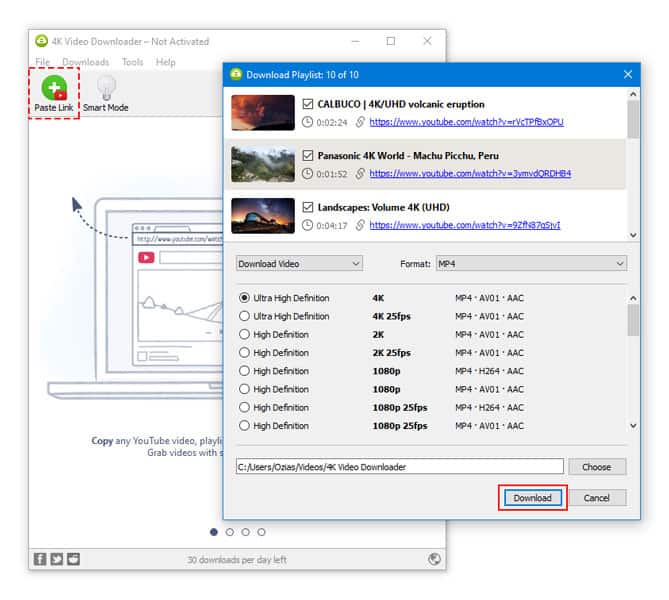 Alternate Ways to Download YouTube Playlist
While 4K Video Downloader is one of the best options out there to download videos and youtube playlists there are other good options available for users. Following are some of the best software to download playlists from youtube.
1. By Click Downloader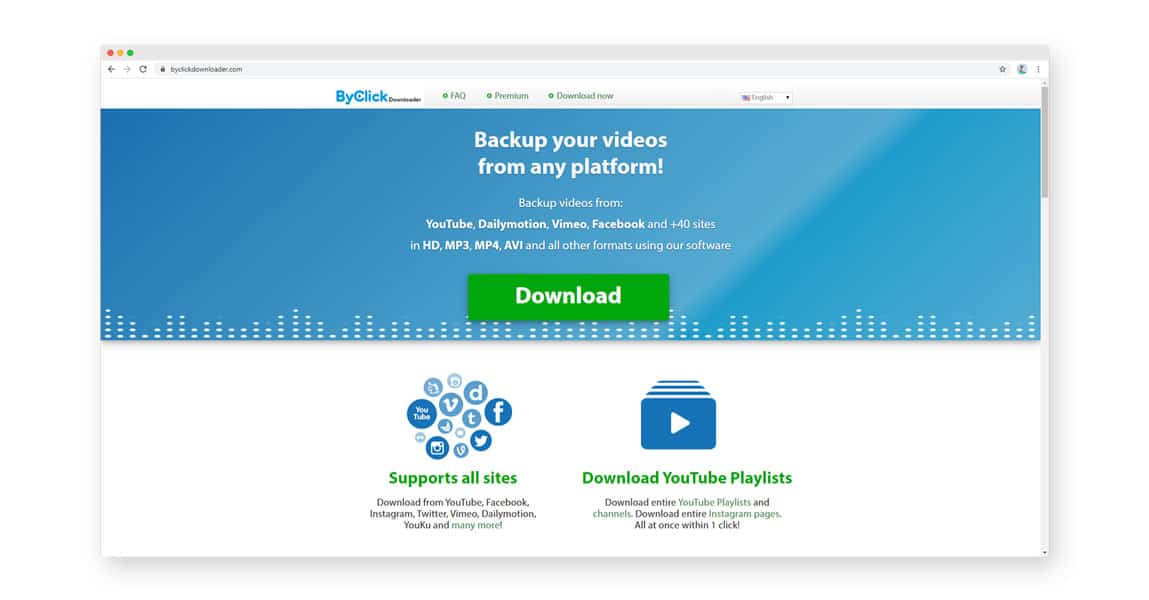 By Click Downloader is a great software to download YouTube playlists from. This software supports download from multiple websites like YouTube, Facebook, Instagram, Vimeo and Twitter. You can download videos as well as YouTube playlists of your choice.
The videos can be downloaded in resolutions ranging from 720p to 4K and are available in formats like MP3, MP4, AVI, FLV, 3GP etc. The software provides crash-free services with updates being made on the regular.
One attractive feature of By Click Downalod is the Auto Detect. Once activated, a pop-up message will show every time you open a new Youtube video, giving you the option of instantaneous download.
You can download multiple videos at once, the progress which can be tracked on a simple user interface. While a free version exists, the premium version lets you add ID3 tags to MP3 downloads, download videos based on their name and edit download MP3 files to create ringtones.
2. SnapDownloader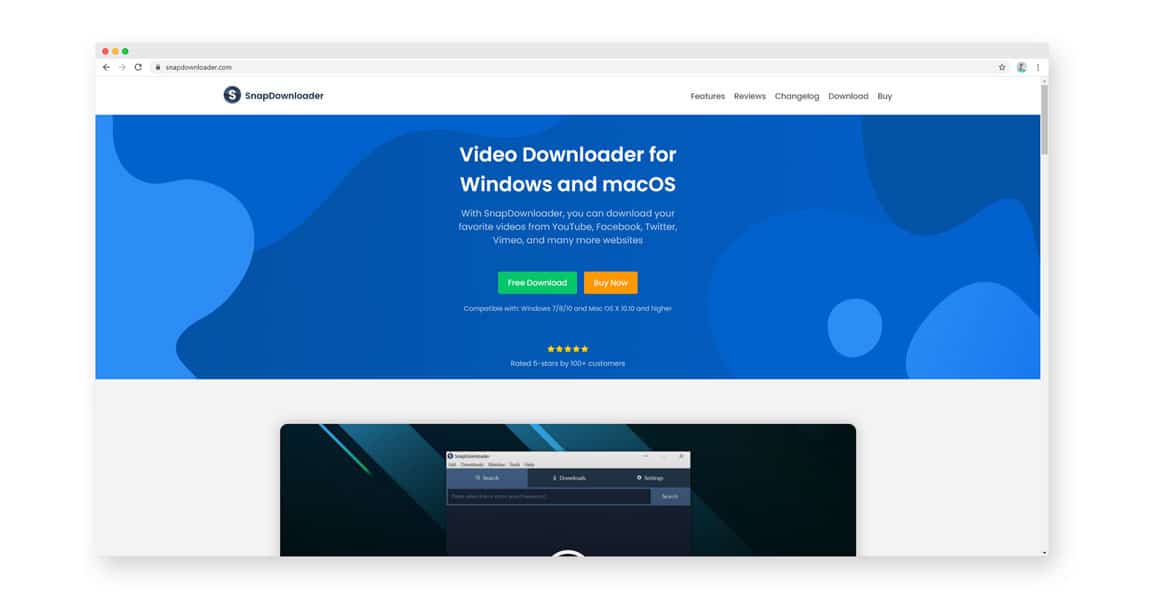 The Snap Downloader is a YouTube video downloader available for both Windows and Mac OS. It is available for Windows version 7/8/10 and Mac OS version 10.10 and higher. It gives you the option to download a complete playlist and video set from your favorite YouTube channels.
The downloader helps you download videos in high definition, ranging from 720p to 8K. It must be noted that not many allow for 8K downloads. Other than Youtube, video can be download from multiple social media websites like Facebook and Instagram. All in all, the SnapDowloader allows its user access to videos across 900 websites.
While downloading the video you are given the option to choose from a multitude of formats. The videos can be downloaded in MP4, MP3, AVI, WMA and many more. Each video can easily run across platforms like PC, Smart TV, iPad, Android and iOS phones.
You can also download Virtual Reality videos which can run across multiple platforms. You can enjoy 360 degrees of viewing pleasure of any VR Youtube video.
The software allows multiple video downloads which can run in the background while you carry on with your work. One can also schedule the download of particular videos on a specific date and time.
Strong download speed, integrated proxy server and 24/7 customer support are a few of the features that this software comes with.
3. YouTubePlaylist.cc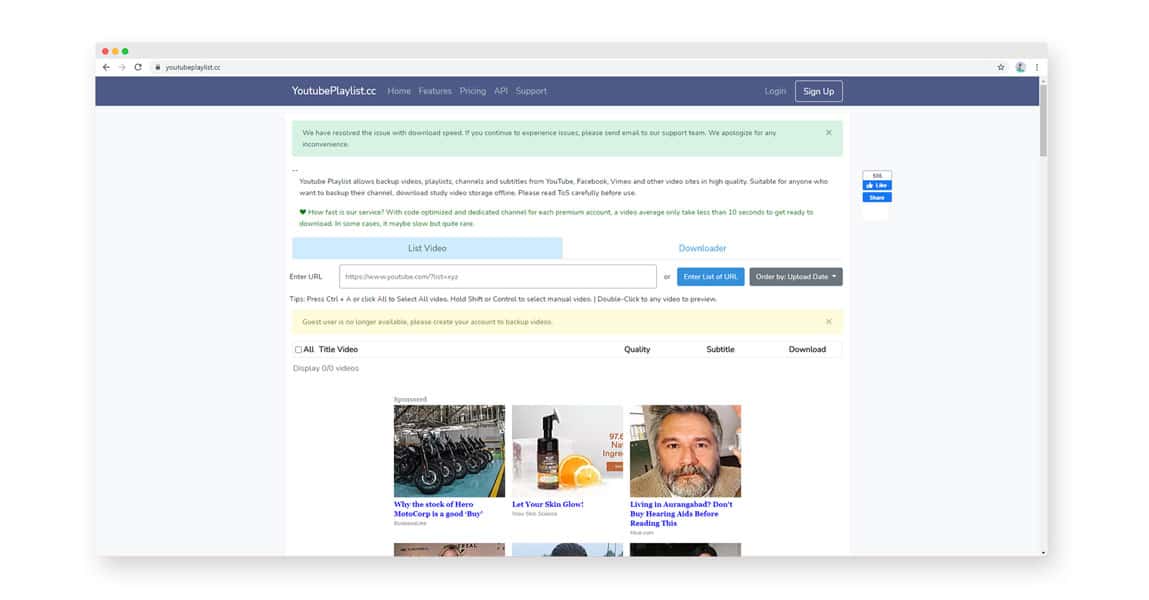 Unlike the software mentioned here, the YoutubePLaylist.cc is an online platform where you can download any Youtube video of your liking. You have the option to download multiple high-quality youtube videos at once. Other than Youtube, this platform also allows downloads from websites like Vimeo, Dailymotion and Facebook.
You can convert videos into the format of your liking. Common formats like MP4, MP3 and MKV are available. You can also download entire Youtube playlists. If you are not satisfied with the free version, then you can choose to go premium which comes with bonus features.
Conclusion
It can be quite annoying when you cant enjoy your favourite youtube videos while on the go. Fortunate for us, there is software available, downloadable and online, which can help you download videos and entire playlists. Use any of the above-mentioned applications and your fun will never stop.