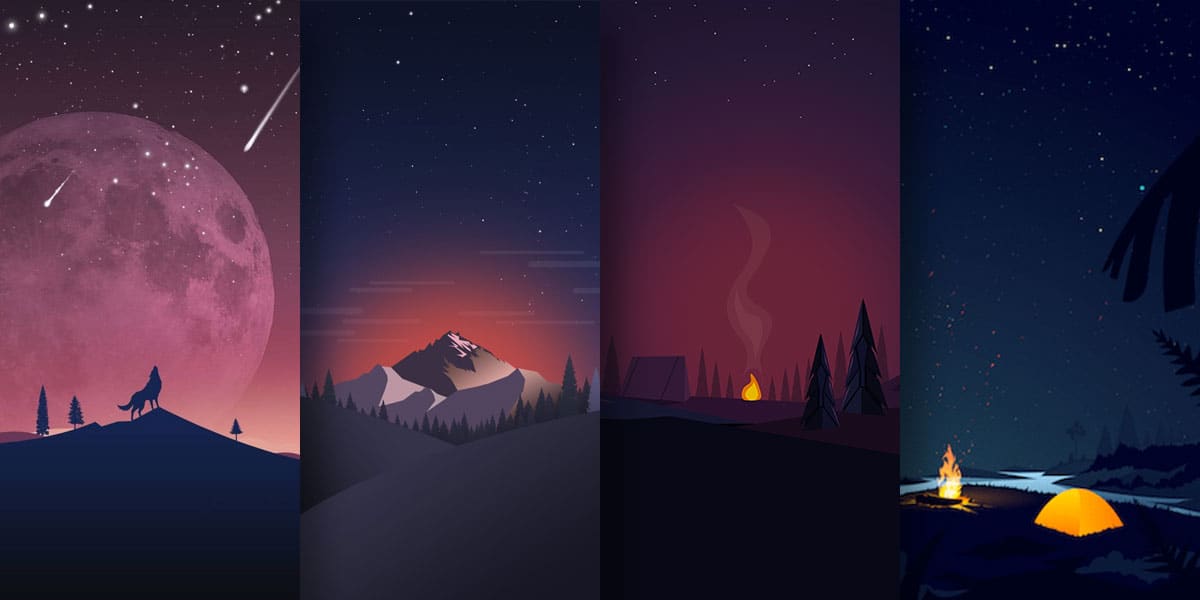 I think we can all agree that one of the most fun things you can do with an Android is utilize the customization features to the fullest. An Android OS allows you to have your favorite image in the background or use your favorite them. The more desirable your wallpaper, the more intriguing your phone appears to users. Every Android device comes with plenty of options that allow you to customize the user interface as per your preference.
And one of the most fun ways of customizing your smartphone is by applying the best HD live wallpaper for Android. Be it on the wall or in the background of your phone; a good wallpaper will only add to the overall aesthetic value of the device. The Android operating system allows for some of the best live wallpapers, animated or interactive scenes that work as your phone's home screen image. So another cool thing that your Android lets you do is let live wallpapers take over.
However, not everyone is aware of live wallpapers and where one can get the best of them. Therefore, in this article, we will be discussing live wallpapers in detail and will also lay down the 20 best live wallpaper apps for Android.
What Are Live Wallpapers?
As we mentioned above, an Android OS is designed explicitly to give the majority of customization features to its users. One such feature is using live wallpapers. While a standard wallpaper has a static appearance, live wallpapers are the exact opposite. Live wallpapers are animated and interactive backgrounds that offer ever-changing screens to make your device appear much more dynamic in appearance. Once equipped, these live wallpapers either change once in a while or every time you power off your phone.
How To Set A Live Wallpaper On Your Android Device?
There's nothing easier than applying a live wallpaper on your Android. To set live wallpaper on your android device, follow the steps mentioned.
Go to "Settings"
Go to "My Device."
Select "Display"
Tap on Wallpaper
Select Home Screen
Select Live Paper
Choose your ideal live wallpaper
NOTE: Every smartphone manufacturer tends to have a slightly different interface, so the instructions may be minutely different on each Android OS. However, the basics tend to remain the same, and you can find your way through to your live wallpapers through some exploration.
20 Apps For The Best HD Live Wallpapers For Android
The majority of Android devices do not have many options for both wallpapers and live wallpapers. However, several apps are dedicated to providing you with a number of wallpapers, live wallpapers, ringtones, themes, and many other exciting features. All you need to do is head to your Google Play Store and download the one which suits you best.
Here are the 20 Apps For The Best HD Live Wallpapers For Android
1. Pixel 4D Live Wallpapers 4K
The Pixel 4D has over 300 cool 3D wallpapers and animated lock screen backgrounds for users to choose from. You can customize your home and lock screen with a different live wallpaper at the same time. The lot of choices at your disposal allows you to explore bright colors and then select the ones which suit your Android device. Also, with the Pixel 4D, you get to choose from a wide range of fantastic 4D AMOLED animated backgrounds. With new live wallpapers every week, you will have a growing wallpaper collection to choose from every single week.
2. WALLOOP Live Wallpapers
At WALLOOP, you can choose from a wide range of selections, including the best 3D live wallpapers, HD and 4K backgrounds, and Gifs/videos with low battery consumption. Here, you can get your hands on AMOLED and full black live wallpapers to animate your phone with colors and motions. In addition, WALLOOP gives you a unique visual design, UI style, and quick loading options followed by an optimized preview.
3. Forest Live Wallpaper
As the name suggests, this wallpaper application gives you a wide range of selections to choose a nice, relaxing wallpaper with trees blowing in the background or a sky that changes from dusk till dawn. For more optimized usage, go to your device's settings and turn on the following:
Weather, Multisampling, or 3D Parallax Effect.
From animated trees to animated skies, this app has it all. Turning on the 3D Parallax Effect option will give you the 3D Parallax Effect every time you tilt your device. This app is desirable because it saves you from the hassle of regular updates while providing you more weather effects.
4. Stalker Cat Wallpaper
If you like a super sweet yet sneaky cat on your lock screen, then the Stalker Cat Wallpaper app is the one to go for. The cat pops up randomly on your device's screen getting all smug if you don't give him the attention he needs. This is a beautiful dark-themed live wallpaper that can make your home screen look subtle yet enchanting.
5. Material Islands – Semi Live Wallpaper
At Material Islands, you can find the best live wallpaper for Android. This application offers you a wide variety of semi-live materialistically designed wallpapers that won't eat through your phone's memory and battery. You can choose from several uniquely designed themes that are rendered straight from raw code, pixel-by-pixel, ultimately giving you the sharpest wallpaper experience on your home screen. The core app has no ads and is completely free, and you can choose to upgrade the app with a small subscription charge.
6. NEOLINE Live Wallpaper Android
This 3D live wallpaper app is completely free to use and looks perfect on OLED displays. Meanwhile, it still won't eat through your phone's RAM or drain your battery. Instead, this app offers live wallpapers that take you deep inside the world of CPU connections and data traffic and can get you thinking about neuron connections beyond your imagination.
7. Betta Fish Best HD Live Wallpaper
Similar to the Stalky Cat Wallpaper, the Betta Fish Live Wallpaper application offers identical features with the apparent exception of fishes replacing the cat. If you are a fan of dark deep blue colors found inside an aquarium, then this is the right app for you. The Betta Fish Live Wallpaper offers various shapes and coloring details to make your phone appear more enchanting. Also, you have the option to change the color of the fish, details, and the light effects in the background.
8. Cartogram: Live Map Wallpapers And Wallpapers
This live wallpaper application is one of the unique ones you'll find on the Play Store. Cartogram lets you create striking custom wallpapers and backgrounds for any Android device. You can choose your own location, create, and customize your unique map style. Also, this real-time application automatically changes the live wallpaper on your screen every time you change your location. With over 30+ map styles, the interface allows you to select and set your desired live wallpaper and background with great ease.
9. KLWP Live Wallpaper Maker
Until now, you had the option of selecting your desired live wallpaper from a pool of options. But with KLWP, you now have the option to create your own unique wallpaper. KLWP lets you create your own designs with the option to display any data you need along with powerful animations. Here, you can create customized watches, animated patterns, live map backgrounds, weather widgets, CPU meters, gyroscopic effects, and much more patterns with tremendous ease on any Android device.
10. Oajoo Device Info Wallpaper
As per the name, this wallpaper application lets you see all the information about your Android device right on your home screen. You can opt to see your battery usage, battery percentage, phone temperature, voltage, CPU load, CPU Speed (GHz), sensors, gyroscope, and your processor's detailed core information right on your home screen.
11. Particle Live Wallpaper
If you are a science wizard who either wonders about the Higgs Boson or nanoparticles, the Particle Live Wallpaper is perfect for you. The Particle Live Wallpaper shows particles randomly moving through space on your home screen and gives you dozens of customization features to choose from. Also, there are magic particles that you can customize through the various customization options that will help you create some of the best live wallpapers for your Android device.
12. Wavero Live Wallpaper
Similar to the Particle Live Wallpaper, the Wavero Live Wallpaper application offers waves instead of particles to apply as live backgrounds on your Android device. There are real-time time pattern animations, tons of unique colors to choose from, and it comes with an interactive touch screen animation that gives your phone a subtle, enchanting, and lively look. This app works best on devices with OLED displays and saves you from the hassle of constantly charging your phone.
13. Raindrops Live Wallpaper HD
As the name suggests, this app allows you to choose and apply live raindrop wallpapers in HD on your phone. This app lets you enjoy the feel of raindrops falling onto your screen on a rainy day. If you enjoy the rain, this wallpaper app further adds to the enjoyment by showing live HD raindrops on your screen.
14. Hypno Clock Live Wallpaper
If you like to stay ahead of time on every occasion, having a clock in front of you all time is a great way to do so. The Hypno clock live wallpaper offers multiple abstract interpretations of animated clock gears and different mechanical watch parts. The Swiss Tourbillon escapement, realistic component motion, and precision millisecond time further add to the ethnicity of this app. The Hypno Clock Live HD Wallpaper is perfect for those who are in awe of fine timepieces, clockwork, and the space-time continuum.
15. Weather Live
As straightforward as it gets, the Weather live application lets you check the weather globally at a single glance. You can cycle through a barrage of customizable layouts, receive accurate weather forecasts, and discover weather details of any region with a simple touch. This precise weather app lets you keep track of a detailed 7-day forecast and has options that display the current, lightning tracker, wind speed and direction, sunrise/sunset time, weather radar, rain maps, and so on. This is a great app to have if you don't want the rain or sun playing a spoilsport in your plans.
16. Magic Fluids Free: Simulation And Live Wallpaper
Magic Fluids brings you to a wide range of lifelike simulators of particle physics that you can interact and play with. The app comes with glorious visuals that make your phone appear more subtle, enchanting, and lively. Magic Fluids will help you sleep, meditate, restore balance, relieve stress and anxiety. You can use Magic Fluids as a live wallpaper as well as a regular app.
17. Borderlight Best Live Wallpapers
This live wallpaper application brings your phone's overall border into play by showing a slowly moving wallpaper around your screen's edge. These wallpapers can be adjusted to fit all devices. In addition, you can also insert a normal background image to it as well.
18. ZigZag Live Wallpaper
This app lets you arrange twisted color ribbons into interesting patterns and set them as your wallpaper or lock screen background.
19. Asteroid Live Wallpaper Android
If you think asteroids only look cooler in cinemas, wait until you download this app on your phone. The Asteroid 3D live wallpaper application lets you experience arriving asteroids from the remotest corners of the galaxy. Meanwhile, you can change the color, background color, and the type of asteroid you want to see on your screen.
20. DEMON Live Wallpaper Android App
If you think demons only reside inside humans, you couldn't be more wrong. Take a look at this live wallpaper app to set a symmetrical appearing demon as your home screen wallpaper.
The Bottom Line
We hope our article successfully walked you through some of the best live wallpaper applications available for download on the Google Play Store. Mentioned above are our 20 top picks for downloading the best live HD wallpapers on your Android device. If you think we may have skipped out on any other live wallpaper application, do let us know in the comments section below.