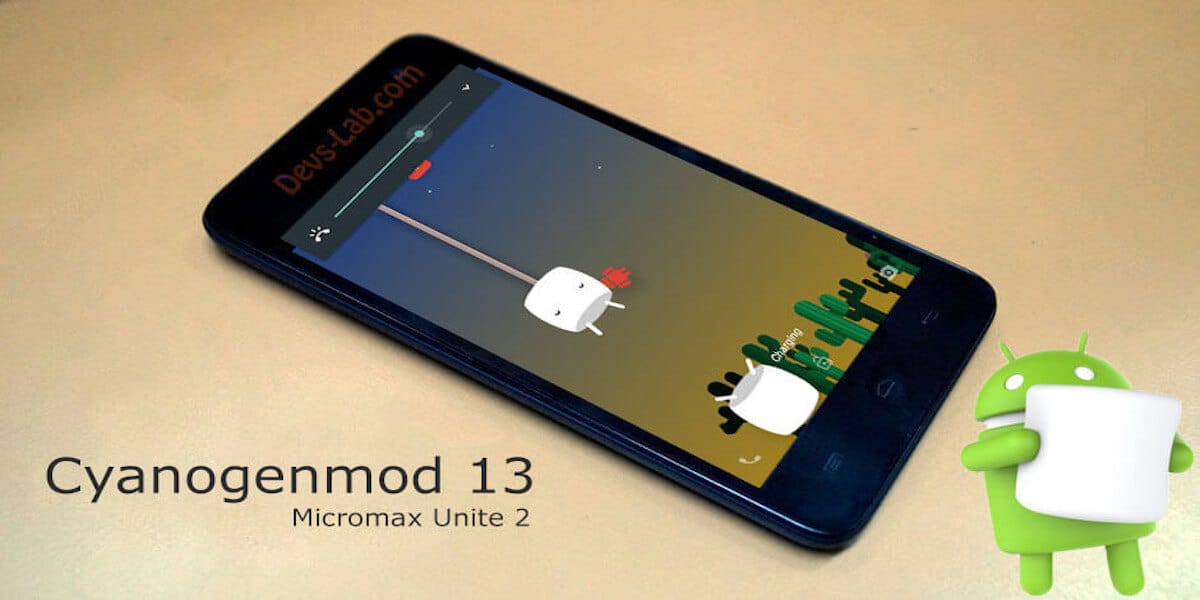 Micromax's one of the most successful smartphone of 2014-15, Micromax unite 2 received official Android lollipop update in late 2015 as promised by the company. However there is no sign of Android Nougat update for this device.
Many of you might have already rooted your device & might be flipping through ROMs or trying to get Nougat features in your device. Well your wait is finally over, now you can update your Micromax Unite 2 (A106) to Android Nougat (7.1.2).You might come across some minor bugs as this is not an official port. (Android N 7.1.2 update for Micromax unite 2)
CyanogenMod 14.1 (7.1.2) in Micromax unite 2
CyanogenMod is based on the Android Open Source Project with extra contributions from many people within the Android community. Finally the wait has been over for Micromax unite 2 users. They can now taste the all new CyanogenMod 14.1 (Android 7.1.2) Resurrection Remix 5.8.5 ROM. Resurrection Remix ROM is designed to increase performance, customization, power and the most new features and it is based on SlimRoms, Omni and original Remix ROM.
Micromax unite 2 (A106) can now be updated to Android 7.1.2 Nougat, thanks to the unofficial release of CyanogenMod 14.1 (Resurrection Remix 5.8.5) ROM. It is confirmed that the CyanogenMod 14.1 (Resurrection Remix 5.8.5) ROM boots just fine and works flawless with increase in the performance and power.
ROM details
ROM OS Version: 7.1.2 Nougat
ROM Kernel: 3.10.107 WakeMod
Prerequisites
The instructions provided in this guide are meant for Micromax unite 2 (A106) only. Do not attempt this procedure on any other model, as it could inadvertently brick or permanently damage the device.
Carliv Touch Recovery (CTR) v3.0
Verify that your phone's battery is fully charged or has at least 80% battery charge while doing the firmware installation.
Functioning Human Brain.
Backup all your important data so that if in case anything goes wrong, you can switch back to stock ROM & restore the backup data.
Required ROM file & GApps package (At the end of post)
Note:
Devsjournal
won't be held responsible for anything happening to your device during this process as you have decided to make this modifications. This ROM is only for Unite 2 (A106) variant. Don't install in any other device. If you are new to Rooting, you must refer to
Complete guide about Rooting
. After this process, your warranty will be void & in most cases, you won't be able to get it back.
What works in Resurrection Remix ROM 5.8.5(Android 7.1.2) in Micromax unite 2
The overall state is stable and most of the ROM features are working in Micromax unite 2 (A106), such as Fixed Storages Isuue, Fixed SD default Storage, Added Hotspot Option, Fixed 3g, New Fresh Build For Unite 2 only and Camera Focus might be buggy sometimes.
Features
Theme Engine: Full Substratum(OMS) theme support
Navigation bar: Enable/Disable Navbar, Navbar color tint, Navbar Button Customization smartbar, Navbar Pulse, Double Tap to sleep navbar
Statusbar: Brightness Slider, Enable/Disable Show Notification Count, SuperUser Indicator Switch, Double Tap To sleep Statusbar, Clock Customizations, Time & date, Day & date Toogle
Battery: Battery Bar customization, Battery Icon Customization(circle/landscape/Potrait and more), Battery % Text
Network Traffic Indicator: Network Traffic Arrows Switch, Incoming/OutGoing Traffic, Network traffic Color
Animations: Toast Animations, ListView Animations, System Animations, QS tile Animations, Power Menu Animations, Misc Animations
Gestures: Gestures Anywhere Feature, 3 Finger Swipe Screenshot Gesture
Recents Panel: Clear All button Switch, Clear All Tasks Switch, Clear All Button Location(Top right,Top Left,Top Center,Bottom Left,Bottom Right,Bottom Center), Full Screen Recents, Recents Styles, OmniSwitch
Clock Widget: CLock And Alarm Customizations, Weather Panel Customizations,,Calender Events
LockScreen: Lockscreen Bottom Shortcuts, Lockscreen General Shorcuts, 100+ Icons for Shortcuts, Double Tap to Sleep Lockscreen, Lockscreen Media Art/Enable Disable, Quick PIN/Patter Unlock
Advanced Reboot Menu: Power Off, Reboot(Recovery, Bootloader, Hot Reboot), ScreenShot, Power Menu End Calls Switch, Restart SystemUI, Airplane Mode, ScreenRecord, On the Go Mode, Sound Panel
Miscellaneous: Selinux Switch (Switch Between Permissive and Enforcing Selinux if Device has Selinux Enabled), Clock Shortcut, Disable Battery Saver Warning Color, OTA Updates, Cammera Shutter Sound Enable/Disable
SystemUI Tuner: Enabled By default, Removed Demo mode and Tweaked SystemUI Tuner As compared To AOSP, StatusBar Icons Cuzomizations, Quick Settings Customizations.
Other Features: Perfomance Profiles, LCD Density, Expanded Desktop Mode, Heads Up Switch andcustomizations, Live Display, Overall Smoothness Improvements, Optimizations to Improve Battery, Includes all Android Nougat Features, Includes all CM14.1 Features
Screenshots
How to install CyanogenMod 14.1 in Micromax Unite 2 (A106)
Step 1: Download the ROM file & GApps package from the links at the bottom of the post. Make sure you use a proper download manager & good internet connection to avoid data corruption while downloading files.
Step 2: Transfer the downloaded zip files in your Internal storage & boot into recovery. You can boot into recovery mode by two methods, Use any Recovery (Recommended: CTR, Philiz)
Download Rebooter App from Google Play Store & grant root access. Launch the app & select, Reboot to recovery.
Switch off your device, Press and hold Vol UP + Home + Power button simultaneously. Leave the keys after 5 secs.
Step 3: Once you have booted into recovery mode, Optional: Go to "Backup & Restore" and select System, data, boot.
Step 4: Now its time to flash CM 14.1 in Micromax unite 2 But before doing that, go to Wipe (in TWRP Recovery) & select cache, system & swipe to confirm.
Step 5: Go to Recovery Homescreen & click on Install. Select the CM 14.1 ROM for Micromax unite 2 zip from the list of files. Swipe to confirm flashing. This might take around 5mins.
Step 6: Once you have completed flashing the ROM, flash the GApps package by again going into Install and locate the GApps zip file. Swipe to confirm & you're done with Installation part.
Step 7: Now clear cache & boot your device. First boot might take sometime so no need to panic.
Download RR 5.8.5 (Android N) for Micromax unite 2 (A106)
Conclusion
I have personally used the ROM & I didn't feel any lag or instability in Cyanogenmod 14.1. To enable Root access, Enable developer options and look in Settings -> Developer options -> root access. Please don't complain about known bugs. If you have any questions, comment below.