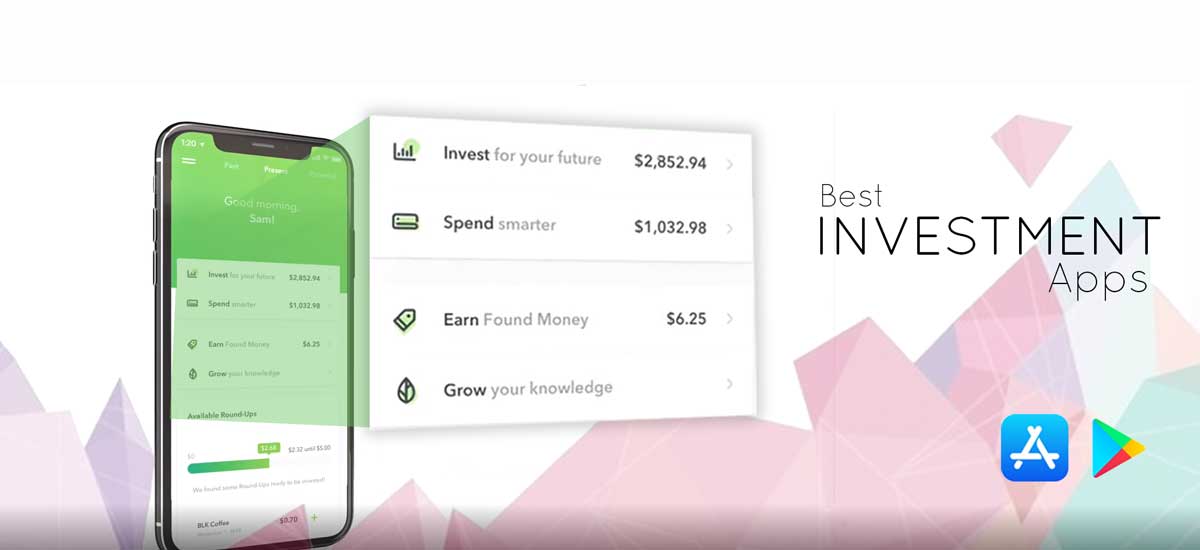 Investing your money in different ways is highly important for financial security and persistent growth. Maybe increasing your bank balance by working hard every day is a good plan, but working smartly will pay off more. You might reach some big numbers by working hard, but have you ever thought of something that can help you grow while you are not even working? Yes, it is possible if you put your money to work for you and get some profits out of it. A great example of a successful investor is Mr. Warren Buffet, who himself says he couldn't have got this big name if he didn't choose to invest at the right time.
Investing in stocks using investment apps is a pretty quick way to grow financially. But what are investment apps actually? Basically, these apps connect you directly to the trading world with no hassle. Therefore, we have come up with the top investing apps that can make you start earning from a new source right from your smartphone. Are there any risks? Yes, there are! But we have found some of the best investment apps that will guide you through the process and assist you to not encounter losses while helping you spend your money on the safest stocks.
Top 10 Best Investment Apps for Android & iOS
1. Robinhood
When it comes to investment, using investment apps is the easiest way to go with, but a lot of beginner users face issues due to the complexity of the trading world. That is where Robinhood comes into play since it is among the top investing apps for new users.
Not only you get smooth and easy to understand user interface, but even signing up in this app is quite easy. Speaking of signing up, it is completely free and new users even get free stocks after registering. Once registered, you can either invest in stocks or cryptocurrencies using this app. That is why most beginners like it since it is one of the most versatile options if you are looking for the best apps for investing.
Key Features:
Easy to use investment app
Allows to invest in stocks and cryptocurrencies
Offers a referral system for extra income
2. Acorns
Acorns is one of the several forex brokers that offer forex trading services via Mobile apps and Web Interface. Acorns offers a lot of detailed information about the stocks it offers. Even if you do not have a lot of money to invest, Acorns offers you a great platform to invest with as low as $5 in stocks making it a great option for users on a budget. Investing with Acorn is easy as you can either do it using your credit card or link your bank account as per your preference.
Key Features:
Invest as little as $5 in stocks
Offers automated investment options
Supports adding money via bank and card
3. Stash
Not everyone likes to have suggested stocks and investment plans in their investment app. Instead, using their own investment plans is what they prefer for maximum profits. If you are also like this and want full control over your investments, then you should try out Stash.
Stash is one of the best investment apps out there for all those who make their investment choices after weeks of research. But since not everyone has the time to manually invest, you can simply select your preferred stocks in this app. Once that is done, Stash automatically invests in your stocks on a weekly or monthly basis. Although, this only includes a total of 150 ETFs which is lower compared to other options. But you should still try out Stash since it is among the best apps for investing thanks to its low minimum account balance of $5.
Key Features:
Manually select your favorite stocks
Automated investment option on a weekly and monthly basis
Zero investment fees for stocks
4. E*Trade
Those of you who are experts in stock trading will find E*Trade to be a great investment app. It is an all in one stocking app that can be used to invest in stocks, ETFs, mutual funds, and various other options. In other words, this is the only investment app that you will need on your smartphone.
A great thing about this app is that it offers a lot of information regarding making investment choices. Whether you are a beginner or an expert, all of this information can be useful for making the right investment decisions. You can also keep an eye on all of your preferred stocks using the charts and other stock analysis tools offered by it. And the best part about this app is that there is no minimum account balance limit to maintain while using this one.
Key Features:
Does not require any minimum balance
Offers free ETF trading options
Comes with a lot of trading information
5. Charles Schwab
Charles Schwab is a highly popular investment app among traders as well as bankers. This is due to a simple reason that it offers both banking as well as investment features. Starting with its banking features, you can use it to deposit checks, send money to others, check your balance, and various others. Not only that but you also get a very simple user interface for its investment menu. If you do not invest regularly, then you will be glad to know that there is no inactivity or annual fee in this app. When combined with its $0 minimum account balance, this app is a great option for many.
Key Features:
$0 minimum account balance required
Does not have any annual or inactivity fee
Offers banking options as well
6. Trade Hero
A lot of students struggle in terms of managing finance since there are a lot of expenses to take care of. And this is exactly what Trade Hero allows you to handle quite easily. This is one of the best investment apps made for students.
It is essentially a market simulator that you can use to learn trading with its virtual balance of $100,000. Since you are not trading with real money, you can easily take risks and learn along the way. All of the stock prices in this app are based on current real stock prices so that you get the same experience as a real stock investment app. Unfortunately, this app is not free and requires a $1.99/month subscription before you can use it.
Key Features:
Ideal for learning stock trading
Offers $100,000 virtual balance with real prices
Easy to use interface
7. Stockpile
In comparison to other investment apps available for smartphones, Stockpile is a highly feature-rich option for all those advanced users out there. One of the most unique things about this stock trading app is that you can send your stocks to others just like any other gift card you would send to your family and friends. While a lot of investment apps offer incentives on signup, this one offers $5 to the user which can be invested in cryptocurrencies making Stockpile one of the top investing apps. Unfortunately, this app charges $0.99 per transaction and you do not even get the option to buy any penny stocks which trade below the value of $6.
Key Features:
Offers $5 on signup in cryptocurrencies
Supports more than 1000 stocks for trading
Allows to share stocks as a gift card
8. TD Ameritrade Mobile
If you are looking for investment apps based out of the USA, the TD Ameritrade Mobile can be a great pick. This app is considered as one of the best investing apps out there thanks to its 364 branch locations in the states. You can either use these branches or the smartphone app to trade on your preferred stocks. Since this investment app has been around for a long time, it has improved quite a lot in terms of the features and options it offers. Apart from offering a lot of features, this app also offers more than 4000 mutual funds. All of the stocks, funds, and ETFs in this app do not have any commission when you are trading on them.
Key Features:
More than 364 branches in the USA
Offers more than 4000 mutual funds and ETFs
Does not have any commissions on trading
9. Round
Round is among the best-looking investment apps available for smartphones including both Android and iOS. As per its name, Round offers pie charts and circular graphs that allows you to easily keep track of your stocks. Speaking of stocks, you get stock suggestions in this app for great returns on your investments. Although to offer all these high return stocks advices, Round does charge a 0.5% management fee that you should consider. Thankfully, you are charged this fee only when you get a profit and not on losses.
Key Features:
Easy to use user interface
Great returns for its users
Free to use stock trading apps
10. Fundrise
Not everyone likes to invest in stocks to get the best returns out of their investments. This where Fundrise differs from other options since it is an estate investment app. You can invest in a number of industries and real estate projects that you might like. If you want, this investment app can also be used to invest in stocks if you like. All of these options can be done quite easily using this app's intuitive user interface. Although, there is 1% of annual fees in this investment app which might be an issue for some.
Key Features:
Offers real estate investment options
Gives a lot of investment options
Can also be used for stock trading
Conclusion
These were some of the best investment apps that you can use to boost up your bank balance and find an easy income source other than your primary job. All these apps offer various helpful features suitable for different trading styles, so finding the most suitable one for yourself will not be a hectic task at all. For further queries, you can contact us or leave a comment down below.