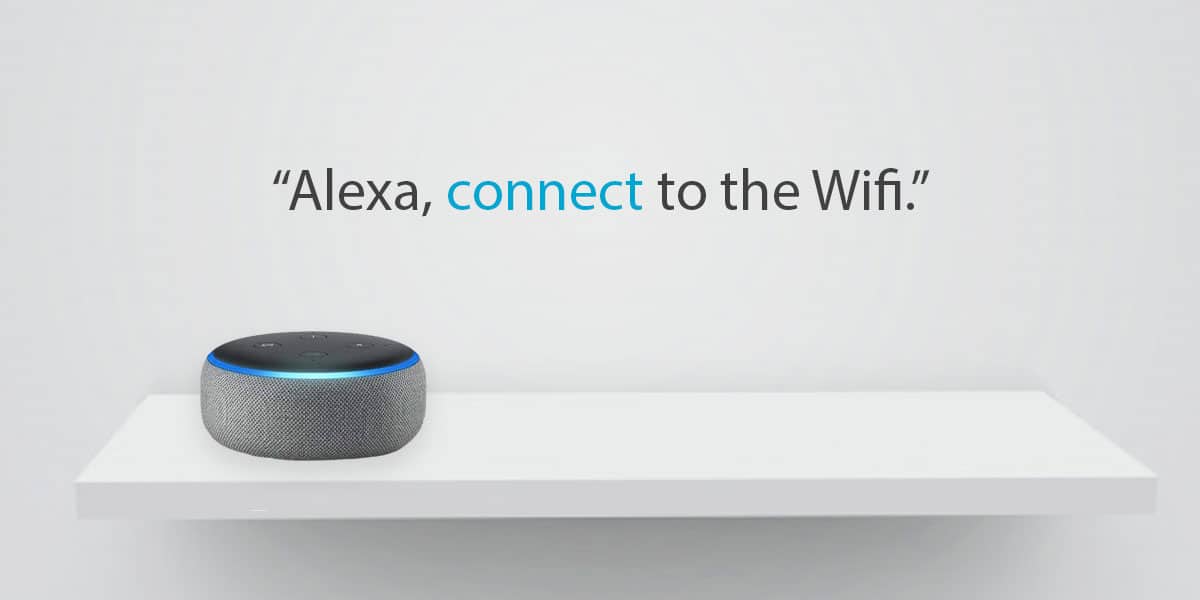 There is no denying that technology has skyrocketed since the past few years, and the fact that we can control most of the modern-gadgets with just our voice, without any physical touch feels just amazing and is pretty futuristic.
Talking about the futuristic gadgets and technologies, we have encountered many models of artificial intelligence like Siri, Google Assistant, Cortana, and for Amazon, they have Alexa. Unlike the others, Alexa has become people's favourite already because of the countless numbers of advanced features it offers to the users. The main thing that distinguishes it from the other AI models is the Amazon Echo Dot which is basically a smart speaker that works according to your voice commands, Yes, options from other brands are now also available in the market now, but Alexa being the first one to bring this change in the industry totally deserves to be on the top. So, it's one of a kind!
However, most people choose to grab an Amazon Echo Dot from online markets, but not everyone knows the correct way to start using it or set it up properly. It is pretty obvious as we all are using this kind of technology for the first time. Still, since we have spent much time already with our Amazon Echo Dot, we will be demonstrating the easiest way on how to connect Alexa to the internet and then talk further about the Alexa setup WiFi process.
So, make sure to read the article till the end if you also want to know how to connect Alexa to WiFi without App or with App, or facing any problems while connecting echo dot to WiFi. This article is going to be an overall guide about Alexa Setup that everyone should go through.
How to Setup Wifi on Alexa
So, there are basically two simple methods that you can use for connecting an echo dot to WiFi and use it as you like. One method requires you to download the Alexa application on your smartphone to complete the setup process. However, we will also be discussing another method on how to connect Alexa to WiFi without App in case the application is not working for you.
Since you might be eagerly waiting for your Alexa device or Echo Dot device to play some music for you. There are some prerequisites that you must follow in order to begin the setup process. The Echo Dot device needs to be connected to a Wireless Network which we will be discussing right now. But before that, make sure you have plugged it correctly into a power source since it is not a wireless speaker.
How to Connect Alexa to Wifi using App
Assuming that you have plugged in your Amazon Echo Dot to a working power supply, and have a WiFi network at home as well. The rest of the process is going to be very smooth and easy as well if you follow these instructions properly.
Step 1. Now, first of all, we need to download the Alexa Application on your smartphone from the respective Play Store or App Store.
Step 2. Thereafter, launch the Alexa app on your phone and log in with your Amazon account.
Step 3. Now, the Alexa app will ask for certain permissions such as Contact access, etc. You can choose to allow that in case you wish to place calls using voice commands in the future. Otherwise, if you don't want any Alexa-enabled device to make calls from your smartphone, you can choose to deny permission.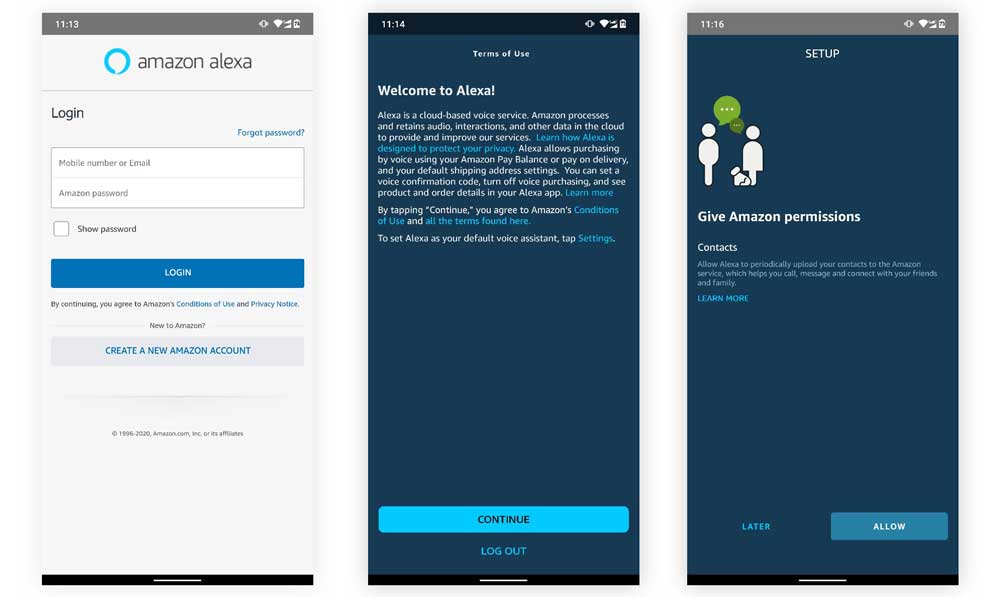 Step 4. Inside the Alexa Dashboard, you will see a "three horizontal-line" icon on the top of the screen. Tap on it to enter the drop-down menu. Then, select "Add a Device" option.
Step 5. Tap on it and choose the appropriate device which you want to set up.
If you have an Echo Dot Smart Speaker, choose that only, and if you are trying to set up a different product, you can select that from the list.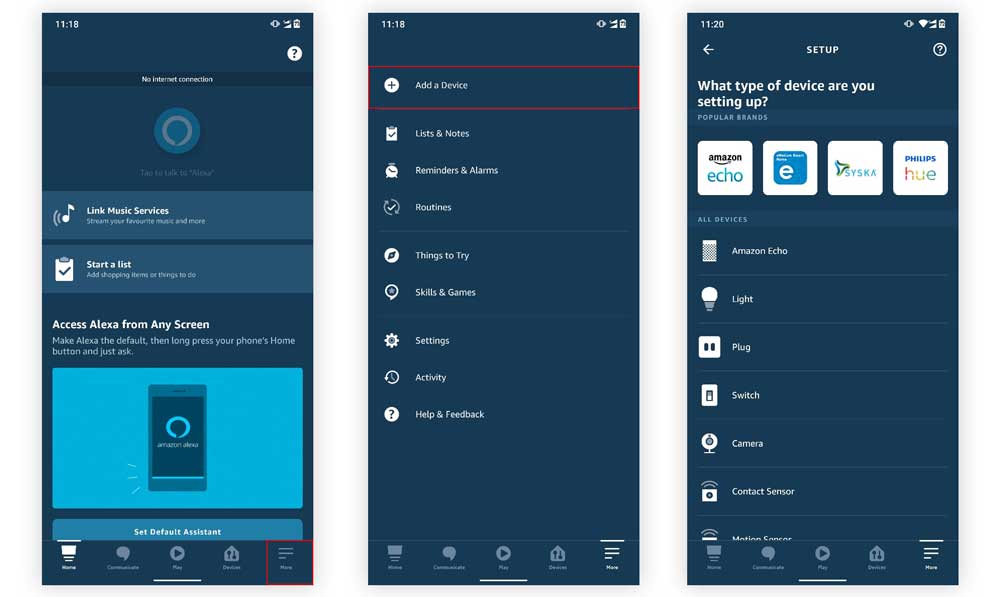 Step 6. Now, we need to turn on the Alexa Echo Dot device. You can do so by pressing and holding the Action button (The button with a Dot Icon) on the device for a few seconds.
Step 7. After the Echo Dot turns on, it will show a blue ring of light which will change to Orange after a few seconds.
Step 8. Once the orange light starts to appear, we are ready to proceed with the setup process.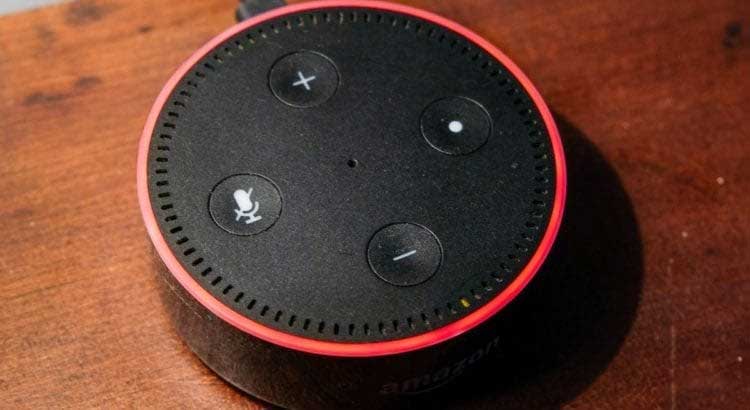 Step 9. Alexa App will also confirm if the Orange light is flashing or not, so press Yes.
Step 10. Now, the Alexa app will ask permission to have access to your WiFi settings, follow the on-screen instruction, and select the WiFi network which you want to connect your Echo Dot with.
Step 11. Once the Alexa Echo Dot is connected properly to the WiFi network, the confirmation will also pop-up on the app with a message like, "Your Device is now online". You can also ask Alexa if the connection has been established by simply asking, "Alexa, are you connected to the internet?".
In case you are setting up the Alexa device for the first time, the following steps will be good enough. However, if you want to know how to change WiFi on Alexa, all you need to do is follow the similar steps, and choose the different Wireless networks that we discussed in step 13. As simple as that.
How to Connect Alexa to Wifi without App
The Alexa devices are designed to function properly on dual-band WiFi connections because it needs connection with fast and reliable speeds. So, before proceeding, make sure the Echo Dot is connected to a power supply and turned on. And, also make sure the WiFi has a working internet connection too.
Step 1. Go to your phone's / computer's web browser (Chrome of Firefox or any other) and visit this link alexa.amazon.com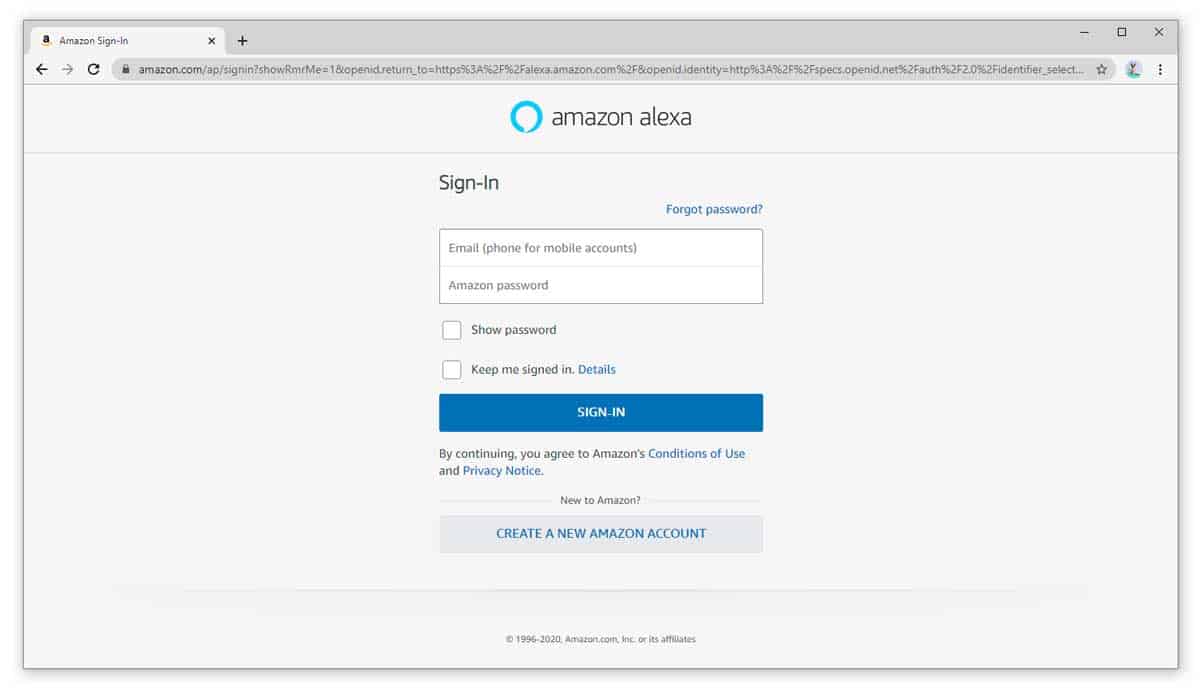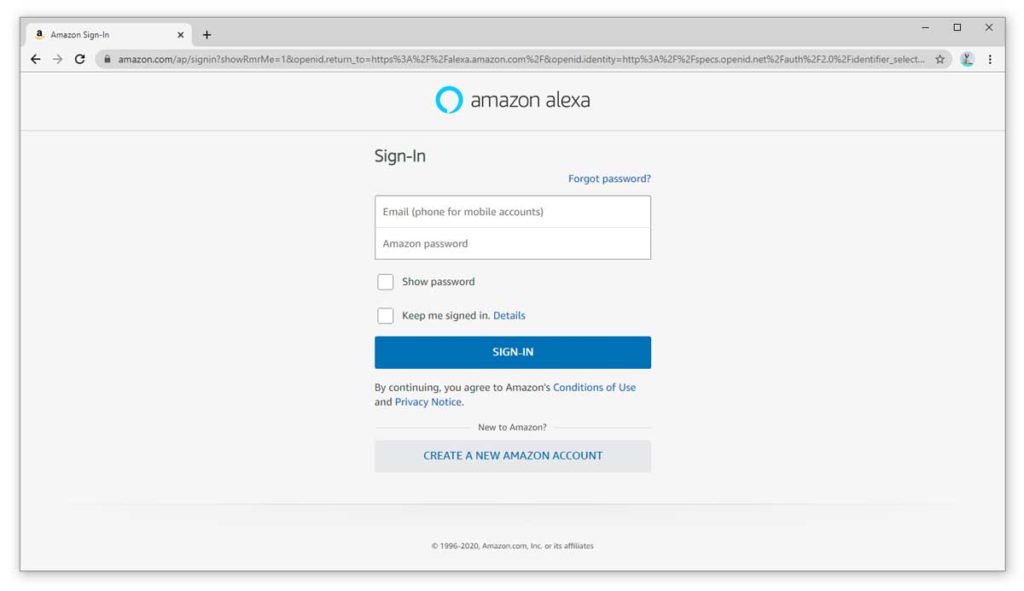 Step 2. Sign-in with your Amazon account details.
Step 3. Now, navigate to "Settings" from the left pane and Select "Set up a new device"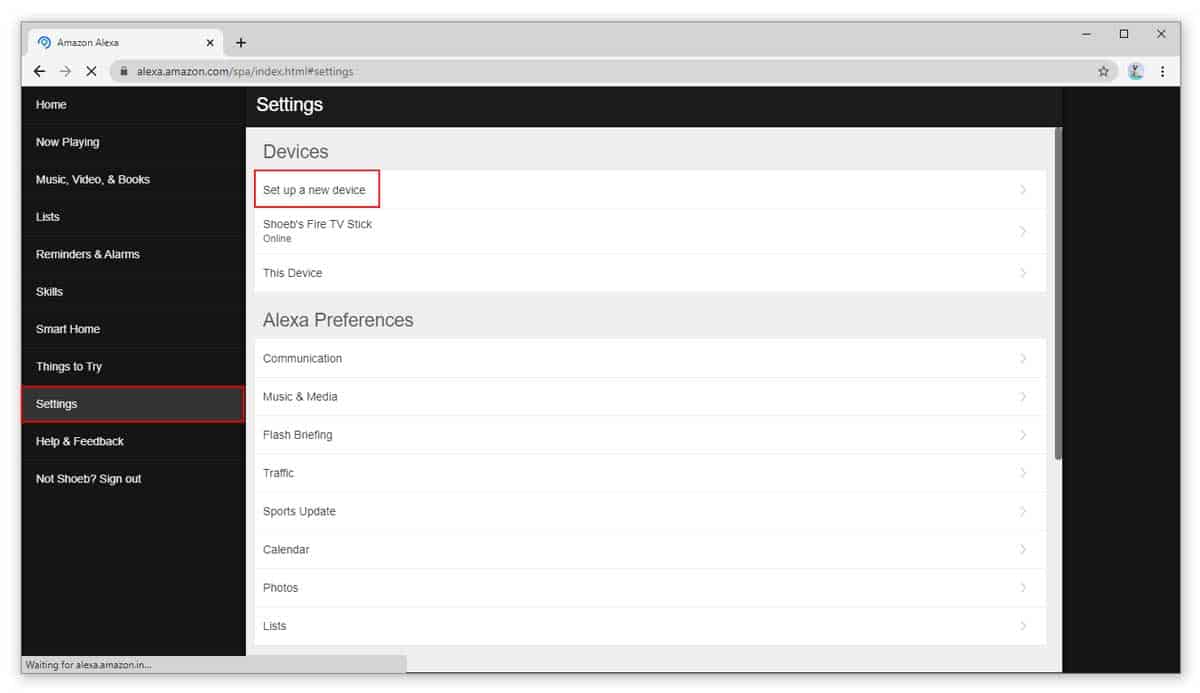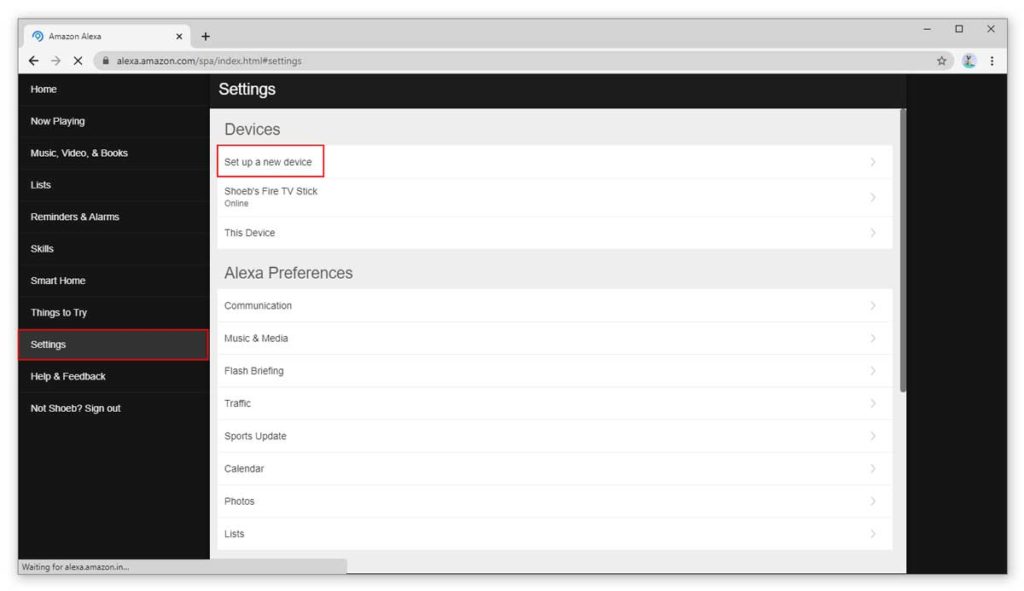 Step 4. Now, select the device you want to connect for eg. Alexa echo dot.
Step 5. Follow the on screen instructions to connect your Alexa to Wifi without App.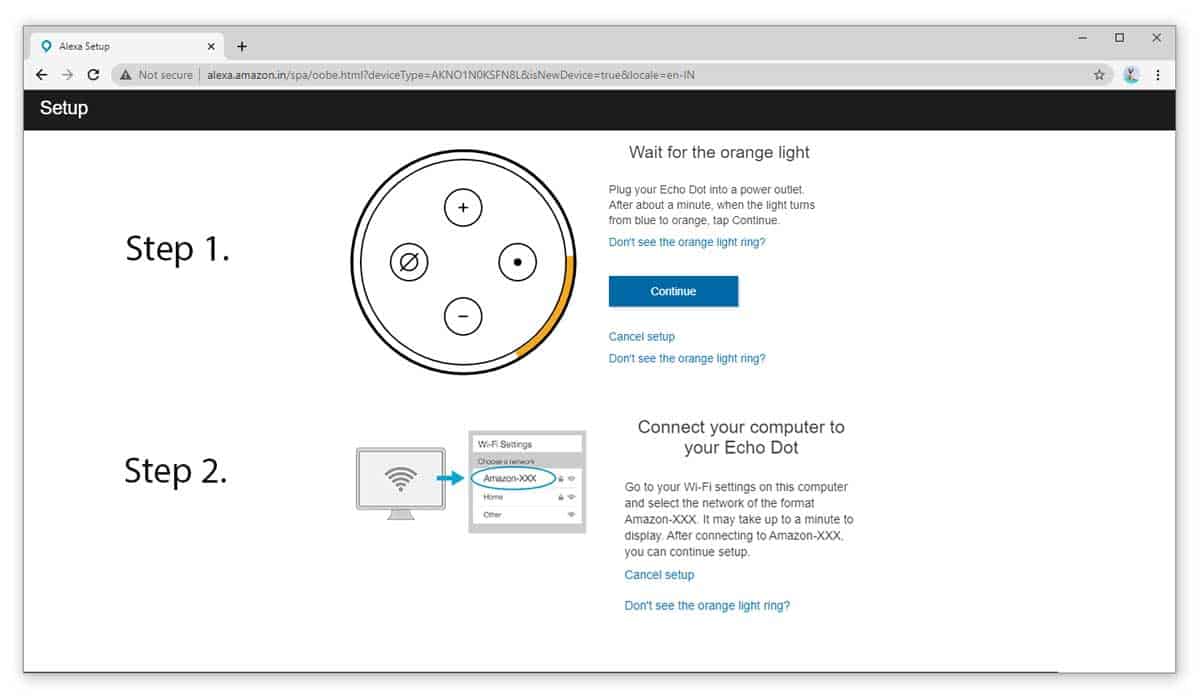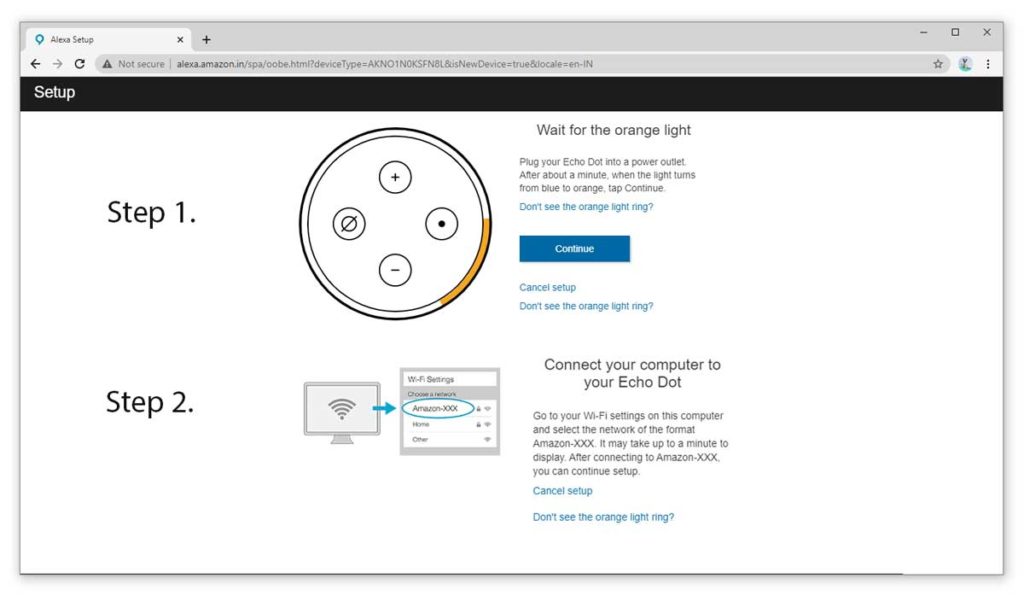 This is the simplest method to connect Alexa to the Internet. However, we still prefer to use the Alexa app as it does not put up any load on your smartphone, and is loaded with dozens of useful features that you must try out with your Echo Dot device.
Also read: How to install APK on Firestick from PC
Fix: Alexa won't Connect to Internet
Although we have answered the "How to setup WiFi on Alexa" question quite aptly, there might be some people facing problems with their Echo Dot devices. However, there is no need to panic as internet issues with Alexa are quite common and very easy to fix as well.
You might know all about "how to connect Alexa to the internet", but what to do if the Alexa device is not responding as it should? Here are some methods that you can try out to fix your device.
In case the Echo Dot fails to connect to the Wireless Network, make sure the router is working fine and has an active internet connection. To confirm that, you can also try to restart the modem and router to be extra sure about it.
If restarting and refreshing the network are not helping, you can try out the same with the Alexa device as well. And, make sure the Alexa device is plugged into a power source and then, restart it.
Just like we try out methods with our smartphones, Resetting to factory settings is also a good troubleshooting method and fixes everything up to the roots of settings.
A potential reason why your Alexa device is misbehaving while connecting to the WiFi connection can be the old firmware of your router. Various connectivity problems can occur if the router and modem do not have the latest firmware installed on them.
As you know, the Alexa app asks you to enter the WiFi password during the connection process. There is a possibility that you have mistakenly entered a wrong password which is causing the connection problem ultimately.
One major mistake that most new users tend to make is that they put their Alexa devices very far away from their WiFi's range. Hence, this can cause very bad internet connectivity issues since Alexa demands a strong internet connection to work properly.
In case any of these troubleshooting methods don't work, replacement is the only option left. You can contact the manufacturer to claim the warranty or just replace it if you have got a defective product out of the box. l
Conclusion
Hence, that's all about connecting Echo Dot to WiFi. We hope these simple methods will just work fine for any new Alexa owner and help them to set up their Alexa device right away. If you feel like sharing it with someone who has just bought a new Alexa device, don't forget to do it. Also, in case you are facing some problems in following the steps that we have mentioned, you can clear your doubts and share your feedback with us in the comments section below.