If you are always up to date with the latest tech news, you may know, info of the OnePlus 5T launching after November 20 broke out yesterday. That is still some weeks off. However, if this new leak would have it, your wait for the OnePlus 5T is about to get shorter. A new teaser poster that resembles an Amazon ad has floated to the surface of the Net.
The teaser says the OnePlus 5T will be Amazon Exclusive. Remarkably, the teaser also contains the same OnePlus 5T tagline earlier found on OnePlus official website. It says, "Larger display. Same footprint." The promo page of the OnePlus 5T has since been taken down.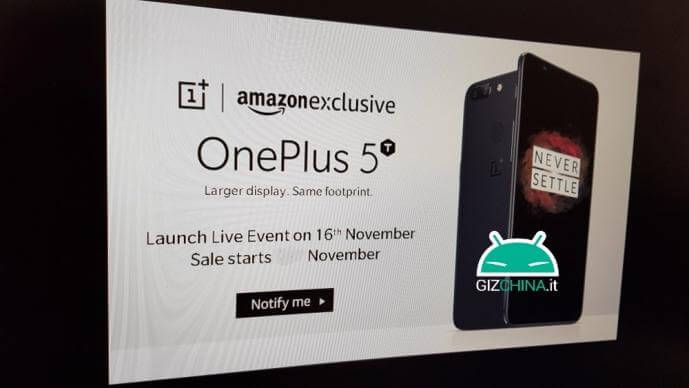 But the reappearance of the same tagline reassures us of some truth in these images. More importantly, the teaser says the launch event is on November 16th. If that is the case, we think official announcement should drop any day now. However, that is yet to happen.
The poster also shows the phone itself, but it is a very shady render. But we've already had our stomach full of OnePlus 5T renders. There seems to be a general consensus that the phone will resemble the Oppo R11s in design and aesthetics. On the other hand, the Oppo R11s is expected to resemble the Oppo F5.
Talk around Chinese tech circles says, the OnePlus 5T will come with a 6.0-inch Full HD+ 18:9 aspect ratio display. While the spec sheet will mostly resemble the OnePlus 5's, 8 GB RAM, Android Oreo was reported to be on board the rumoured handset at AnTuTu. Also, dual rear camera shooters of 20 MP + 20 MP are also speculated to be there.