OnePlus has become a much more visible brand with the launch of the OnePlus 5 than it was 2,3 years earlier. Then, the company in its infancy promised a lot of things and couldn't keep some of them. One of them was Android 7.0 Nougat for the OnePlus 2. The then flagship went on to stay on Marshmallow and the company eventually backtracked on its promise. However, the OnePlus 2 had a huge developer community and there were hopes of an alternative to an official ROM. With Lineage OS, that hope materialized. And once again, the two-year-old device is getting an unofficial Android Oreo build with Lineage OS 15.
The latest development comes after Lineage OS 15 ROMs were reported for the Mi 5s and Mi 5s Plus recently. These Oreo-based builds are however in early stages. XDA Recognized Contributor Shreesha.Murthy is to credit for this OnePlus 2 LineageOS 15 build. The dev has made it clear that this is an early Alpha version. As such, camera, alert slider, offline gestures are not working. So, if you are a photo snapper, you might want to hold it off for some more time. Other vital features like Wifi, Bluetooth, fingerprint scanner, VoLTE and sensors work just fine, according to the dev. Everything is working now with few minor bugs. We will guide you through the process in a short step by step manual below.
Prerequisites
The bootloader of your OnePlus 2 should be unlocked before proceeding forward
A custom recovery, preferably TWRP will also be needed on the OnePlus 2
The Lineage OS 15.0 ROM and Gapps for the OnePlus 2 will be needed for which the link is given above
Before proceeding, charge up your device to at least 60%. If you can, charge it to full
If our readers want to know how to unlock the bootloader of the OnePlus 2, we have a separate guide here. And guide for TWRP installation on OnePlus 2 is here.
OnePlus 2 LineageOS 15 (Android Oreo): Download
Gapps (Only flash this Gapps package): Download
Note: Sometimes, installing a custom ROMS leads to a bricked device. Therefore, we urge readers to do their own research as well before moving forward. Devs-lab.com is not responsible for anything that happens to your device.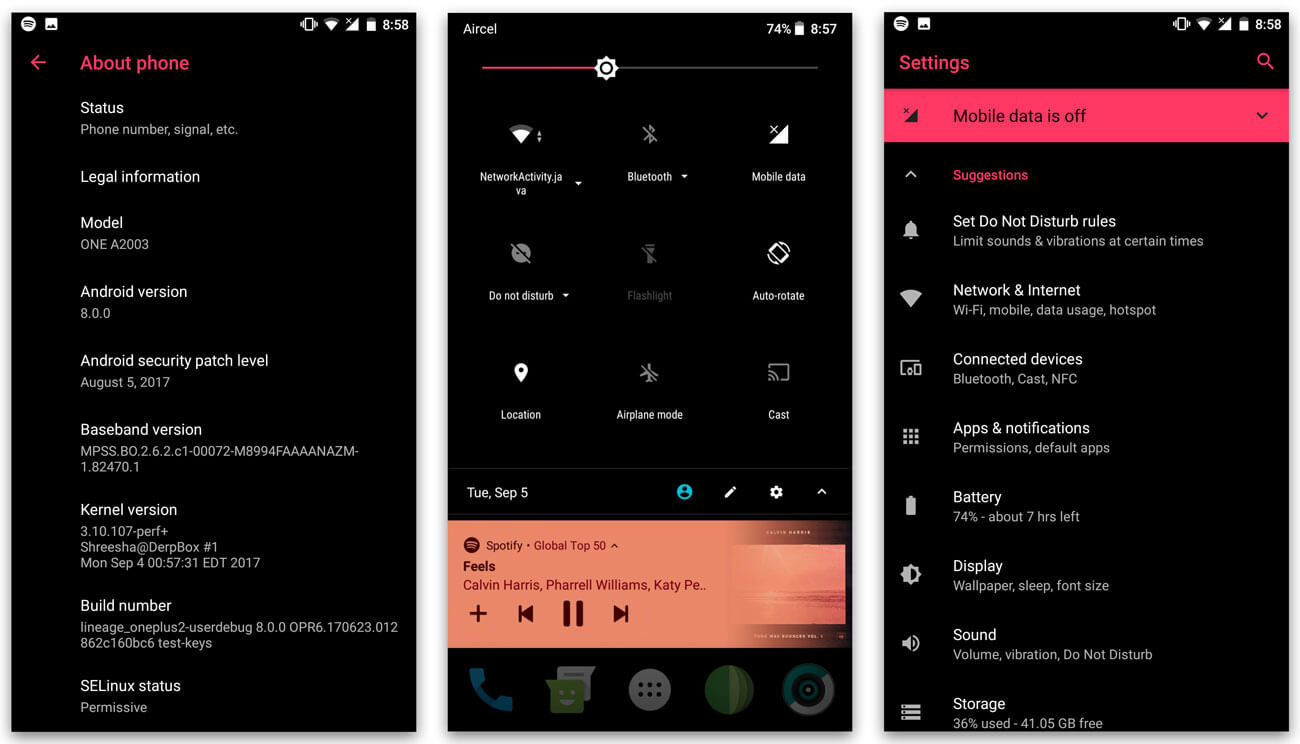 What's working:
Boots
RIL (Calls, SMS, Data)
Fingerprint
Wi-Fi
Bluetooth
Camera
Video Recording
Video Playback
Audio
Sensors
Hotspot
Flash
LED
GPS
Install Android 8.0 Oreo (Lineage OS 15.0) on OnePlus 2
Follow the steps below to install Lineage OS 15.0 Alpha build based on Android 8.0 Oreo on the OnePlus 2.
1. Download the ROM (link above), Gapps (link above) and copy it to the internal storage of your phone
2. Boot into TWRP recovery (Press the power and volume buttons for a few seconds, the TWRP logo should appear)
3. Wipe the Data, Cache, and Dalvik Cache via recovery by going to the Wipe And Format Option
4. Now, go back to main menu, select install, and navigate to the directory where the ROM is placed in the internal storage
5. Now, do the same for the Gapps
6. Now, swipe the button below to start flashing. Once the ROM is installed, reboot your device.
FAQs:
Q. Can this ROM be flashed through TWRP?
A. Yes.
Q. Can I run this ROM in multiboot or dualboot setup?
A. You can but I won't accept bug reports or help anything related to that.
Q. Can I flash OpenGApps?
A. You can but no support will be given if something goes wrong with your setup. Flash the one provided in OP for best experience
Q. Sounds good. How can I contribute to project?
A. Test the build as much as you can and report bugs which can be reproduced with exact steps and are not random.
Q. How do I enable AOD?
A. Go to SystemUI tuner and under Ambient display, enable
Q. How do I switch back to stock color accent?
A. Go to display -> Advanced -> Device Theme and select "Stock"
So, that's it, guys. Be sure to let us know in the comments below if you liked the build or if you found some new bugs. Also, follow us on social media to get regular updates from the world of Android.