Android Wear 2.0 was a much needed update and brought significant changes to the Operating System. The problem with smartwatches is that there are very little options to chose from. If you were expecting ZTE to launch a sleek and feature packed smartwatch beating the latest smartwatches like the Huawei Watch 2 ,LG Watch Sport and Style, the leaked images may disappoint you.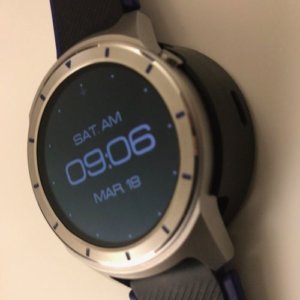 The leaked image of the ZTE smartwatch looks extremely underwhelming and is no where as elegant as the LG Watch Style and it does not look to compete with the LG Watch Sport either.
The watch itself looks really bad in the leaked image and the design looks very out-dated. Notably, the smartwatch lacks both NFC and 4G LTE, which means that you will have to manage with a 3G connection. ZTE has really made strange decisions this time around.
Fortunately, ZTE has not skipped the heart rate sensor, which is a must on a smartwatch by today's standards. The thick bezels on the smartwatch makes it a lot less appealing to the eye. Also, only one physical button can be seen on the right side of the ZTE Quartz, and ZTE has omitted the rotation crown, which can be extremely useful at times.
However all this may mean that the ZTE Quartz may be a very low budget smartwatch, which may well cancel out the flaws. However, the big news is that this smartwatch will come with Android Wear 2.0 out of the box, including support for Google Assistant.
We will keep you posted as we learn more!