Xiaomi has finally announced the release date for the Xiaomi Mi 6 and Mi 6 Plus. April 19th will be the date to mark, as Xiaomi releases the first Chinese smartphone to feature the Snapdragon 835 SoC. It will also mark the first device after Samsung's Galaxy S8 line-up to release with the latest from Qualcomm's stable for this year, catapulting the company into the highest echelon of flagship competition. This is also the first time Xiaomi will be using a Snapdragon processor at its stock settings and not slightly under-clocked to prevent heating or battery issues.
Earlier it was teased and speculated that Xiaomi would be launching the device today itself but it seems that was not to be. The actual information on the ground regarding the design of the handset is a bit sparse with sporadic leaks alleging all sorts of capabilities. The device has been confirmed to have a ceramic chassis, whether all variants will have a ceramic body is not confirmed. If you are in China and wish to see the launch event live, registration is ongoing at Mi.com for the unveiling that is to take place in the Beijing University of Technology's Gymnasium.
In a related development, the hardware specifications of the Mi 6 have been confirmed by the device appearing on the AnTuTu benchmarks site.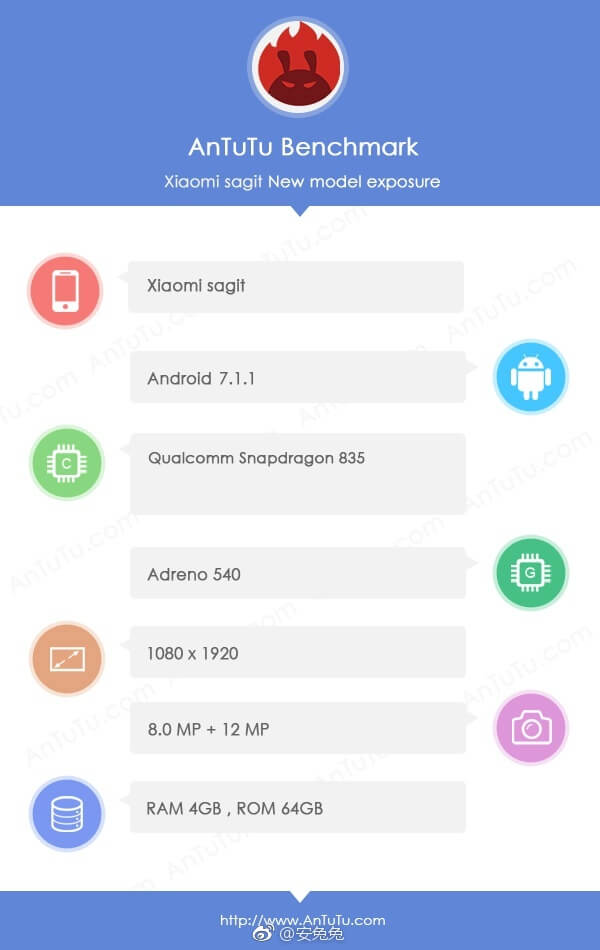 From the above we can pretty much confirm all the information related to the smartphone till now. Codenamed Sagit, it features a Qualcomm Snapdragon 835 SoC coupled with an Adreno 540 GPU, 4 GB of RAM and 64 GB of internal storage. The camera at the back is a 12-megapixel shooter and up-front for selfies is an 8-megapixel sensor. The phone is running on Android's recent, v.7.1.1, Nougat flavour under the MIUI skin.
Read More: Xiaomi Mi 6 and Mi 6 Plus price leaked prior to launch
This falls in line with the details we gleaned from the leaked prices for the devices which revealed that the Mi 6 comes with only 4 GB of RAM and the Plus variant carries 6 GB of RAM.
Follow us on our social media to keep in touch with the latest in the world of Android.