The Xiaomi Mi Mix is remembered as a phone that took the bezel-less design philosophy to its zenith, the device not only featured a big screen, 6.4″ big but also the thinnest bezels to be sported on a standard production smartphone. So how does the company plan to make its successor stand out?
Simple, the Xiaomi Mi Mix II may feature a display integrated fingerprint sensor. Yup, not only is the device going to have a huge display and non-existent bezels, it might integrate the biggest space factor the finger print sensor on the display.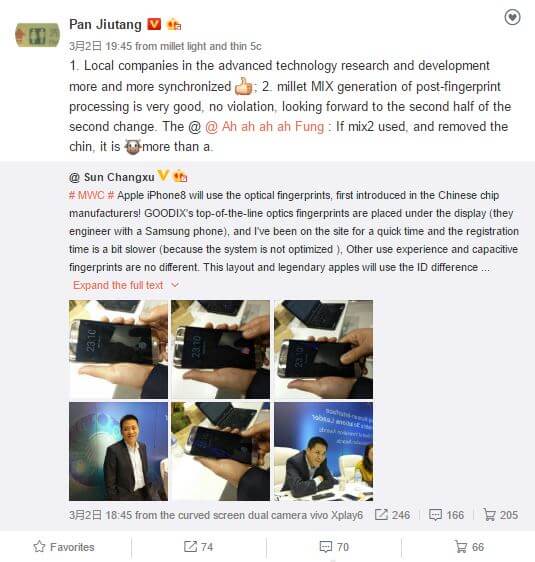 This technology was showcased by a Chinese company, Goodix at the recently concluded Mobile World Congress in Barcelona, Spain. This technology allows for a certain section of the phone display to be treated as a fingerprint sensor. It is compatible with AMOLED displays of all kinds, even the curved types. It was tipped earlier that the next major iteration of the iPhone was to sport this technology, apart from other major players in the market but Goodix were the first to demo the technology at MWC.
The Mi Mix II has been designed in collaboration with the renowned French designer Philip Starck. With this recent reveal, the device might feature the thinnest bezels ever to feature on a production series handset along with improving the body-to-screen ratio to ~93% compared to the original Mix's 91.3%.
The Mi Mix II might feature a lot of new innovative features apart from the fingerprint sensor such as dual cameras and will be using a lot of recurring designs and technology like a ceramic body with the speakers integrated under the display. Xiaomi is likely to detail and announce the device some time during the second half of 2017.