Not a fan of camera notch? You are not alone. The demand for bezel-less smartphones continues to rise year after year. As a result, smartphone manufacturers were pushed to invest and experiment on different kind of bezel-less designs. They thought there is a need for design differentiation to survive in the market, but it's getting very difficult to find uniqueness as everything now seems limited to "slicing up those frames". Thinner bezels looks awesome and updated, Nokia 8 is so last year.
However, there also has a lot of things to sacrifice in exchange of that sleek shiny futuristic smartphones inside our pockets while also keeping all the essentials intact. Sometimes the result can be a Samsung Galaxy S8, but most often it ends up on a freak show joining the Apple iPhone X.
To achieve the bezel-less design on the iPhone X, Apple engineers has to settle with its distractingly huge camera notch where all the existing and new technologies are located. The notch remover app (which is worth $0.99 by the way) that was recently published on the Apple App Store can't even help it. It doesn't seems to work as expected plus it just worsen that facade with some thick ugly single Angry Birds kind of brows. I don't know who in heavens thought that was a good idea, but it exist and people are going crazy about it. (But why buy a $1000 smartphone with a camera notch only to later complain about it?)
But someone has found a way to lessen the camera notch while also keeping things minimal. Earlier this week, a render of Xiaomi Mi MIX 2s starts circulating on the web.
Dubbed as the Xiaomi Mi MIX 2s, the render features an "earring design" that shifted the notch on left corner of the display rather than being on the center, therefore making it non-obscuring to the eyes. Pretty smart actually!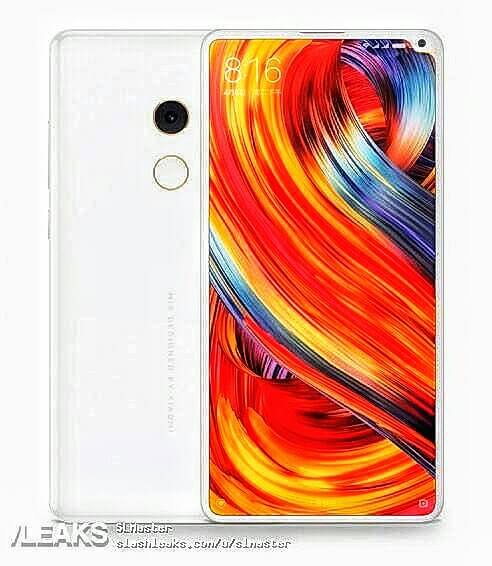 This is also a radical change for Xiaomi Mi MIX lineup which is known to integrate the front-facing camera on the bottom chin. In the new Mi MIX 2s render, none of this chin is existent.
Unfortunately, as of now we have no information regarding the hardware or the pricing of the device. And as mentioned, this is just a render and there's no guarantee that it will come out anytime soon. Hopefully we got to hear more in the coming months. We will keep you posted!