Xiaomi is all set to launch its next flagship, the Xiaomi Mi 6 in April. It is interesting to note that the Xiaomi Mi 5 launched in February last year. The delay of the launch of the Mi 6 is attributed to the shortage of the Snapdragon 835 chipset. Xiaomi has decided to wait for the Snapdragon 835, unlike LG who have opted to go with the Snapdragon 821 chipset for their LG G6 which is launching later this month. This is a welcome move from Xiaomi as the Snapdragon 835 brings some significant improvements to the table and is definitely worth the wait.

There have been other rumours in the past suggesting that the company will be opting for it's own made Pinecone V970 SoC. This may mean that at least one variant of the Mi6 would come with a Snapdragon 835 SoC.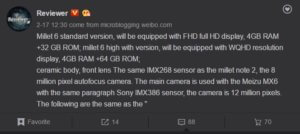 Another leaked image shows that there will be two versions of the Mi 6. The standard variant of the Mi 6 is set to sport a Full HD display with 4GB of RAM and 32GB of internal storage, while the flagship variant set to come with a WQHD display with 4GB of RAM and 64GB of internal storage. Interestingly, it is also mentioned that the Mi 6 would come in a ceramic housing like the Mi Mix.
As for optics, the Xiaomi Mi 6 is set to pack the IMX268 8MP sensor on the front, much like the Xiaomi Mi Note 2 and the IMX386 12MP sensor on the back, like the Meizu MX6.
Therefore the Xiaomi flagship will be available in two variants. But according to previous reports, we may also get three variants of the Mi 6, one with the Pinecone chip. The price of the Mi 6 is expected to be higher than previous-gen Mi phones. Also, Xiaomi may launch it at the exact same time as the Samsung Galaxy S8 which could lower the sales of the smartphone, if it fails to impress.
Do u think Xiaomi should have released the Mi 6 in February or have they done a wise move by waiting for the Snapdragon 835 chip? Let us know in the comments below!
Get notification about our latest updates, leaks, hacks & exciting offers in realtime!