Xiaomi has been teasing us about the upcoming launch of the Mi 6 and 6 Plus, scheduled for today. The company will be the second company to launch handsets with Qualcomm's latest Snapdragon 835 SoC on board. This is even after other brands like SONY had announced their handsets much in advance.
Apart from the latest and greatest from Qualcomm's stable the Mi 6 and Mi 6 Plus are to feature 4 GB or 6 GB of RAM coupled with 64 GB, 128 GB or 256 GB of internal storage. They are to run on MIUI 8.0 which is a skinned version of Android based on, v.7.1.1, Nougat. Now just a couple hours before the launch prices for the various variants surfaced on, Weibo,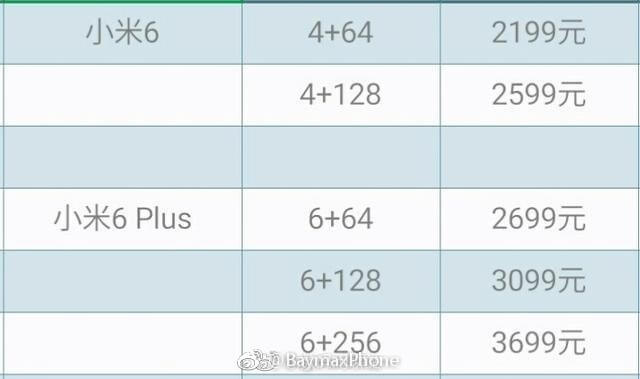 The pricing starts at ¥2,199 (~$320) for the cheapest variant of the Mi 6 extending out to ¥3,699 (~$535) for the most expensive variant of the Mi 6 Plus packing 6 GB of RAM and a gargantuan 256 GB of internal storage.
Apart from the SoC, RAM and storage the Xiaomi Mi 6 features a 5.1-inch full-HD (1080 x1920) IPS panel display. For the camera it has been equipped with a 12-megapixel sensor at the back with support for PDAF and featuring a dual-LED flash capable of recording 4K video (2560 x1440) @30fps. Selfie duties up-front are carried out by an 8-megapixel sensor which is also capable of recording video @4K. On the battery front the Mi 6 is rumoured to carry a 3200mAh Li-Poly battery which can be recharged via the USB Type-C port.
The Plus variant differs in the screen real-estate department, packing a 5.7-inch full HD IPS display panel. At the rear Xiaomi has provided for a dual-camera set-up with twin 12-megapixel sensors. Due to the elongated chassis, the phone carries a larger 4500mAh battery. Also, the Plus runs on an older version of Android, v.6.0., Marshmallow under its MIUI skin.
Both devices have a fingerprint scanner in the front and have confirmed iris scanners up-front, available in the following colours, Silver, Gray, Gold and Rose Gold. Follow us on our social media to keep up-to date with the latest in the world of Android.