In October, a series of tweets from Joe Belfiore, Corporate Vice President in the Operating System Group at Microsoft, has revealed that the Redmond giant will no longer develop and introduce new features or hardware for Windows 10 Mobile. The company, however, promised to continue to support existing users with timely bug fixes and security updates due to end in June of 2019, about 18 months from now. The announcement didn't come as a surprise as the platform is already on its coma stage since the very beginning. It is a long time coming and we were just waiting for Microsoft to realize and finally admit their loss.
But seems like Wileyfox wasn't informed as the UK phone maker is gearing up to launch a new Windows 10 Mobile smartphone on 4th of December. Pardon? Yes, Wileyfox is launching a new Windows 10 Mobile smartphone on December and they're calling it Wileyfox Pro. It's not the kind of phone you would wish to have though. After all, who still wants a Windows 10 Mobile?
Despite having the moniker "Pro" on its name, the Wileyfox Pro is nothing like your old Nokia Lumia 920. It doesn't have the power and all that fancy features to call it a "Pro" in the first place, rather it is a smartphone targeted on the business class. And business class phones are simply boring.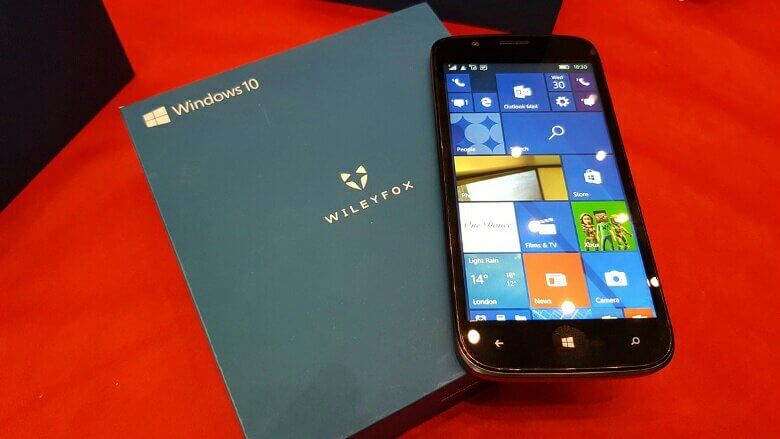 Wileyfox Pro at IFA 2017, Berlin.
Wileyfox Pro is a low-end smartphone that features an old Qualcomm Snapdragon 210 chipset paired with 2GB of RAM and 16GB of expandable storage. It has a 720p HD display, 8-megapixel rear-facing camera, 2-megapixel front shooter and packs a descent 2100mAh of battery. What a throwback!
The Wileyfox Pro first appeared at the IFA 2017 in Berlin, just months before Microsoft revealed the cessation of Windows 10 Mobile. The launch is probably just move for the company to cut all their losses and has nothing to do with the revival of the doomed operating system.
To be honest, 18 months is a long period of support for a low-end smartphone and I'm pretty sure it's already collecting dust on the drawer when that time comes. The Wileyfox Pro will start selling directly via Amazon UK on December 4 for $250! Facepalm.