The Social messaging giant, WhatsApp has been rolling out different features almost every week, to be the best in the business. While some users are enjoying the new "Status" featuresimilar to Snapchat, other users just want the old status feature back. In our recent poll, almost 80% users voted for the old Status feature & to remove the new update. Guess what? WhatsApp is now rolling out the old Status feature; but with a different name. Previously it was rumored to be "Tagline", but it's "Info". Yeah, it's really weird!
After too many negative feedback, WhatsApp is restoring the old Status feature. But, along with the previous Snapchat like Status. Through this, WhatsApp is trying to increase overall user activity on its App by making its users to update their Status more frequently. The old Status feature will now be called as "Info" about you. You will no more see people having Status like "Sleeping or Awesome day", it would be more like the "Instagram Bio." It is really annoying to see, how WhatsApp is turning more into a "typical" messaging app.
Also Read: WhatsApp rolling out two factor authentication. Why you must enable it!
WhatsApp's new "unsend" feature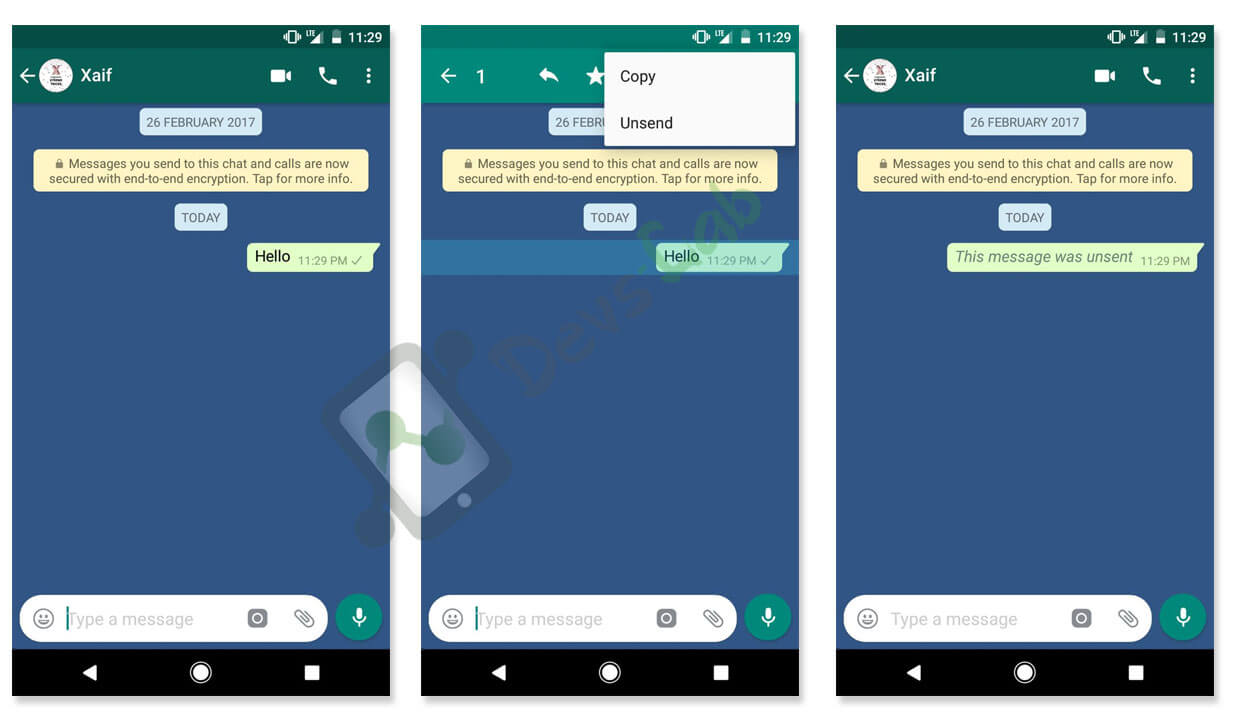 Lately there has been rumors of WhatsApp working to bring "revoke" feature, that can revert back the sent messages, only if the receipt has not received it. Finally WhatsApp is rolling out the "unsend" feature. But, WhatsApp developers have renamed the feature to 'Unsend' from the previous name of 'Revoke'.
In order to unsend any message, just long press the message you want to unsend. Tap on the three dot menu and select the "unsend" option to unsend the message.
There were also reports of allowing the users to "edit" the sent messages. But the edit feature is not yet released. Looking at how WhatsApp is considering user's feedback, WhatsApp might soon come out with the "edit" feature.
As per our reports, this is not a server side update; so you can get this update by installing the latest beta of WhatsApp. OR you can wait for the official update as the new feature is still under testing. It's really interesting to see how WhatsApp has been working more on user feedback & bringing out new updates almost every week to offer a much better user experience. Although I personally don't like the new messy WhatsApp layout. What about you? Let us know know in the comment section below.