Whatsapp has finally rolled out the picture-in-picture calling and text status updates to android and iOS users. The picture-in-picture update was initially available to the users who were using the beta version of the application. But now, Whatsapp has rolled out these features to everyone, in the build v2.17.323 for android and v2.17.52 for iOS.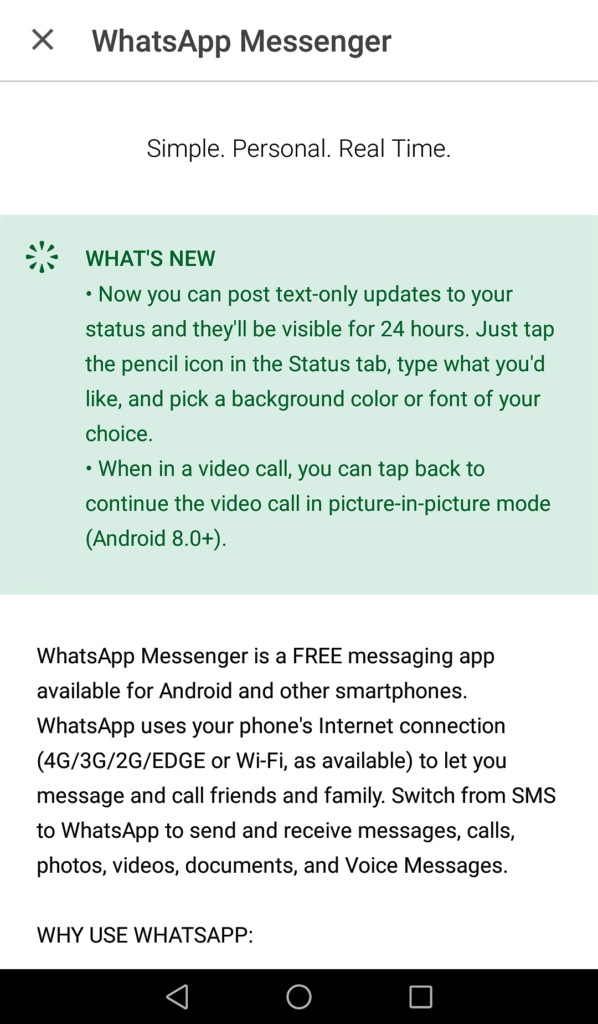 To start off with, Whatsapp has updated its app with a major feature (PiP or picture-in-picture mode), that had been introduced in Android Oreo. PiP allows you to keep watching a video while simultaneously working with other applications. With Whatsapp, this means that you would be able to able to continue with your video calling, by minimizing the video call to a bubble and then dragging it to any corner of the display, while browsing through other messages in the application. Even though Whatsapp has rolled out the update globally for all android versions, only Android v8.0 users would be really able to use it. So if you're using anything less than Android Oreo on your device, you might not really find any change. For iOS users, if you're using iOS 10, then you can also experience the big update.
For everyone else, Whatsapp has the colored-text status updates. Using this, you would be able to upload colorful text-only updates as your status to Whatsapp, which will auto disappear after 24 hours. To do the same, you need to click on the "pencil" icon in the Status tab, and then add the text that you want to upload. Editing options include multiple color backgrounds, some fonts, and the option to include emojis. One interesting thing is that you can even include link preview for URLs, which is big.
Apart from these, Whatsapp has also been trying to make a platform for businesses, wherein they would be able to communicate important information about various services to the customers, through the instant messaging service. And if reports are to be believed, they might launch the service soon.
Get notification about our latest updates, leaks, hacks & exciting offers in realtime!