Lenovo is launching the newly announced MOTO Z2 Play in India today and you can view it live at the following link,
Lenovo today launched the MOTO Z2 Play in India for ₹27,999. The announcement comes barely a week after the global reveal of the handset across the globe. The MOTO Z2 Play succeeds the MOTO Z Play which was released last year. In a marked change of strategy, Lenovo plans to offer the handset from both online and offline retail channels. The online retail of the handset is exclusive to Flipkart though.
The company has opened pre-booking for the handset while offering a slew of incentives to entice potential buyers. These include the option to purchase a MOTO MOD of your choice for a flat 50% off upon pre-booking. Pre-bookers are eligible for a 0% EMI interest and 0% processing fee option while also getting up to 100 GB of free data from your Jio SIM. Finally, everyone who buys a pre-purchase version of the phone is eligible to get an Armor pack which is composed of various protective accessories for the handset.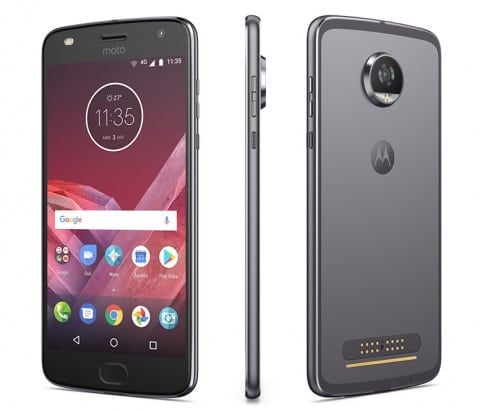 At the launch event, Jim Thiede, Senior Director Marketing at Motorola drew our attention to what the brand wants to push for with the MOTO Z2 Play focussing on the premium feel with the redesigned all aluminium unibody design of the handset. He also stated that the new MOTO Z2 Play has been made 15% slimmer and 12% slimmer vis-á-vis its predecessor the Z Play. The company has improved the imaging capabilities of the handset with a 1.4µm pixel size, a f/1.7 aperture and dual pixel autofocus for faster focusing whilst provisioning the camera with a CCT (colour correlated temperature) LED flash for better lighting in low light situations.
Finally, it was announced that the MOTO Z2 Play would be fully backwards and forward compatible with the various MOTO MOD accessories that have been released till date. Moreover, new style shells that are being released in tandem with the device will now support wireless charging as well.
Read More: MOTO Z2 Play launched; specifications and MOTO MODs launched alongside
You can pre-order/pre-book the MOTO Z2 Play from Flipkart or locate the closest store to your location, here.
Follow us on our social media to keep up to date with the latest in the wo