Asus accidently published details of its upcoming line of ZenFone 4 series on its French website, but soon enough it realized its mistake and pulled down all the leaked information. But, the realization came a bit late as someone already took screenshots of the whole thing and posted it online. And with this, Asus has joined the league (after Apple) in which manufacturers "accidently" reveal features and updates about their upcoming range of devices.
According to Android Police, the four phones that were leaked online on Asus's French e-shop were Asus ZenFone 4, Asus ZenFone 4 Selfie, Asus ZenFone 4 Selfie Pro and the Asus ZenFone 4 Max. Along with this, we also got an extensive look at the specifications of the Asus ZenFone 4 Pro, courtesy of GFXBench.
Up first, if we talk about Zenfone 4, it would feature a 5.5' Full HD AMOLED display. Powered by a Snapdragon 630 SoC, it would have 4GB RAM and 64GB of expandable storage. It is expected to come with dual rear cameras, with a 12MP and 8MP setup. On the front, you will get an 8 MP camera. Coming in Black and White colours, the device is expected to be priced at 499 Euros (approx Rs 38,000).
The Asus ZenFone 4 Selfie has been designed for the selfie-enthusiastic people, as it comes with dual front-facing cameras, one with a 20 MP sensor and the other with an 8 MP sensor, and a 16 MP rear camera. The phone would sport a 5.5" IPS HD display, will have a Qualcomm Snapdragon 430 chipset and will be paired with 4GB of RAM along with 64GB of expandable storage. The ZenFone 4 Selfie will most likely be selling for 300 Euros (approx Rs 23,000).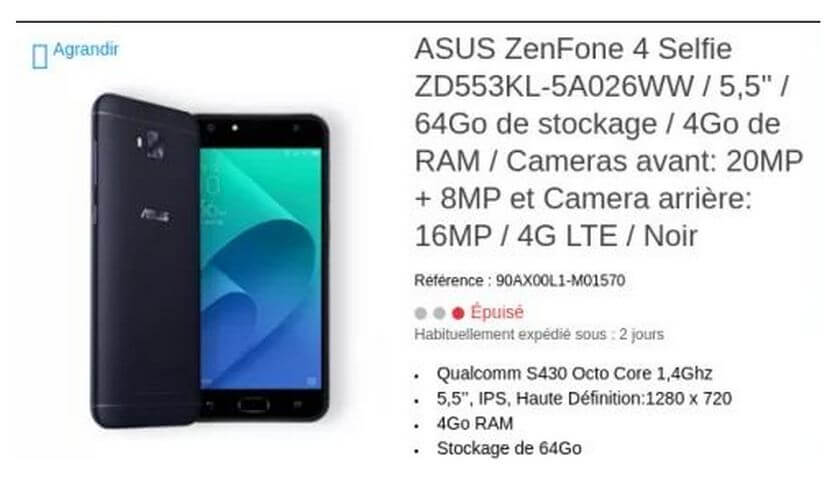 Asus's upgraded version to the ZenFone 4 Selfie, the Zenfone 4 Selfie Pro, would also feature dual front cameras, but with a slightly different setup combining 24MP and 5MP sensors. It would have a 5.5" Full HD AMOLED display, a Snapdragon 625 SoC, along with 4GB RAM and up to 64GB expandable storage. The rear camera would be a 16MP shooter. The phone is expected to sell at 400 Euros (approx Rs 30,000).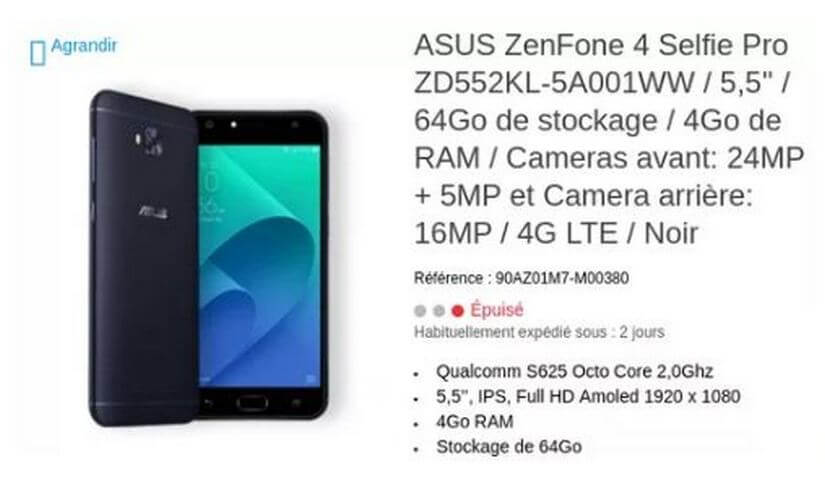 Asus' fourth leaked device, the ZenFone 4 Max, would feature a 5.2" IPS HD display, a Snapdragon 425 SoC with 3GB RAM and up to 32GB of expandable storage. The ZenFone 4 Max will also have dual rear cameras with a 13MP + 5MP sensor combo and an 8 MP front facing camera. It is expected to sell at 230 Euros (approx Rs 17,800).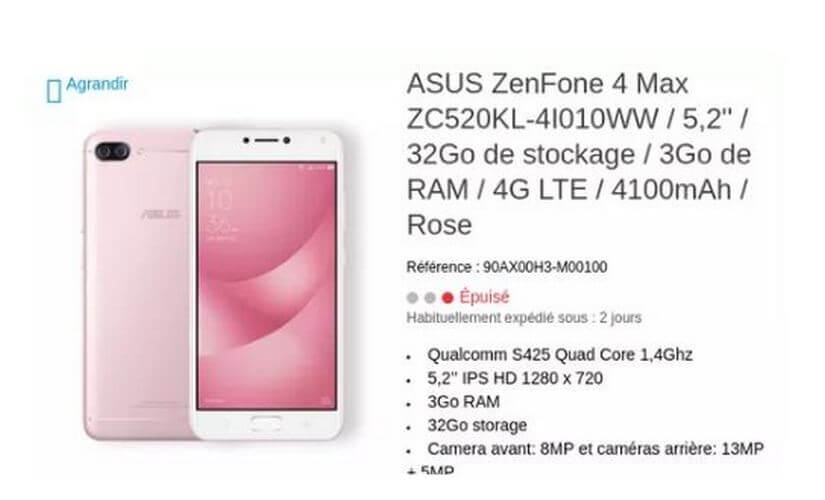 The GFXBench spotted Asus ZenFone 4 Pro (model number Z01G ZS551KL) is assumed to be the upgraded version of its younger sibling, the ZenFone 4. The "Pro" could mean that the phone might feature a higher end Snapdragon SoC (835 perhaps), coupled with Adreno 540 GPU. The info also shows that the smartphone would run on Android Nougat out of the box, and would have a 6GB/64GB (expandable) RAM/ROM configuration. While nothing can be said in a clear manner about the camera configuration, looking at ZenFone 4, the "Pro" version might feature a 12MP dual camera setup at the back, while a 8MP front facing camera.
In the world of never-ending leaks and rumors, Asus just gave us a little more than we asked for.