Earlier this week, Sony unveiled the IMX586 stacked CMOS image sensor for smartphone cameras. It is a super-high-resolution sensor that packs 48 million pixels onto a tiny 1/2-type (8.0 mm diagonal) unit. Apparently, this is more advanced than the Sony IMX600 sensor found on Huawei P20 Pro.
Now, it seems like the P20 Pro will not be the only Android smartphone to each the Nokia level 40-megapixel madness. A  Japanese website Sumaho Info has posted details of the alleged Sony Xperia XZ3 taken from GFXBench.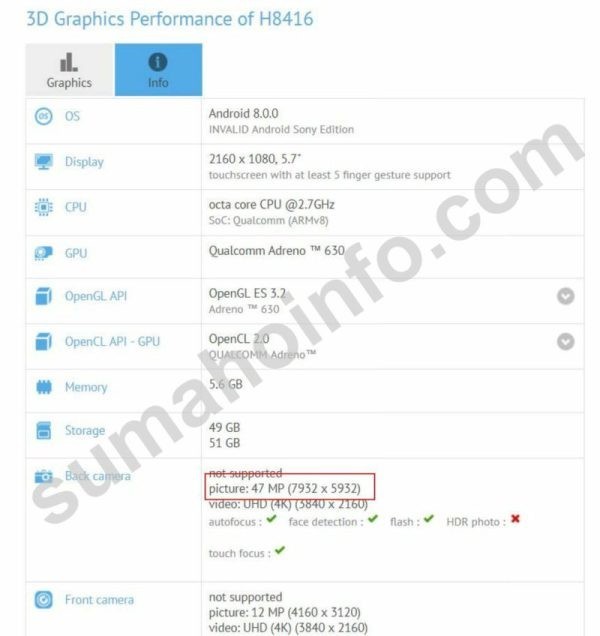 The device, model number H8416, features a single camera with a huge 47-megapixel resolution which more likely is the IMX586. However, this is contradictory to the earlier leaks which shows a Sony prototype with dual rear-facing cameras. But it is also possible that Sony is working with two phones at a time.
1. Alleged Sony Xperia XZ3
2. Alleged Sony Xperia XZ3
3. Alleged Sony Xperia XZ3
4. Alleged Sony Xperia XZ3
With a high-resolution sensor, Sony is trying to achieve what Nokia did with PureView before: combining pixels together to resolve a high-resolution output. The sensor is based on quad Bayer color filter array, with two by two arrangement of the color pixels. This color filter can combine four pixels into one large 1.6μm size pixel. A result is a 12-megapixel unit by default (48/4) which takes good low light photos.
Juha Alakarhu, one of the inventors of Nokia PureView, has some interesting insight about Sony's new camera sensor. According to him, sensors of Nokia 808 PureView, Lumia 1020, and N8 were 165%, 69%, and 20% larger than the surface area of the IMX586. He also stressed that while the quad Bayer color filter has the low light advantage over digital oversampling, it sacrifices the details in daylight. But "maybe" Sony has figured out a solution for that one?
808, 1020 and N8 sensor image areas were 165% 69%, and 20% larger than this 🙂 Also the new high resolution image sensors are based on quad Bayer color filters rather than digital oversampling. This is an advantage in low light but disadvantage in detail.

— Juha Alakarhu (@jalakarhu) July 24, 2018
Sony is set to launch its new smartphone this coming August 30.
Related Posts