Sony is largely expected to unveil its flagship Xperia XZ1 and XZ1 Compact on September 1 at an IFA event. Meanwhile, a new product has appeared on GFXBench with the model number G8541. Expert opinion is that it is the Xperia XZ1 Ultra. The Xperia XZ1 Ultra might be the spiritual successor to the Xperia Z Ultra that came way back in 2013.
Now, the benchmarks reveal a lot about the spec sheet of the phablet. It has a 6.2-inch HD (1,920 x 1,080) pixels display. However, there is also a 12.3-inch display with 4K (3840 x 2160) pixels resolution detected on GFXBench. The handset is shown to sport a Snapdragon 835 chip that comes with the Adreno 540 GPU paired with 4 GB of RAM. Also, the phone will come with Android Oreo if GFXBench is to be trusted.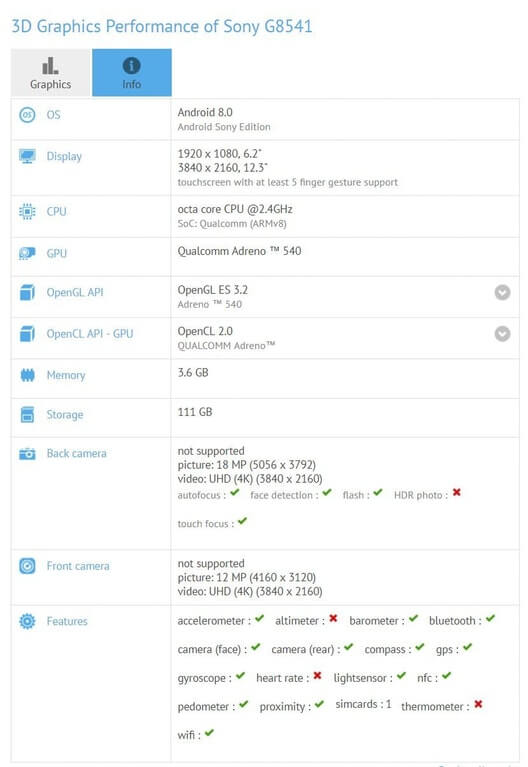 The alleged device comes with an 18-megapixel rear lens and a 12-megapixel selfie lens. Its got 128 GB of internal storage and a bunch of sensors like NFC, GPS, and some more. Among other features rumored for the device is IP68 certification. However, this feature would not be a surprise at all. Consequently, the trio of phones should launch on September 1, at the IFA event within two days.
Among other news, we have seen plenty of renders of both the Xperia XZ1 Compact and Xperia XZ1. However, we haven't seen any renders of the Xperia XZ1 Ultra. Although, from what we've seen of its counterparts we aren't much excited and we are really doubtful of its prospects amongst the Galaxys and iPhones of 2017. Anyways, good luck to Sony.