We had reported earlier today that a Polish e-retail site had listed two new SONY smartphones bearing the model numbers G8341 and G8441; These were rumoured to be the SONY Xperia XZ1 and Xperia XZ1 Compact handsets that the company was to announce in its IFA 2017 presser. Now, in a surprising development, the G8441 has surfaced on the popular AnTuTu benchmark site.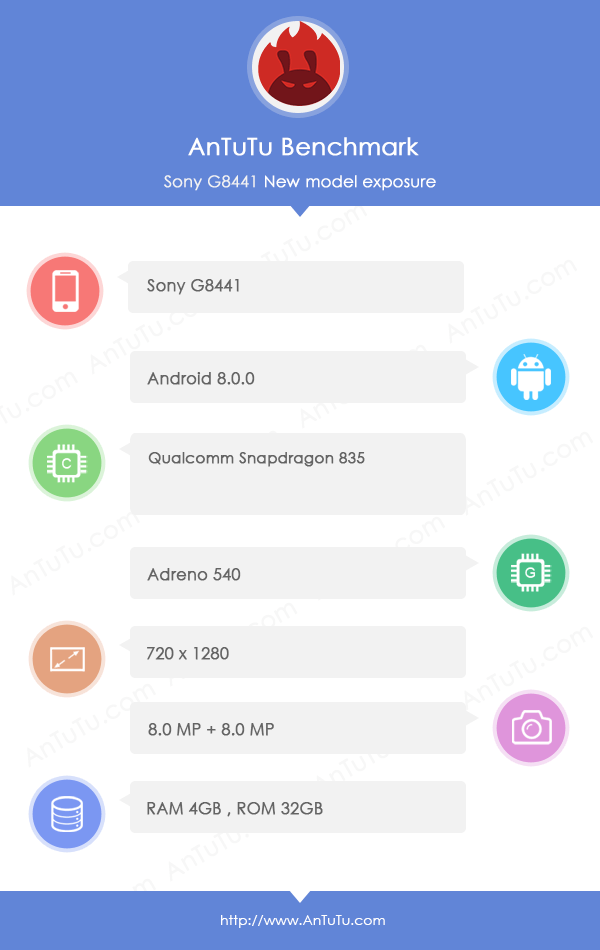 The G8441 as stated earlier is to the Xperia XZ1 Compact handset which would pack high-end specifications in a smaller chassis. The AnTuTu leak shows the G8441 having the Qualcomm Snapdragon 835 chipset but only a HD (720 x1280) display, this confirms that the model is indeed the Compact variant of the XZ1 flagship. Other hardware specifications state 4GB of RAM coupled with 32GB of internal storage. The benchmark also identifies two 8-megapixel cameras but does not tell us whether they will be in a dual-camera setup or one each on the front (selfie) and back (primary).
Read More: SONY might launch a bezel-less smartphone featuring JDI's new "Active Display"
Another very interesting aspect of the leak is that the G8441 is shown as running Android v.8.0, O out of the box. If all these leaks are true we should see similar hardware in the G831 or SONY Xperia XZ1 smartphone as well.
Follow us on our social media to keep up to date with the latest in the world of Android.