When we think bezel-less smartphones these days we generally think of the Xiaomi Mi Mix. A concept phone by the Chinese company which combined excellent high-end specifications in a ceramic chassis with minimal bezels all around which allowed for a large 6.4-inch display in a relatively compact frame. But this was not the first company or product to take a stab at the bezel-free design language. That credit actually goes to the Japanese electronics giant, Sharp.
Read More: Xiaomi Mi Mix II concept renders emerge
Released in the August of 2014, a full two years ahead of the Mi Mix, the Sharp Aquos Crystal was the first minimal bezel smartphone design to enter into serial production. The device sported modest mid-range hardware to go along with the minimalistic bezels on the outside. Unfortunately Sharp is a company that gets a majority of its sales in Japan and thus the device apart from being a novelty due to its design never really garnered much praise or sales elsewhere. Now the company seemingly emboldened by the success of the Mi Mix are working on a new concept which was leaked.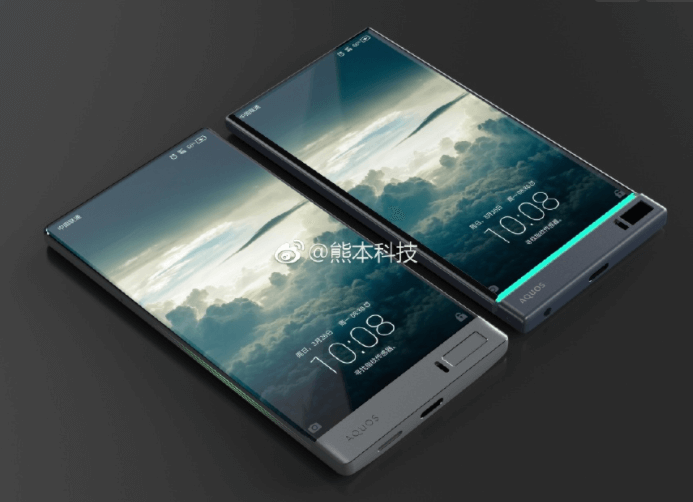 The rumoured handset features a high screen-to-body ration but incorporates a physical home button which sits at the bottom right side of the device and might incorporate a fingerprint scanner. The smartphone carries the Aquos heraldry which features quite prominently on the front fascia of the handset on the bottom left. Just to the left of the home button / fingerprint scanner, a potential selfie camera is also present. Sharp seems to have gone for a wrap around notification bar around the display as well instead of just providing a small LED. At the back of the smartphone we can see the camera lens sitting inside a ring-flash a la MOTO X 2014. There is also a LASER autofocus module at the side of the camera.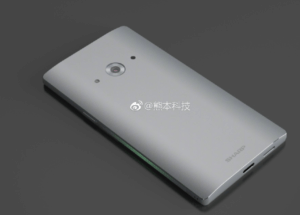 Overall these concept renders are very reminiscent of the original Sharp Aquos Crystal design philosophy. But right now, it is not a 100% clear if these are just concepts or an actual device in the works. If the latter is true we just hope that Sharp tries stepping up its game outside of Japan.
Follow us to keep up with latest in the world of Android.