Today's technology and machines (whether it's PC or Mac) are certainly capable of processing large original files but its a pain to share big files if you have a poor Internet. People used to send files through emails but e-mail comes with attachment limitation and usually doesn't allow anything more than 100MB. Later on file sharing web services tend to solve most of our problems. But, what if you want to upload a file of 1GB size? Well, everyone can't afford Google Fibre or its not available in your town. Waiting for hours for the file to get uploaded on the file sharing servers is a time consuming task. Here, Share By Link comes into the picture. Its is a free file sharing program which does not require any sign up & runs from your home PC itself.
How is Share By link different from other File sharing sites?
If you share files frequently, you would know the pain of waiting for hours for your files to get uploaded. ShareBylink is an App for Windows, MacOS & Linux which allows you to share files instantly. Once you have installed the program, you just have to right click on the file you want to share & click on "Share By Link". ShareByLink streams the chosen files from your computer and provides a sharing link instantly. This lets you share big files without having to wait until they're uploaded.​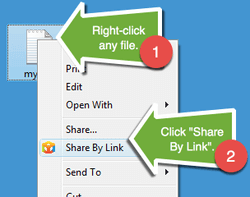 The files remain on their server for 30 days. As the software is still in Alpha stage, you can expect some more exciting features & Age limit upgrade in their Beta & final version. This small program packs a bunch of features which most of the developers always ask for. iIf you are a geek, you will be able to customize ShareByLink to use their own server for sharing. You will need a web hosting account with PHP.  The file size limit is 2 GB. You can upload multiple 2 GB files.
Sharing files won't be this hard if your internet connection would have been better. Most of the internet users have upload limit set by their ISPs. In most of the cases, its around 1-2GB. Once you reach the upload limit, your net connection gets restarted. If you are sharing big files using Share By link; Share By Link can usually get around wifi that intermittently cuts out, preventing you from needing to restart your upload. This makes it a great tool to have when you're travelling.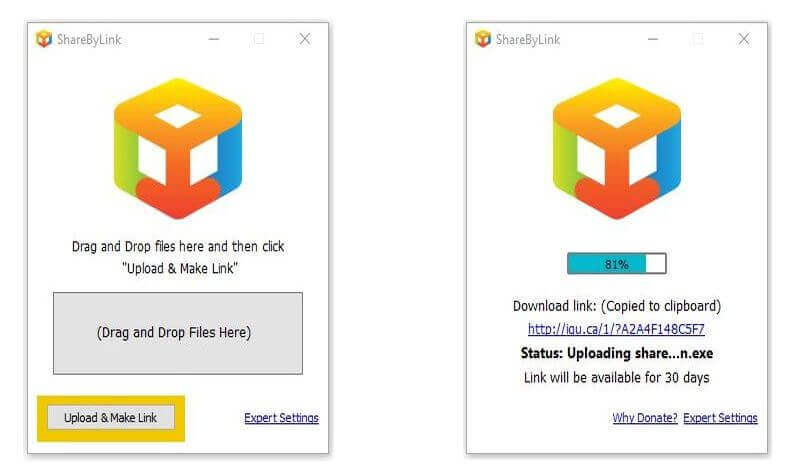 As I said, the program is still in Alpha stage, there are still few features which are under development like you won't be able to delete your files it will get expired after 30 days. But you can trust ShareBylink as its here to create large user base & won't cheat on their users. ShareBylink strongly suggests, to avoid sharing legal files and avoid using their service for illegal transfer. You can also share files using the Command line in your PC. However, its only available for Windows OS currently. Overall, Sharebylink comes out to be the easiest way to share Images, videos, documents of large files. Download Share By Link now!
The Review
While there are tones of big guys like Google Drive, Dropbox & more which offer better security & file access, Share by link comes out to be different & instant with simple interface.
Review Breakdown
Easy to use

Security

Size limit