Before the purported launch of ASUS ZenFone 4 in Pasay, The Philippines this coming August 19, we already seen a couple of ZenFone 4 variants circulated online. The first variant to leak online is the ASUS Zenfone 4 Pro which is confirmed to have a dual-rear facing camera. The "Pro" moniker suggests that this will be the more pricey device among the batch.
Another variant, the ASUS ZenFone 4 Max, was already announced in Russia last month and known to feature a dual 13-megapixel camera. Also note that the ZenFone 4 Max will have the lowest price among the lineup and the inclusion of a dual rear-facing camera is a great thing to see in this price point.
The ASUS ZenFone 4 has been circulating online since January and is anticipated to have at least five variants. The listing from ePrice today just confirmed this long time rumor.
The prices are as follows: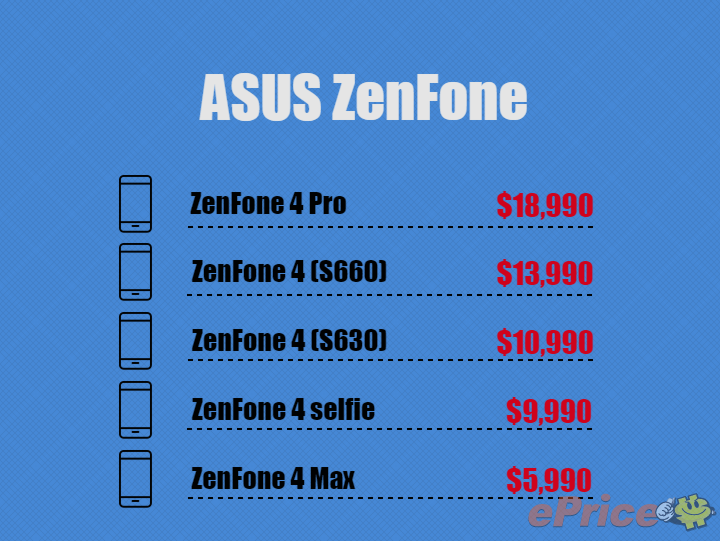 Note that this prices are Taiwan market exclusive.
The ASUS ZenFone 4 will house a Qualcomm Snapdragon 630 coupled with 4GB of RAM and 64GB of expandable storage. The device is also expected to include a dual rear-facing camera and another model with Snapdragon 660.
The ASUS ZenFone 4 Pro on the other hand will come with 5.7″ AMOLED Display with QHD resolution. Like any other flagship smartphones, the ZenFone 4 Pro will be using a Qualcomm Snapdragon 835 coupled with 6GB of RAM and 64GB of expandable on-board storage. The dual rear-facimg camera will feature a 2x optical zoom and will be available for just $650 USD.