Secure Folder was a feature that was introduced with the Samsung Galaxy Note 7. It used the Iris Scanning capabilities of the Smartphone to lock folders and was regarded as a great security feature. There is an unreleased app for the Galaxy S7 called the Security Folder and it "accidentally" shows a Galaxy S8 silhouette. As seen in the picture above, a device with a curved-large display and very short top and bottom bezel is shown.
Also Read:Samsung Galaxy S8 & S8 Plus render leaks show a Bezel-Less design.
This is something we have seen several times in the past month but this is the first time Sammy has accidentally leaked its next flagship.
The Secure Folder app is basically a protected folder that lets you store your files in an alternate file system. The app requires your fingerprint to access the locked folder and Samsung says that it will release it as a downloadable app for its Galaxy S7 devices.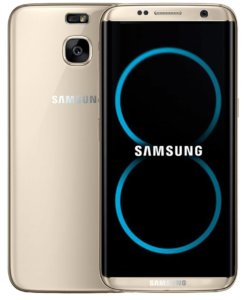 At this point we are pretty much clear about the upcoming Samsung Galaxy S8. We know that it is going to launch in two display sizes and both are set to be powered by the Exynos 9/Snapdragon 835 SoC depending upon the region you live in. The much awaited flagship is also expected to sport a bezel-less design with no home button on the front. A few renders have indicated that the fingerprint scanner will be near the flash module in the rear side of the phone. It is also expected to house a 12 megapixel sensor on the rear and an 8 megapixel sensor on the front. The smartphone is set to pack new software features like the 'Bixby' virtual assistant.
The Samsung Galaxy S8 is set launch at an event exclusive to the smartphone. The delay is attributed to security concerns after the explosion of the Galaxy Note 7. Samsung will be teasing the phone at the Mobile World Congress later this month. We will keep you posted as we learn more.