Samsung is expected to launch the Galaxy Note 8 sometime close to IFA in Berlin as per the latest leaks. There have been multiple leaks detailing the chipset at the heart of the device, its specifications and other sundry details. Today a new leak has appeared courtesy HTML5Test database which shows a device, Samsung SM-N950F running the tests. This is widely believed to be the phablet's model number.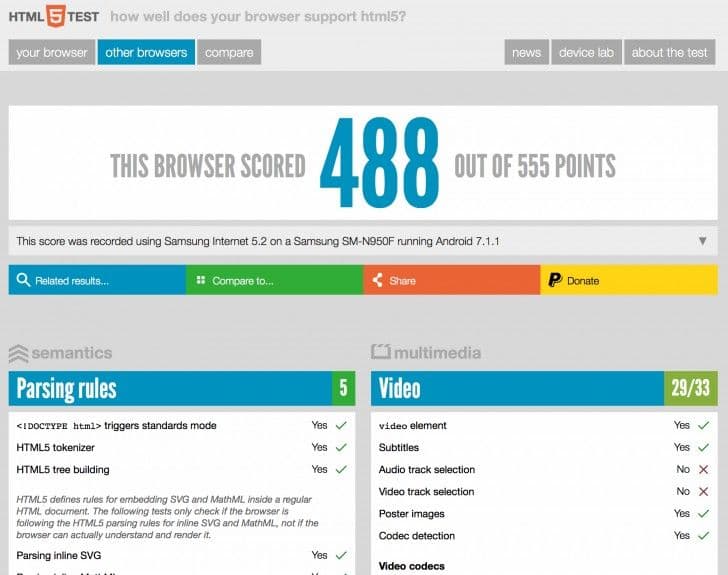 The device ran the tests on its browser, the Samsung Internet 5.2 and managed to score 488 points out of a total 555. This should not be taken as the indicator of the phablet's final performance as this might be a prototype or pre-production sample. What the leak tells us about the Galaxy Note 8 is that the device, at-least the prototype is running on Android v.7.1.1, Nougat. This adds to what we already know about the Galaxy Note 8, it is being provisioned with a Qualcomm Snapdragon 836 SoC, a 6.3-inch Infinity Display with an 18.5:9 aspect ratio. It is also a given that the Galaxy Note 8 will feature a S-Pen.
It is disappointing that the phablet flagship will not be coming with Android O but can be explained by the launch window and the release date for the latest flavour of Android. Google is expected to release the source code for Android O around August to the OEM's which is much too less time for Samsung to customise the OS for their needs. All in all we expect the Samsung Galaxy Note 8 to get the Android O update sometime later in its life cycle.
What do you think about this news, will you be picking up the Samsung Galaxy Note 8? Let us know in the comments below and follow us on our social media to keep up to date with the latest in the world of Android.