Samsung recently confirmed that its upcoming flagship smartphone will come some time in February, probably during MWC 2018 in Barcelona. So it comes as no surprise to see some product leakages coming out of nowhere and this time, it's coming from Reddit.
Reddit users claim to have found a photo of a retail box that is allegedly belongs to the Galaxy S9. The box itself contains important information about the anticipated high-end handset. Although the authenticity of the leak is yet questionable, the product specification itself sounds kinda reasonable in all fairness.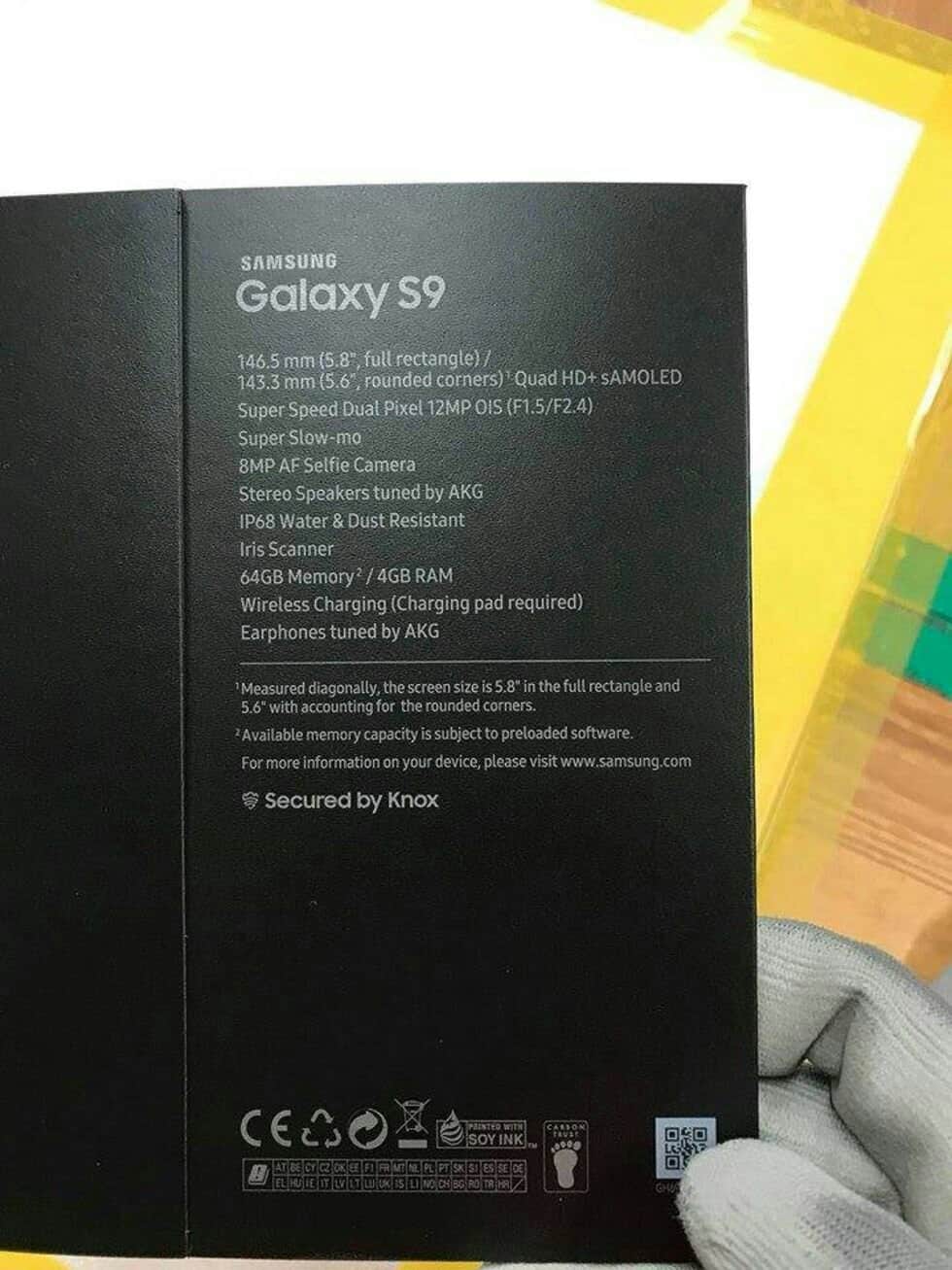 According to the specification sheet, the Galaxy S9 will have a 5.8″ Quad HD+ Super AMOLED display, IP68 water and dust resistance, iris scanner, 4GB of RAM and 64GB of memory. The retail box also mentioned the AKG-tuned stereo speaker on the device, as well as the wireless charging feature.
The specs itself isn't so promising, except for the camera department that implies something to look forward to. The front will be an 8-megapixel autofocus camera, nothing special in particular, but the rear has some crazy stuffs that should remain a standard for Samsung's future flagship smartphones.
The Galaxy S9 will allegedly come with a 12-megapixel Dual Pixel camera with an optical image stabilization (OIS), basically just like the Galaxy S8. But one of the most exciting thing about the camera though (aside from the slo-mo capability) is the two varied aperture settings listed on the box, f/1.5 and f/2.4.
This could hint a dual-lens camera on the phone with different aperture each, or this could also mean that the camera module on the Galaxy S9 will have a variable aperture. Last month, Samsung unvieled the Chinese-only W2018 flip-phone with variable aperture on its camera. The camera module of the phone can switch between the two aperture settings depending on the lighting situation.
In photography, lenses with f/1.5 aperture performs better in lowlight. This is because the amount of light that gets in the sensor depends on the aperture. Aperture defines as the opening of the lens's diaphragm through which light passes, lower number means wider opening, thus more light to hit the sensor. The f/2.4, on the other hand, will result for a broader depth of field, allowing sharper photos given it was taken with good lighting condition.
This isn't a first time for a smartphone though. Variable aperture on a smartphone camera is actually just one of those things from the past that's making a grand comeback. In 2009, Nokia released the Nokia N86, the world's first smartphone with variable aperture settings. The Nokia N86 features an 8-megapixel Carl Zeiss wide-angle lens (world's first phone to have wide-angle lens) with f/2.4, f/3.2 and f/4.8 aperture settings. The aperture can't be changed manually, unfortunately.
Related Posts