Battery tests carried out by PhoneArenashows that the Samsung Galaxy S8 Plus lasts longer than all the current Android flagships. The smartphone is only second to the Apple iPhone 7 Plus. The site has reported that the Samsung Galaxy S8 Plus lasted for exactly 8 hours under the usage conditions.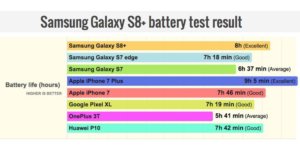 The Galaxy S8+ battery life test result stands at exactly 8 hours. Compare this with the 7 hours and 18 minutes that the already very good Galaxy S7 Edge scored, and you see that Samsung has managed to improve on their last year's phone. The S8+ also bests the Google Pixel XL, the OnePlus 3T, but falls a bit short of the battery life on the iPhone 7 Plus
This is great news and the Galaxy S8 can easily last for a full day under heavy usage and can push a day and a half with moderate usage. There was a bit of a concern regarding the battery life of the S8 Plus as it had a huge 6.2 inch display and only a 3500 mAh battery.
Samsung's Fast Adaptive Charging tech too performed decently in the test.
It is able to fully recharge its battery in just 1 hour and 40 minutes. This is not the fastest we have seen, but it is not too far off.
However, charging times are much longer when a wireless charger is used.
The Samsung Galaxy S8 and the S8 Plus were announced last week and was highly praised for it's bezel-less and seamless design.