The Galaxy J5 Prime, released in September 2016, is now getting Android Nougat after a year of penance. The update is rolling out to the UAE. Earlier, it was mistakenly thought to be rolling out in India, but the update is actually out for UAE. The firmware is understandably heavy coming in at 1 GB. This is the first major OS update issued for the 1-year-old device.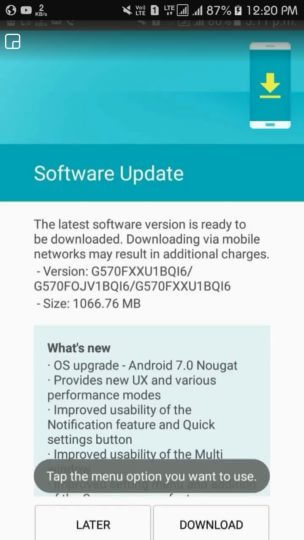 The latest update follows jump of the Galaxy On Nxt and a number of mid-range devices that got the update last month. You'll see all the refreshing new features of Nougat along with some Samsung software after the update. Most notably, users have pointed out that the update brings Samsung Experience UX 8.1. Users will also see the Dual messenger feature that runs two instances of a messaging app on the new build. We are not aware if the August security patch includes the Blueborne fix. But there are apps in the Play Store that check your phone for vulnerability.
Before heading on to update, make sure your J5 Prime has enough space to accommodate the new build. Also, take a backup just in case. And finally, charge up your devices up to 50% at least. India hasn't officially got the update, but since the UAE is getting the update we presume it won't take too long before it drops here as well.