The much awaited Samsung Galaxy Note 8 might be getting a lot of firsts for Samsung to the tablet but a dual camera setup at the back might not be one of them. That might be because a healthy rumour doing the rounds currently is that a new release in the Galaxy C lineup, the Samsung Galaxy C10 might be released earlier. Today we have some more information regarding the model of the device in question and what might its other specifications be.
According to a twitter account based out of China, the Samsung handset in question will be the Galaxy C10. The model number of the device is allegedly SM-C9150 and in another first, the Galaxy C10 would feature Qualcomm's upcoming Snapdragon 660 SoC. The same source went on to state that the device would also feature Samsung's latest voice-based assistant Bixby on board. The device will also feature a dedicated Bixby pull-up button just like the Samsung Galaxy S8 and S8+.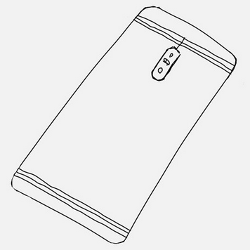 Earlier, the source had leaked a sketch of the Galaxy C10's back (above) which showcased a dual camera setup laid out vertically but no rear-mounted fingerprint sensor. This means that either the device has a fingerprint scanner up front on the home button or integrated directly into the display. Since the technology for the latter is still work in progress, it is likely the fingerprint scanner is present on the home button.
Read More: Qualcomm might showcase the Snapdragon 660 SoC on May 9th.
Follow us on our social media to keep up to date with the latest in the world of Android.