At Reliance's 40th Annual General Meeting announcement today, Chairman, Mukesh Ambani announced the much anticipated JioPhone. The feature would go into a limited trial for select customers from August 15 and would be available for all to pre-order from August 24. The smartphone should be available from September on a first-come-first-serve basis.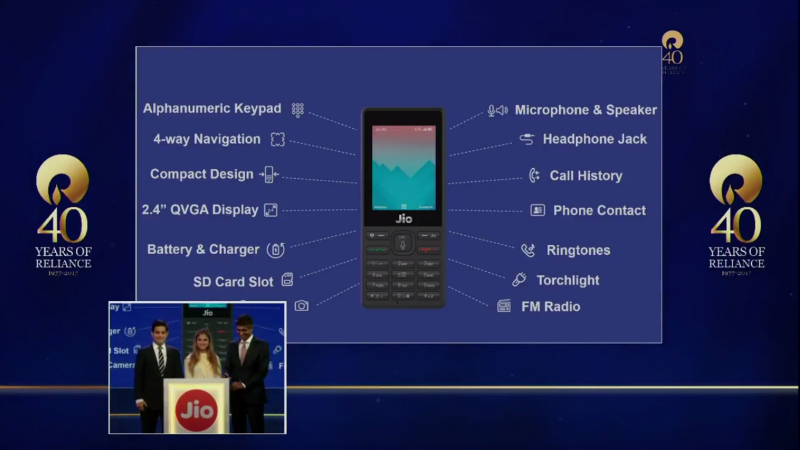 If you plan to pick up the JioPhone, you can pre-book it via the MyJio application or by visiting your closest Jio retailer from August 24.
Mr Ambani stated that the JioPhone would be available to all customers at an effective price of Rs 0. Customers who pick up the handset would have to pay a Rs 1,500 deposit which they can refund three years later. This purpose of the security deposit is necessary to avoid any potential misuse of data according to him. In another bold claim, Mr Ambani stated that the company plans to provide for up to 5 million JioPhone units every week for its potential customers in India.
The JioPhone is an entry-level feature phone which will come with unlimited voice, 4G data and text messaging. The customers will have to recharge with a monthly Jio Dhan Dhana Dhan pack worth Rs 153 which will give them all the above services plus access to Jio applications. At the event, Mr Ambani also announced the Jio Phone TV-Cable accessory that will allow a user to connect their JioPhone with any television set. For availing services, the users will have to recharge with a Rs 309 monthly pack.
The JioPhone comes with support for 22 local and regional languages and supports basic voice input commands. A short demo was arranged showcasing the feature in action at the keynote, in which the device was able to play music via Jio Music. The JioPhone also features an NFC module which will be activated for function via an OTA update. Additionally, as a safety measure, the handset will come with a panic button which can be activated by long-pressing the number 5.
Would you be picking up the JioPhone, do let us know in the comments below and remember to follow us on our social media to keep up to date with the world of Android.