Qualcomm has already been sending invites for their May 9 event. The company is set to unveil their latest chipset, the Snapdragon 660.
Snapdragon 660 is company's successor to their excellent Snapdragon 652, only more powerful. Snapdragon 660 is said to be the closest mid-range chipset to company's flagship chip, the Snapdragon 835. It will use the same octa-core processor from Snapdragon 835 with Kryo 280 cores. The only difference is that the Snapdragon 660 will be built on 14nm process rather than the 10nm process used in Snapdragon 835.
According to the AnTuTU listing, it will support dual-channel LPDDR4X-1866 memory, UFS 2.1 storage, up to 24MP camera, LTE Cat. 10 and three carrier aggregation. The chipset will reportedly have an octa-core arrangement, possibly a combination of the Cortex-A73 and A53 cores.
The new chipset will also use an inferior Adreno 512 GPU rather than the 540 in Snapdragon 835. We may not be able to tell the difference in terms of graphics until we test a phone featuring the 660 (But we are confident that this is weaker than the Adreno 540 GPU. We are talking about a mid-range chip after all). Some of the devices rumored to feature the 660 are the Nokia 7 and 8, Xperia X Ultra and the Xiaomi Mi Max.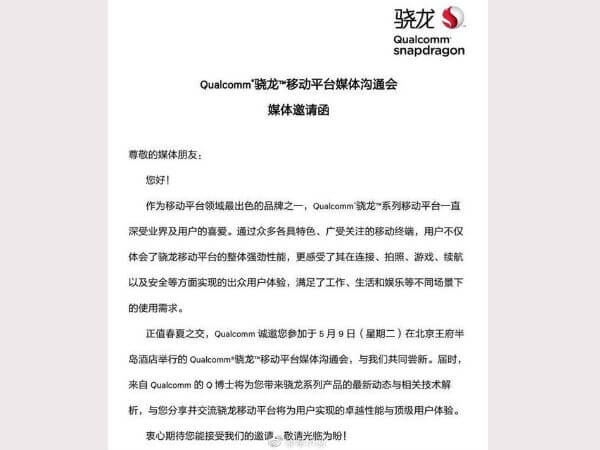 Snapdragon 660 is a mid-range chipset, targeted for premium mid-tier devices. The mid-tier market for mobile devices is one of the most active and competitive areas of the electronic market; where a lot of companies struggle to differentiate their products from other competitors. This competition allows companies to improve not only the physical aspects of their devices, but also it's core functions.
While Mid-tier devices are becoming more premium these days with usability compromises from the past started to fade away. That's exactly what the Snapdragon 660 opts for. Qualcomm will unveil Snapdragon 660 on May 9, next Tuesday.