As we had reported earlier, Qualcomm has today launched the Snapdragon 660 and 630 SoCs to replace last years Snapdragon 650 series and 626 series SoCs.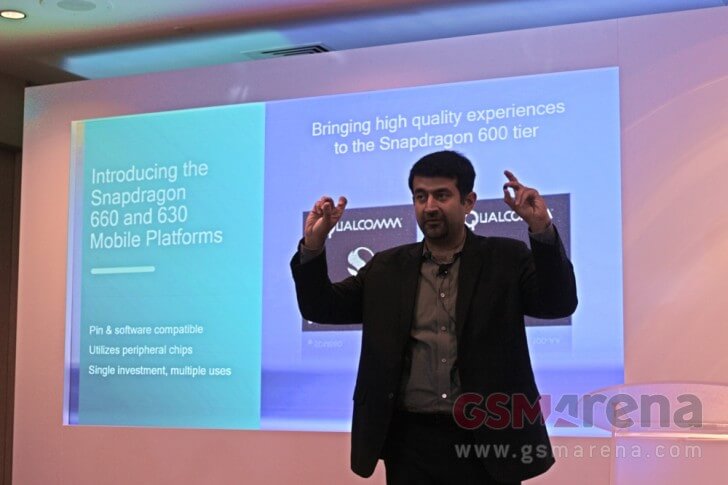 The Snapdragon 660 will lead Qualcomm's charge in the higher echelons of mid-range chipsets. Based on the 14nm node the SoC has eight Kryo 260 CPU cores clocked @2.2GHz which the company claims leads to a 20% increase in performance than the outgoing Snapdragon 653. The GPU is the Adreno 512 which is the 30% faster than the Adreno 510 on the Snapdragon 653. The other chips housed on the SoC are the latest Snapdragon X12 LTE Mode, 2×2 MU-MIMO WiFi 802.11 with support for up to the ac standard. With these connectivity standards, there is 600Mbps data and 867Mbps WiFi peak download speed. The SoC also features Qualcomm's Hexagon 680 DSP along with Hexagon Vector eXtensions (HVX) for better video and image processing.
This makes the Snapdragon SoC unique in the fact that it is the first 600-series processor that features Kryo cores instead of the standard ARM Cortex CPU's that were the norm in mid-tier chipsets.
The Snapdragon 630 is also based on the 14nm fabrication node, packing eight ARM Cortex-A53 CPU's clocked @2.2GHz which the company claims makes it 10% faster than the Snapdragon 626 which it replaces. The Adreno 508 GPU onboard the SoC is 30% faster than the Adreno 506 found on the Snapdragon 626. It also features the X12 LTE Modem as on the Snapdragon 660 with the same 2×2 MU-MIMO WiFi 802.11 with support for up to the ac standard with Qualcomm's TruSignal adaptive antenna tuning which allows for a 600Mbps data and 433Mbps WiFi peak download speed. The Snapdragon 630 features a Hexagon 642 DSP for video and image processing tasks.
Both SoC's feature the following common standards and feature-sets, Bluetooth v.5.0, Qualcomm TruSignal adaptive antenna tuning for better connectivity, USB 3.1, Qualcomm Spectra 160 ISP with 4K video capture support, QHD display support, Qualcomm's All-Ways Aware technology for improved battery efficiency while interfacing with virtual AI assistants and QuickCharge 4.0 standards for ever faster charging.
Qualcomm further clarifies that the two new SoCs share the same modem and camera architecture and are thus pin and software compatible. This makes it easier for OEMs to build, test and calibrate their devices which further makes it easier to differenciate models with different SoCs inside them with minimal compatibility issues. The Snapdragon 660 is available now to hardware partners and devices with the chipset will be shipping by end of this quarter. The Snapdragon 630 will be available towards the end of May and devices featuring the chipset will arrive in next quarter.