One of the best things about smartphone industry is that device manufacturers invest quite a lot in research and development while introducing a brand new model of smartphone for the consumers.  Samsung being the market leader is also not an exception. The South Korean electronics giant has recently introduced its flagship and much awaited smartphone – Galaxy Note 8.
This has come after Samsung's debacle with the Note 7 that had tainted a lot of reputation of the company. The Galaxy Note 8 is an attempt by the company to clean the "Galaxy Note" fame.  
Galaxy Note 8 comes with a lots of pre-installed apps that enhances the experience of the users of the smartphone. Samsung has the proprietorship rights over these apps. But that does not mean that these apps cannot be runned in other non-Samsung devices. A developer of popular forum XDA has given a solution by which these apps can be runned in other devices provided they are rooted and running Android 7.0 or later.
You will have to keep reading till the end of this article to know everything about the solution. Meanwhile, it should be noted that the Galaxy Note 8 smartphone is equipped with quite a lot of features that redeems for the price you pay for it. Excellent camera for professional-like photos, seamless app transitions, water and dust resistant and long lasting battery are just to name a few. The phone seems to carry the legacy of Samsung's Galaxy brand  that slightly was tainted by the Note 7 model. But what was wrong with the Note 7 model? Read below to know about it.
Samsung Galaxy Note 7: What went wrong?
Samsung GALAXY NOTE 7 was introduced in 2016 and was a successor of Note 5. Even though it was the 6th version of Samsung's Galaxy models, the company branded it as Note 7 , so that the consumers do not perceive it to be inferior to the  Galaxy S7. However, the Note 7 model has been discontinued now and SAMSUNG has stopped its manufacture.
The prime reason of the model's failure was its faulty design and battery defects that caused the Note 7 units to overheat and combust or explode. As there was repeated complaints of excessive heat that caused fire and explosion, SAMSUNG compelled to discontinue the Note 7.
Galaxy Note 8: the revival of Samsung's poster child.
The  Galaxy Note Series has enormous contribution in Samsung's journey to be the market leader in smartphone industry. Ever since its inception in 2011, the Galaxy Note Series has received a huge following among  people of all ages, gender, backgrounds, and geographies. Though Note 7 was a slight hiccup in the journey, Samsung came up with an upgraded version of the Note 7. The Note 8 is a charm from Samsung's house that came out of rigorous R&D, and testing.
Note 8 has undoubtedly compensated the debacle of Note 7 and helped SAMSUNG to be considered yet again as the leading smartphone manufacturer across the globe.

Note 8 Apps port on any Android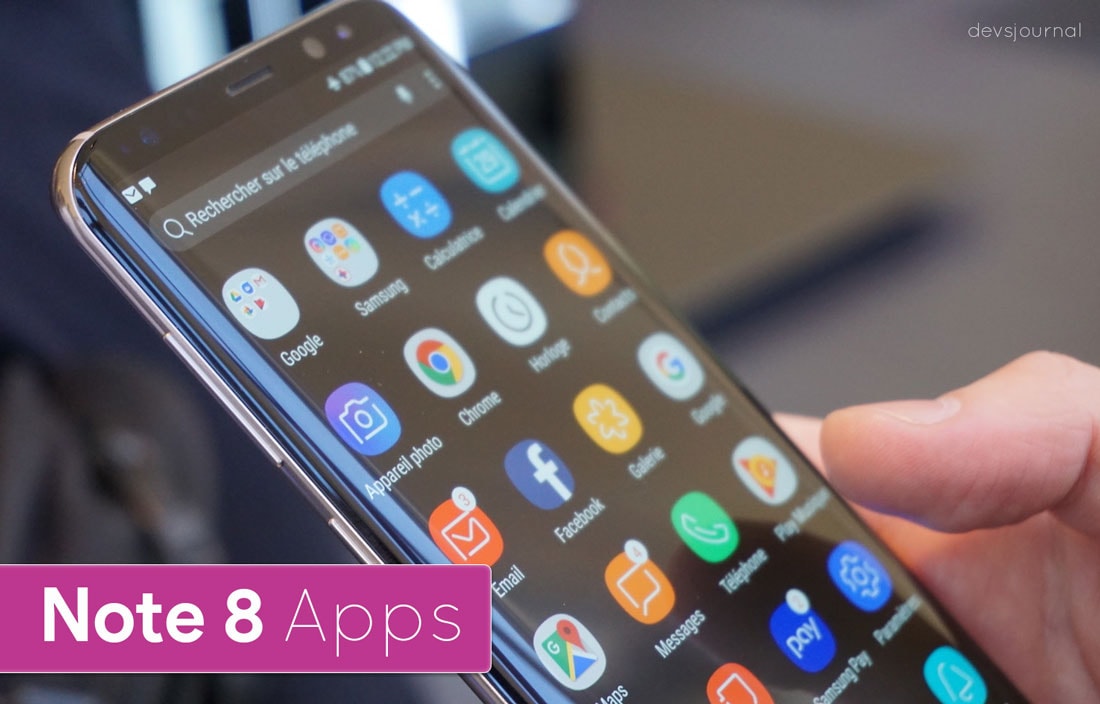 Now that you know a bit of SAMSUNG's Galaxy series, its time we discuss about those apps which we have mentioned at the starting of this article. Yes, you are right. We are referring to the bundles of pre-installed apps that come with SAMSUNG GALAXY NOTE 8.
Well, Note 8 has a plethora of amazing features and apps but comes with a hefty price to be paid for. If you are not ready to pay the price for the phone yet want to avail apps that are bundled with the device, then there is a solution for that.  As mentioned earlier, this solution was provided by a developer from the amazing forum XDA. The below mentioned steps and processes will let you know how you can enjoy the apps of Note 8 in any android device running on android 7.0+ (Nougat).

Disclaimer: We will not be responsible for any damage that might occur to your device while performing the following procedure. Therefore, proceed at your own risk.
How to port Note 8 Apps on any Rooted Android 7.0+ device
With the Android Note 8, comes a variety of features like Apps Pair, Edge Panel, Edge Lighting etc. These apps can be emulated in other devices with help of some 3rd party apps and a bit of tinkering.
First of all, download this zip file that contains all the Galaxy Note 8 apps. The zip file will give all the stock apps of Note 8. These apps include-
Phone and Contacts

Incall UI

Browser

Clock

Calendar

TouchWiz Home

Edge Lightning

Task Edge

People Edge

S Finder

Samsung Themes Store

Smart Manager

Keyboard

Gallery

Calculator

Weather
The latest v1.6 update of this zip includes updates of the incall UI,Messages app, Photo Studio, S-Finder and Game Launcher.
After you have the above file, uninstall the Samsung browser and Samsung calculator in your phone. Then reboot the phone in "recovery" mode  and press install. Find the zip folder that you downloaded just now and flash it.
That's it. You can now enjoy these apps available in Galaxy Note 8 from your own android device.
Installation Process:
Download the .zip from the link below.
Make sure to uninstall Samsung Browser (Internet) and Samsung Calculator.
Reboot your phone into "Recovery" mode.
Head to "Install" or "Install ZIP file from SD card".
Look for the ZIP file you downloaded, then flash it.
Reboot your device and enjoy.
Download: Note 8 ZIP file.
Now you must have anticipated well that the entire process is kind of risky and tiresome. Further with these tinkering there may be a significant influence in the performance of your phone. Porting of these apps may lead to decrease of battery life of your phone along with image-retention issues. Nevertheless, it will obviously give you the Galaxy experience without even owning a galaxy phone. Among all, the most impressive feature is the 'Apps-Pair' that lets open multiple apps simultaneously in multiple windows.
Finally, we would like to conclude by saying that we do not take any responsibility for loss of any kind, if in case you port the apps to your device.