The viral Android game, Pokemon GO has taken over the Internet like a storm. People who tried any games also started playing this game to catch Pokémon in the very world we live in, thanks to a combination of GPS, augmented reality, and dorky-cute graphics. The game is only available for Android & iOS. Features of Pokemon GO are pretty much similar to original Pokemon cartoon series. Catching Pokémon, battling at Gyms, using items, evolving your creatures — with a crazy twist: You're doing it all in the real world. Unlike any other smartphone app, Pokemon GO updates are not common but bring up major feature updates.
Details:
App name: Pokemon GO
Latest version: 0.55 (Android) | 1.25.0 (iPhone)
Update time: 30th Jan 2017
Pokemon GO Version 0.55.0 Changelog: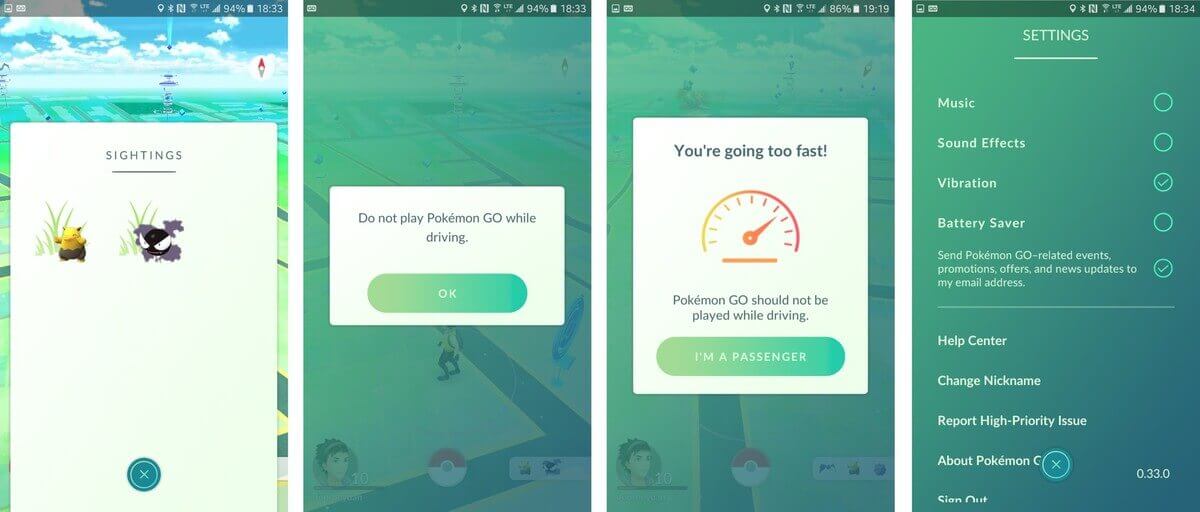 Yesterday, Niantic dropped a suprise update of Pokemon GO v0.55
Possible RAM Optimizations
We're seeing a number of updates that appear to target more efficient memory usage/garbage collection (e.g. optimizing music and 'fog').

Pokemon GO+ Device Fixes
Nothing ambiguous this time, there's some new code for the GO+ device that aligns well with the patch notes. This should help a lot of travelers connect easier and re-connect easier.
Ambiguous changes:
Critical Catch
Along with the elemental badges that appear during wild Pokemon encounters, a new term has appeared called the critical catch. No other code appears to support this, so we don't believe this to be anything big – but something new is (or will soon be) going on with wild encounters. Keep an eye out for what this could mean!
An Encounter Item?
This could be nothing (as all these 'Ambiguous' findings could be this round) but something was either re-written or added in regards to wild encounter items. It may be as simple as a backend restructure of the screen where you select a berry/ball, or it may hint to future additional functionality in wild encounters.

New Item Type: Candy Award
The code has seen (and we've all used) item types that boost XP (lucky eggs) and item types called 'inventory upgrade' – and most recently we've seen an 'evolution requirement' item appear.
This time, however, a new item type has appeared called 'candy award.'
This leads us to believe a whole new class of items may be on the way that award (not boost) candy for something, perhaps relating to buddy achievements…. Exciting stuff either way!
Unown Badge
A new badge has appeared in the code! This time just for Unown – which makes a ton of sense, if you ask us, as there's a ton of them!
Here's the official change log:
Reduced the starting load time on Android devices.
Resolved Android connectivity issues for the Pokémon GO Plus accessory.
Integrated iOS wheelchair support for use with Apple Watch.
Minor text fixes.
However, dataminers on the Silph Road Reddit page have uncovered plenty more details and upcoming changes to the game which were hidden in the games APK files.
It includes several more references to Gen 2 Pokemon, some new items and some all important fixes to the Pokemon GO Plus device, which Silph Road creator Dronpes explains should help "a lot of travellers connect easier and re-connect easier."
Also read: How to play Pokemon GO without moving (No root)
With this update, the game also introduces a change to the "Nearby Pokémon" box in the lower right of the screen, changing the wording to "Sightings", along with the graphics behind the Pokémon in your vicinity. While we're not sure how the new "Sightings" feature works just yet — and how different it is to the original "Nearby — we are exploring it and will update when we know more.