The Nokia 7 Plus is an upgraded version of the China-exclusive Nokia 7. The device once appeared by name on an APK teardown of the latest Nokia 5 camera app, but since left unheard of, until today. The device is expected to debut on MWC 2018 in Barcelona in the coming weeks but it has already been leaked in China including its specifications. Here is our detailed overview of the specs.
Qualcomm Snapdargon™ 660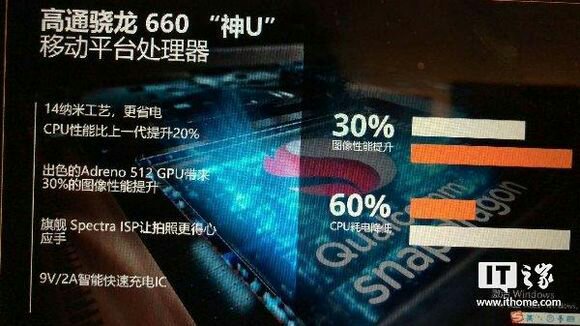 As per the photo provided, the Nokia 7 Plus will come with Qualcomm Snapdragon 660 CPU paired with Adreno 512 GPU and 4GB of RAM. For image and video processing, the Snapdragon 660 is equipped with 14-bit QualcommSpectra™ 160 ISP (Image Signal Processor), a co-processor that accelerates on-device processing.
The Qualcomm Spectra™ 160 ISP allows zero shutter lag, smooth zooming, optical zoom and faster autofocus. It can also support 4K video capture and playback at 30fps and is equipped with Qualcomm Hexagon 680 DSP (Digital Signal Processor) which incorporates HVX (Hexagon Vector eXtensions). HVX is designed to support higher camera performance by taking on tasks traditionally handled by the ISP through advanced computer vision and powerful yet efficient image processing.
18:9 Aspect Ratio Display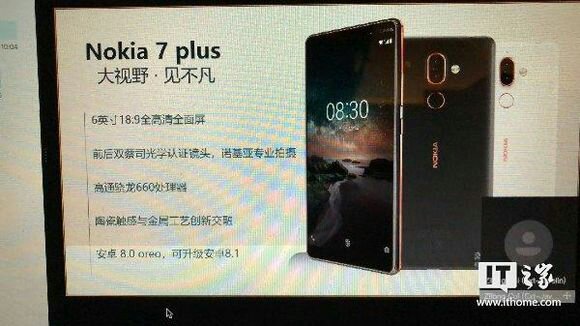 The Nokia 7 Plus will be one of the first Nokia Android phones to adopt to the 18:9 aspect ratio standard. The photo didn't show the type of display panel that will be used, but we don't see HMD throwing AMOLED for a midrange device. Although that is still possible. The screen size will be 6.0-inches.
Nokia Pro Camera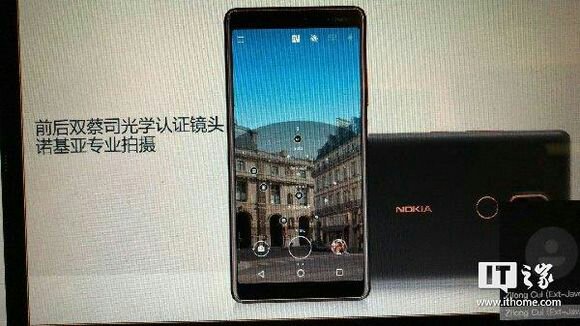 I'm very excited about this one. The marketing material also shows the Nokia Pro Camera similar to that of the old Lumia Camera. HMD has been criticized for its meager and feature-scant Camera app.
The photo provided is not in high-resolution so it is for us to build a conclusion. As per the count, there are six slider buttons similar to the Lumia Camera. As for the guess, the new camera app will allow us to control the brightness, shutter speed, sensitivity (ISO), focus, and white balance. Hopefully, there will also be an option for low contrast video recording.
Zeiss Cameras with Tetracell Technology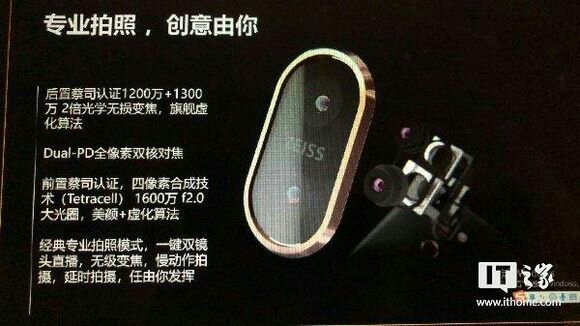 At the back, the Nokia 7 Plus will be equipped with 12+13MP Zeiss dual-lens configuration with f/1.8 aperture. It will have Dual-PD(Dual-Photodiode) which means each pixel on the two sensors were configured with two photodiodes. This will allow the sensors to absorb more light compared to typical single photodiode sensors with the same number of pixels.
The front will have 16MP selfie shooter with f/2.0 aperture equipped withTetracell Technology. Tetracell improves performance in low-light situations by merging four neighboring pixels to work as one to increase light sensitivity. In the simplest form, Tetracell allows the sensor to take brighter photos in the dark and more detailed ones in well-lit environments.
As mentioned, the Spectra™ 160 ISP supports 2x optical zoom and the Nokia 7 Plus will utilize it. As for the supplier of the camera modules, it is quite clear that Samsung has provided all the sensors for the Nokia 7 Plus taking into account the technologies that will be employed.
Nokia 7 Plus Specifications:
6.0-inch, 18:9 aspect ratio display
Snapdragon 660 CPU
Adreno 512 GPU
4GB of RAM
64GB of ROM
12+13MP Zeiss dual-lens rear-facing cameras with Dual-PD and 2x optical zoom
16MP front facing camera with Tetracell Technology
Nokia Pro Camera with Dual-Sight (Bothie)
Nokia OZO 360° Audio recording
Qualcomm Quick-Charge
Get notification about our latest updates, leaks, hacks & exciting offers in realtime!