Qualcomm had only last week refreshed its mid-range line of chipsets for the year with the announcement of the Snapdragon 660 and 630 SoCs. The Snapdragon 660 succeeds the erstwhile Snapdragon 65X series chipsets while the latter is replacing the Snapdragon 62X series. What Qualcomm has changed in the equation is how it has outfitted the Snapdragon 660 series SoC with custom Kyro 260 cluster based CPU's vis-á-vis its predecessor having ARM Cortex A-72 and Cortex A-53 cluster based CPU's. The CPU was polled to be running effectively @1.84GHz during both these tests.
Now the Snapdragon 660 has shown up on the Geekbench benchmark site in what appears to be a proof of concept smart device with an unknown motherboard and 3 GB of RAM. It offers a 20% increment in CPU performance and 30% improvement in GPU performance vis-á-vis the older Snapdragon 65X series SoCs. This can be attributed to the Kyro 260 cluster based CPU's on the chipset with a quad-core cluster clocked @1.8GHz and the second quad-core cluster clocked @2.2GHz. The chipset features an Adreno 512 GPU and is manufactured on the same 14nm LPP process as its predecessor. In comparison, the older Snapdragon 653 SoC was composed of a quad-core cluster of Cortex A-72 for performance intensive tasks and another quad-core cluster of Cortex A-53 for relatively lighter workloads which could theoretically clock as high as ~1.9GHz.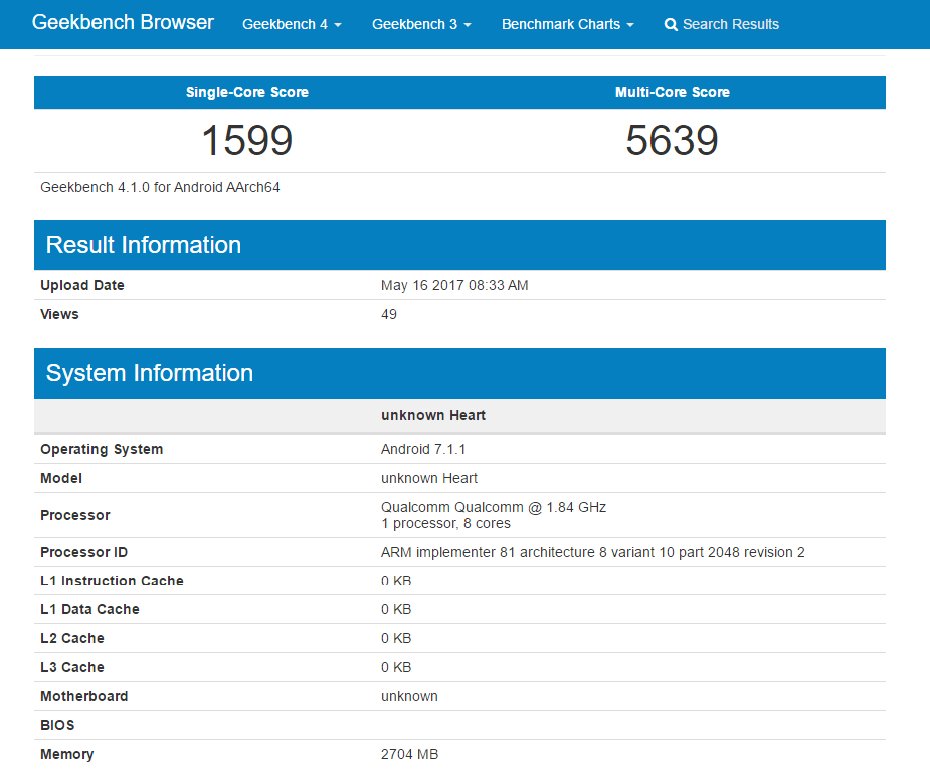 In the image above, we can see the Qualcomm Snapdragon 660 being put through its paces by Geekbench where it posts scores of 1599-points in the single-core tests and 5639 in multi-core tests respectively. When one compares these to yesteryear flagships like the Xiaomi Mi 5S and Mi 5S Plus equipped with the Snapdragon 821 SoC we can see that the former chipset has really narrowed the gap between itself and a former flagship level chip which only means better performing cheaper handsets for the masses in the coming days. This also implies that the upcoming smart devices featuring this new SoC will definitely not be slouches in the performance department and can give a good account of themselves vis-á-vis the late release flagships of last year/this year. We can expect devices equipped with the Snapdragon 660 chipset to ship in the later half of Q2 of this year.
Read More: Qualcomm has unveiled the Snapdragon 660 and 630 SoC
What do you think of this disparity in performance? Do let us know in the comments below and remember to follow us on our social media to keep up to date with the latest in the world of Android.