The Chinese Smartphone manufacturer, OnePlus has started rolling out new Beta update 17/8 for its flagship devices, OnePlus 3 and 3T. Unlike the previous updates, this new update brings lot of new features like new OnePlus Fonts, Ambient display 2.0, Lift up display & lot more. Along with new features, this new beta update brings in some necessary improvements like UI & Performance improvements.
The new additions would include Ambient display 2.0, lift up display (to prevent accidental wakes) and a direct sharing functionality for 'Shot on OnePlus'. Along with this, an all new OnePlus Fonts available only for English, Chinese and Japanese languages. This seems some really nice addition for a change.
Talking about the User Interface (UI) improvements in this update, it comes with updated and improved Gallery (v1.7), Recorder (v1.6), Weather app (v1.7), File Manager (v1.7) and Other UI refinements.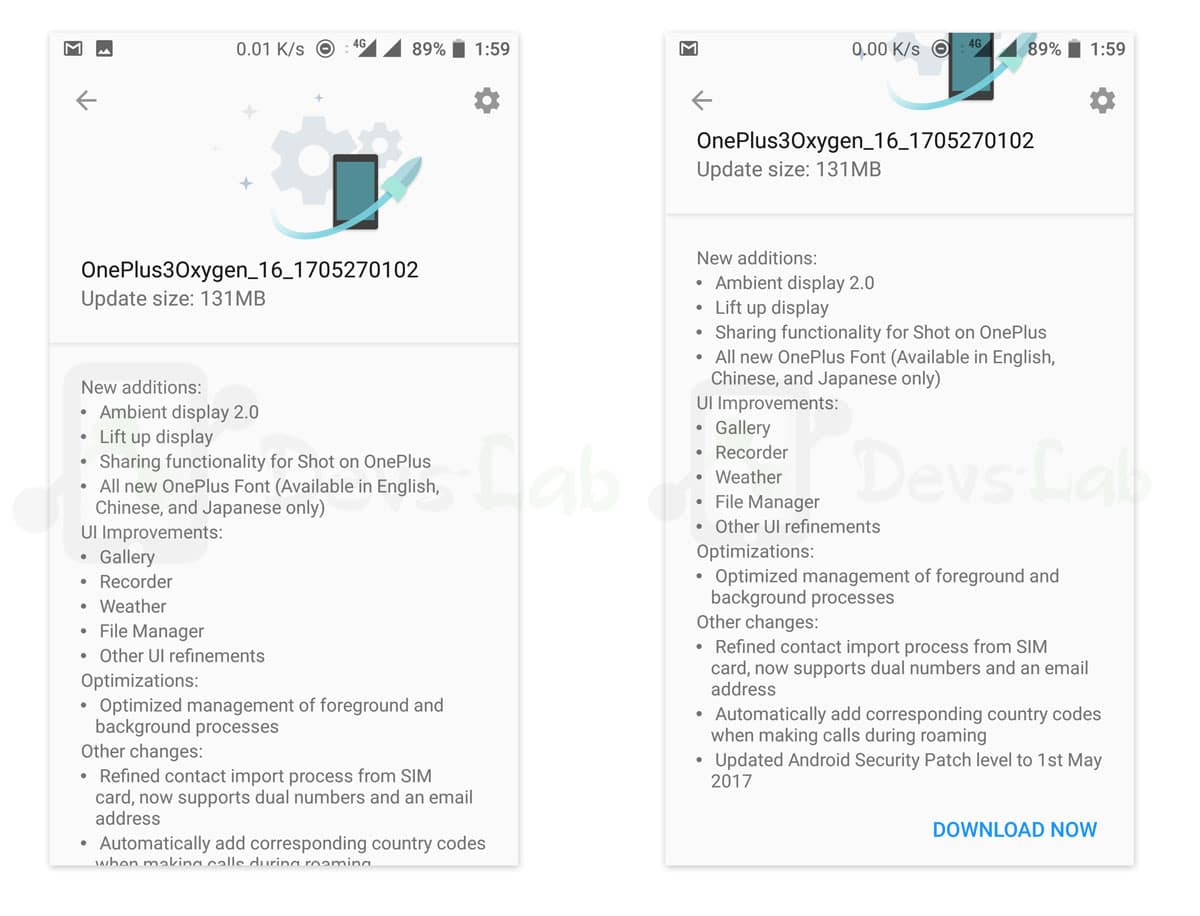 In case of performance optimizations, this new update provides much better launching speed of 3rd-party apps. There's also better management of foreground and background processes to improve the overall RAM management of the device. The previous beta update did bring some performance bugs which are fixed now.
Other changes that one might not notice includes, Setup wizard adjusted to suit the style of Android 7.1, Refined contact import process from SIM card, now supports dual numbers and an email address, Automatically add corresponding country codes when making calls during roaming and Updated Android Security Patch level to 1st May 2017.
Features explanation: 
Ambient display 2.0

Lift up display

: These two are a new implementation of Ambient display, meant to help stop accidental wakes while pulling the phone out of your pocket. Activation of the screen now requires a "double tap" action. While lift up display does exactly what it says, it turns on the screen to peek at notifications when the device is lifted.

Sharing functionality for Shot on OnePlus

: You are now able to share the cool pictures you find in the Shot on OnePlus section in wallpapers
All new OnePlus Font (Available in English, Chinese, and Japanese only). There is now a Font switcher setup in settings.
Enhanced launching speed of 3rd-party apps
Things are faster now.
OnePlus 3 Beta 17 ROM
Device 

OnePlus 3

Version 

Open Beta 17

Update time 

2017-06-01

File size 

1.49 GB

Beta 17 ROM: Download
OnePlus 3T Beta 8 ROM
Device 

OnePlus 3T

Version 

Open Beta 8

Update time 

2017-06-01

File size 

1.49 GB

Beta 8 ROM: Download
As always, if you want to receive updates of beta ROMs in your device, you need to flash beta ROM through OnePlus's Recovery. If you're already using the Beta version, you just need to force "Check updates" to download the new version. But beta ROMs come with some bugs which you might find annoying during your daily usage.