Last week it was reported that OPPO planned to launch the OPPO F3 and F3 Plus on 23rd March. Launched with dual-cameras on the front the devices' take over the moniker "Selfie Expert" and ideally should supersede the current F1s in the market. Today the OPPO F3 Plus was leaked on the site GFXBench.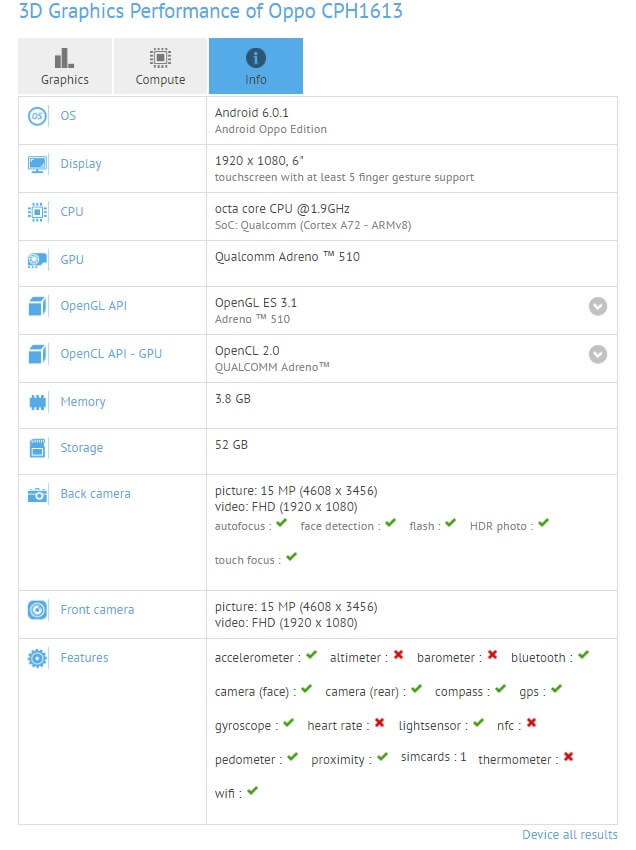 With this leak we can corroborate a lot of the information regarding the last leak, especially the hardware specification of the device. The device has been confirmed to have a Qualcomm Snapdragon 635 SoC coupled with 4 GB of RAM and 64 GB of internal storage. The device is also tipped to have a 15-megapixel rear and frontal sensor package with no details on the secondary front camera. Finally the F3 plus is rocking a full HD 6-inch display. To round out the hardware package, the smartphone has a 4000mAh battery-pack and will feature a microSD card to complement the internal storage.
ReadMore: OPPO F3 and F3 Plus specifications leaked along with reveal date
As we can see from the above image, on a hardware front depending on how the device is priced it is more than capable of holding its own. What lets the F3 Plus down though is not the hardware but the software as OPPO has decided to ship it with a skinned flavour of v6.x, Marshmallow instead of the more up-to date v7.x, Nougat.
Follow us on our social media to keep up-to date with the latest in the world of Android.