We know that OnePlus plans to launch the upcoming OnePlus 5 on the 20th of June. We are also aware that the company plans to hold an India-centric event on the 22nd of June, in Bombay. Mostly all we expect till then is a steady stream of leaks confirming various tidbits of information but it seems that OnePlus is already maintaining a leg up on the scene. Now just 10 days from launch, a confirmed OnePlus 5 has shown up on Geekbench's database.
Geekbench leaks are vital not only to know what might be in the pipes but also in confirming the internal hardware. The handset is listed as the ONEPLUS A5000 in the database (screenshot below). It confirms various hardware speculations, like the chipset at the heart of the handset, the amount of RAM and what version of Android is being run. The OnePlus 5 is shown being powered by the Qualcomm Snapdragon 835 SoC with an octa-core CPU coupled with 8 GB of RAM and listed as running Android v.7.1.1, Nougat. This, as you must know, is one of the two variants of the OnePlus 5 that will be released.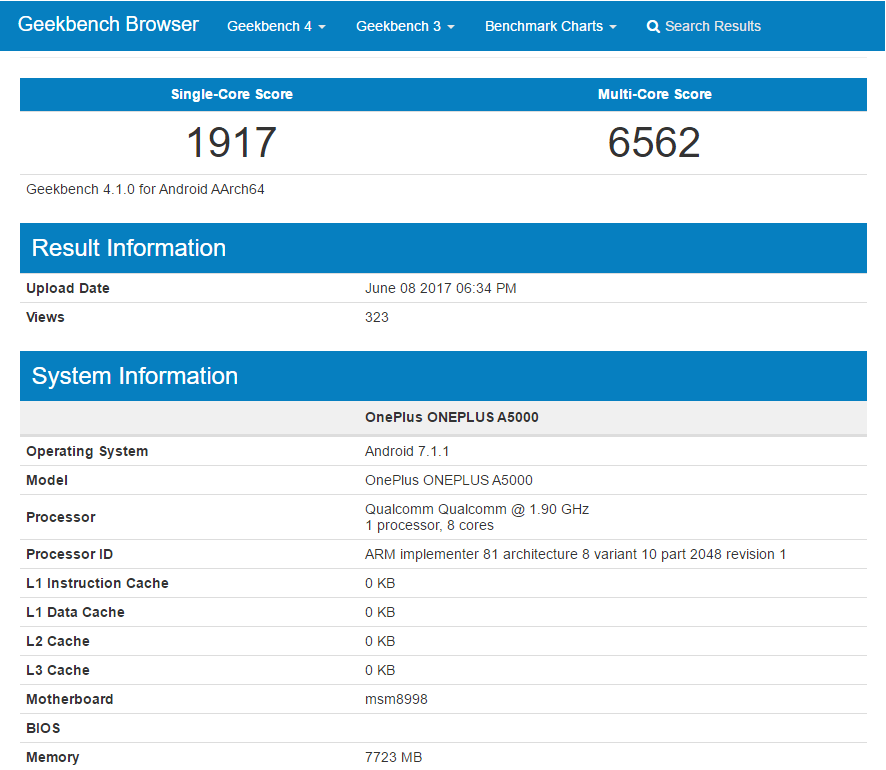 From the screenshot, we can see that the OnePlus 5 performs commendably. Posting scores of 1917 points in the single-core and 6562 points in the multi-core tests respectively which fall in line with most Qualcomm Snapdragon 835 powered handsets. These scores are a little lower than the ones that were posted by a rumoured OnePlus 5 which beat the Samsung Galaxy S8 in an earlier unverified Geekbench listing.
Apart from this, it is hinted that the battery on board the handset is a 3300mAh battery and the flagship killer is expected to carry a dual-camera setup at its back.
Read More: OnePlus 5 might be priced a bit higher than anticipated
Follow us on our social media to keep up to date with the latest in the world of Android.