The OnePlus 5 is one of the most anticipated launches of this month and OnePlus has been firing all cylinders to hype the masses prior to launch. One of these steps has been the CEO's and co-founders constant engagement with the fan base one of which recently involved Pete Lau (co-founder and CEO) posting on weibo stating that UFS (Universal Flash Storage) memory was fast becoming a talking point.

While not confirming whether the OnePlus 5 would be carrying UFS memory or not, it is odd to bring the point up if the upcoming flagship killer features regular eMMC (embedded Multimedia Card) memory chips. Having UFS storage onboard will definitely make the handset feel more responsive considering it allows simultaneous read and write capabilities which something which is not possible with eMMC. But this will also make the entire smartphone that more expensive to produce since the component cost itself is higher.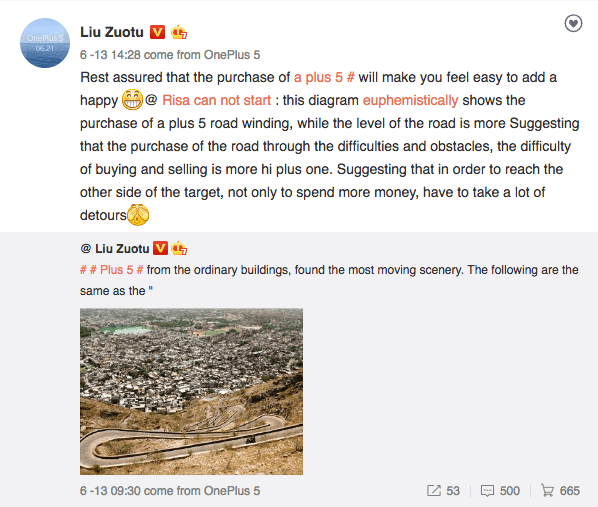 While we are on the topic of engagement with users, Pete Lau also reassured fans that it will not be difficult to get their hands on the OnePlus 5. Something which was spurred on by the rumours of the company bringing back an invite system for purchasing the handset. This is further compounded by the fact that the OnePlus 5 features the Qualcomm Snapdragon 835 SoC which has had spotty supply for sometime.
Read More: OnePlus 5 pre-booking started in China
Another major concern though is that the upcoming NEVER SETTLE handset is tipped to sport a price tag of ~$615 which is a far cry from the original OnePlus handset coming in at $349. The smartphone has a slim ~$35 separating it from the HTC U11 which is priced at $649.99 in the US. Whether the OnePlus 5 shatters any flagships is yet to be seen but the pricing might leave people disappointed.
Follow us on our social media to keep up to date with the latest in the world of Android.