OnePlus is all set to launch the OnePlus 5 which is the next flagship smartphone from the company. Earlier, OnePlus launched the OnePlus 3 and later the OnePlus 3T which have received high praise from all corners of the world due to its flagship specifications at a lower price tag than the flagship phones. The OnePlus 5 is also expected to be the premium smartphone with a not-so premium price tag. We have already seen many teasers from OnePlus itself when it comes to the OnePlus 5. The company has already revealed that the phone will be called OnePlus 5, it will be powered by Snapdragon 835 processor. OnePlus also recently teased the camera prowess of the OnePlus 5.
Now that everyone is waiting for the launch date of the smartphone, there have been several leaked posters coming from Weibo which suggest that the OnePlus launch date may be set for June 15. The first of the leaks is an internal mail which says that the OnePlus is releasing June 15 so the marketing campaign has to be made faster.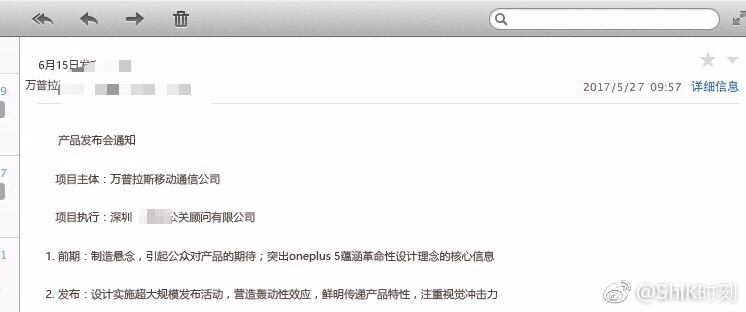 Also we have seen poster leaked on Weibo which also confirm the previous rumors that the OnePlus 5 will indeed be launching on June 15. The poster also reveals the time of launch of OnePlus 5 smartphone for 3:00 pm according to the Chinese timezone.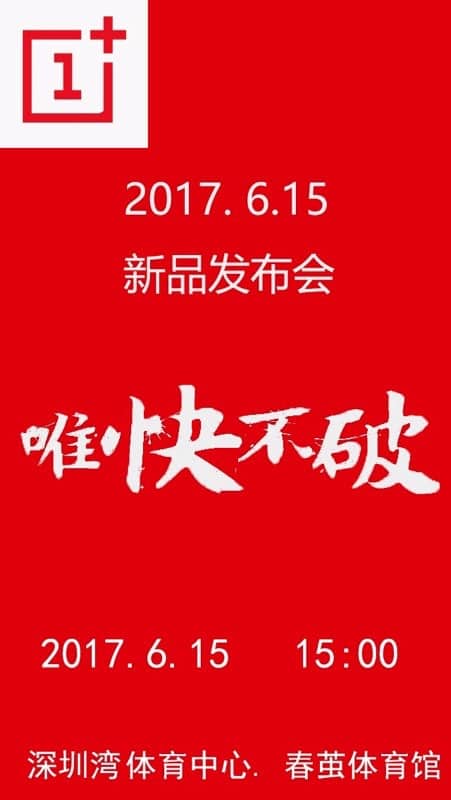 The OnePlus 5 is confirmed to be coming this Summer as the company has already confirmed it earlier. The OnePlus 5 will come with dual-camera setup and upto 8GB of RAM. The pricing of the phone is expected to be around $450 but we will have to wait for details about the smartphone as we know more.