One of the most notable innovation in mobile imaging is the PureView Technology. Originally developed by Nokia and Zeiss back in 2012 (and later by Microsoft Mobile), Pureview features a dedicated on-chip image processor that performs image scaling with oversampling to achieve a lossless digital zoom. The first smartphone to use the technology is the Nokia 808 PureView, which features a whooping 41MP sensor. While it sounds gimmicky, the large megapixel count is actually necessary for the smartphone to achieve a digital zoom without compromising the overall image quality. PureView continues with the Lumia line-up even after Nokia sold its mobile division to Microsoft in 2013.
With Nokia's surprising comeback to the smartphone world this year, fans are hopeful that the new company, HMD Global which licensed the Nokia brand, will produce smartphones that will at least carry the Zeiss name at the back. The launching of three Nokia smartphones on MWC 2017 last February somehow disappointed the existing PureView fans not seeing any Zeiss branding at the back of these devices. However, during a Twitter conversation with its fans, HMD a.k.a Nokia Mobile did say that they are not closing any doors for a possible partnership with Zeiss in the future.
It was this month when Zeiss and Nokia Mobile (HMD Global) officially announced via their social media accounts that a long-term partnership deal was signed by both of the companies. It was later substantiated by recurring leaks of Nokia 8 showing a dual Zeiss-branded camera at the back. While the leaked photo seems to shows us a normal dual-camera setup (except that it has a Zeiss branding), others speculated that one of these cameras will have a rotating lens inside, citing the video teaser which Nokia and Zeiss released during the announcement.
Nokia smartphones to feature ZEISS optics. Together, we look forward to an exciting journey into the future of smartphone imaging. pic.twitter.com/GNWwuMAveK

— ZEISS Camera Lenses (@ZEISSLenses) July 6, 2017
While it seems impossible due to relatively thin sizes of the modern smartphones, Zeiss did filed a patent for that kind of mobile imaging technology two years ago. The patent discovered by WinFuture was filed at the German Patent and Trademark Office in 2015 and was made public in March. The patent shows a circular disc containing number of the same holes later referred to as lenses. These lenses has various magnification levels and the disc should rotate depending on the extent of magnification you want to achieve. Zeiss called this technology as "miniaturized zoom camera".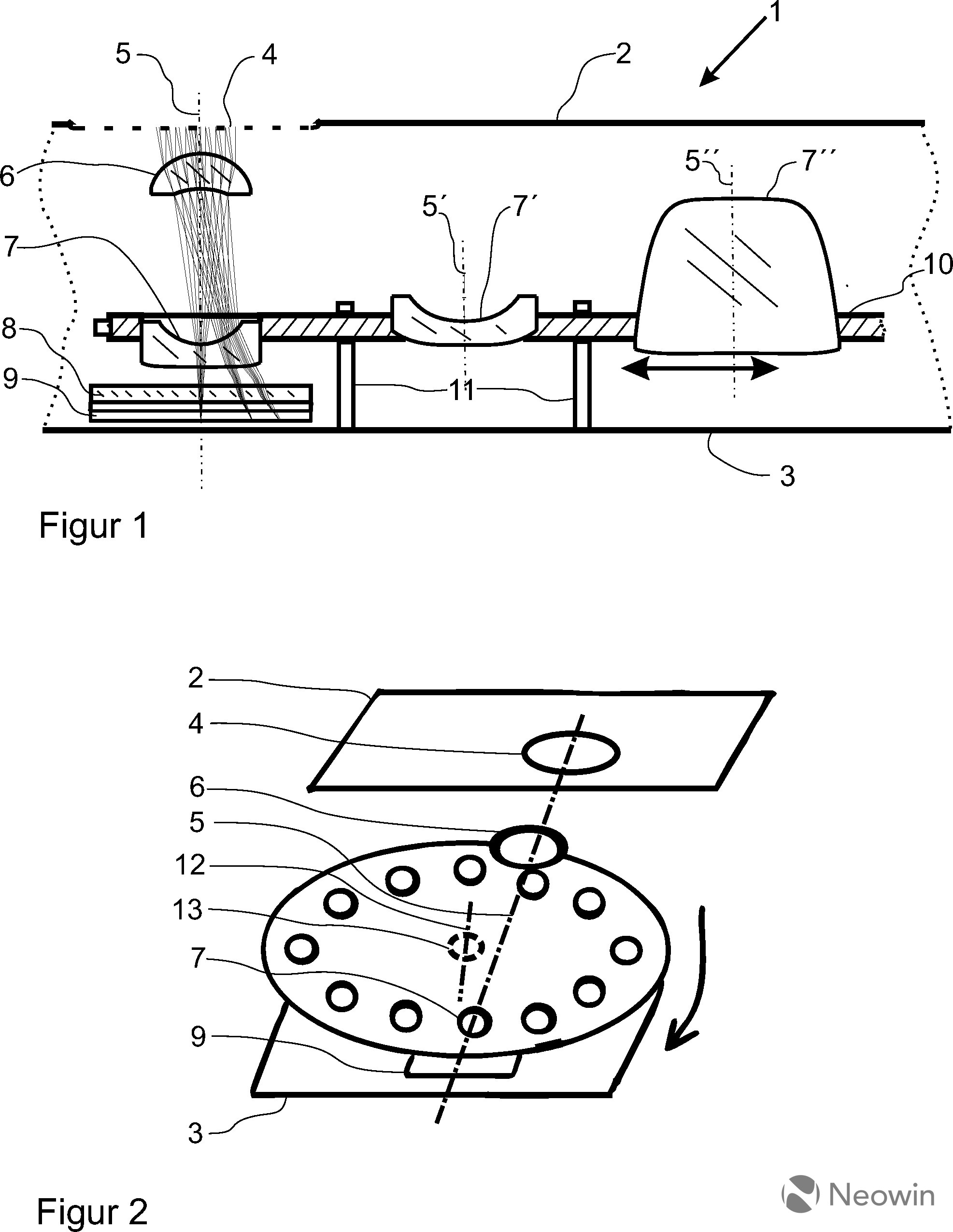 The Nokia-Zeiss tandem is known for pushing the boundaries of mobile imaging and while this is just a patent for now, the possibility will always be there.