According to the rumors that are doing the rounds on the web, HMD Global, the company that has exclusive rights for manufacturing Nokia branded phones is all set to launch two new flagship smartphones for 2017 powered by Android.
Nokia already took stage at the MWC, 2017 in Barcelona and launched a series of new phones powered by Android. The new phones which launched with the Nokia brand name were the Nokia 3, Nokia 5 and the Nokia 6. Nokia also relaunched the Classic 'Nokia 3310' which created more hype than any other phone launched at the MWC.
Also Read :Nokia has announced Nokia 3, Nokia 5, Nokia 6 & the legendary Nokia 3310
Nokia's new phones, the Nokia 3, 5 and 6 are by no means flagship phones with the highest among this phones being the Nokia 6 powered by a 1.1GHz octa-core Qualcomm Snapdragon 430 processor processor and 3GB of RAM.
The fans of Nokia brand have been waiting for a true flagship smartphone from the company and now we have some details about the flagship phones that Nokia is planning to launch in June of this year. According to reports from the Chinese site MyDrivers, Nokia is preparing to launch two flagship smartphones powered by the latest Qualcomm Snapdragon 835 chipset. One of the phones is tipped to have atleast 6GB of RAM with a dual-rear camera setup. The other phone may feature a smaller screen with 4GB of RAM.
Nokia has already publicly stated that they are no longer going to use Carl Zeiss technology in their smartphones. This means that the next flagship phones are guaranteed to be devoid of Carl Zeiss technology. This smartphones are expected to have 'atleast' 23 MP camera.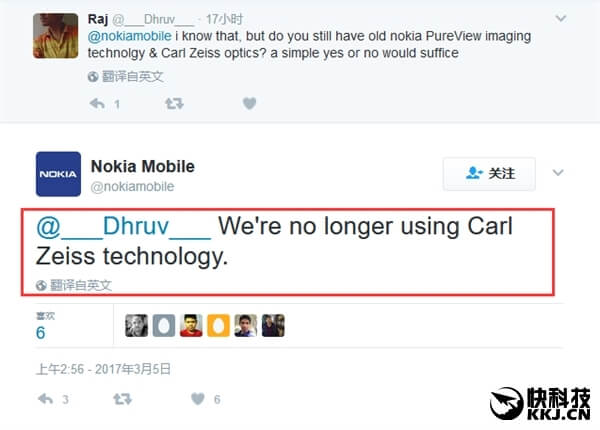 With the launch of this phones, Nokia is directly in a race to compete with the likes of Oneplus, Samsung and LG who are going to release their flagship phones at the same time. Nokia will expect to have great sales of this phones and if they get the pricing correct then it certainly would be a big hit. Stay tuned for more.