HMD's highly anticipated flagship smartphone, the Nokia 8, was caught in the wild again. While we have seen some alleged photos of the said device, none of it's rumoured specifications are confirmed to public. But seems like the assumptions are real as three variants of Nokia 8 appeared on two of the popular benchmark websites today.
The model numbers TA-1004, TA-1052 and TA-1012 are familiar to most of us as they recently appeared on Geekbench before. We all know that Nokia 8 will be housing the powerful Snapdragon 835 and three possible RAM numbers (4GB/6GB/8GB), but there is a little information regarding the display or sensors the device will be implementing.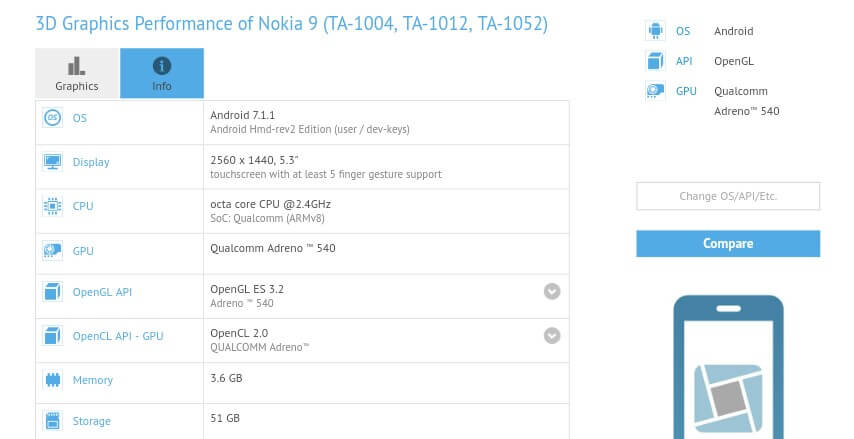 On GFXBench, instead of Nokia 8 the database shows Nokia 9 which is a little strange. According to the database, the Nokia 8/9 will have an octa-core CPU clocked at 2.4GHz. The device will also come with the latest Android 7.1.1 Nougat out of the box and will have a Snapdragon Adreno™ 540 GPU. All of the variants will be utilizing a 4GB of RAM and 64GB of expandable on-board storage. While the 6GB or 8GB of RAM sounds overkill, I actually don't like the idea of having the same RAM number than it's recently released midrange devices.
The display will be 2560×1440 (2K) with at least 5 finger gesture support. We expect the display to be based on IPS LCD technology, but reports last month points out Sharp's ultra low power IGZO display. The database also mentioned about a 12MP front and rear-facing cameras that is both capable of 4K video recording.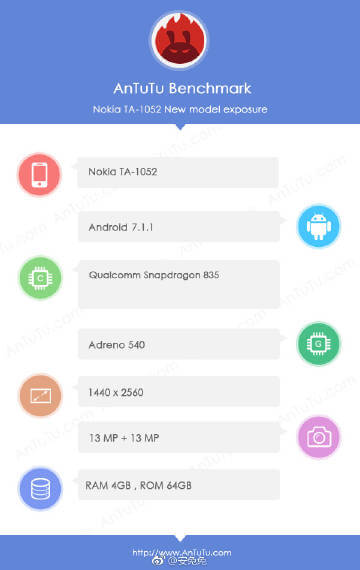 The same specs also appeared on AnTuTu except that of the camera which according to the website will be a dual 13MP. HMD and Nokia will unveil the Nokia in London on August 16 along with the feature phone Nokia 3310 (3G) and the ultimate budget smartphone, Nokia 2.