Since HMD Global has launched its current catalogue of smartphones across the world, all eyes are set on the company's next move. Rumours abound about the next NOKIA smartphone to be released. These include rumours of the high-end and mid-range NOKIA 8 and NOKIA 7 and it is the former we are more interested in. There has been a steady stream of information regarding the upcoming NOKIA 8 which was recently found out to be the high-end TA-1004 which has been at the centre of many an earlier leak.
Earlier in the day, noted tipster Evan Blass had taken to Twitter to post information regarding the upcoming NOKIA's rear dual camera setup, provided by you guessed it, Carl Zeiss. This was followed up by a tweet couple of hours later showing the NOKIA 8 in its entirety.
#teaser pic.twitter.com/zh5YJznaaY

— Evan Blass (@evleaks) July 17, 2017
In a nutshell, the NOKIA 8 looks a lot like the NOKIA 6, which can either be looked as the company cheapening out or instead as the company committing to a certain aesthetic. According to the images (above) we can see that the NOKIA 8 will not get a curved display or a glass framed metal chassis but instead would be a solid aluminium design. And although one can argue that Samsung's Galaxy S8 might look like a stunner, HMD's NOKIA 8 will trump it in the physical resilience department.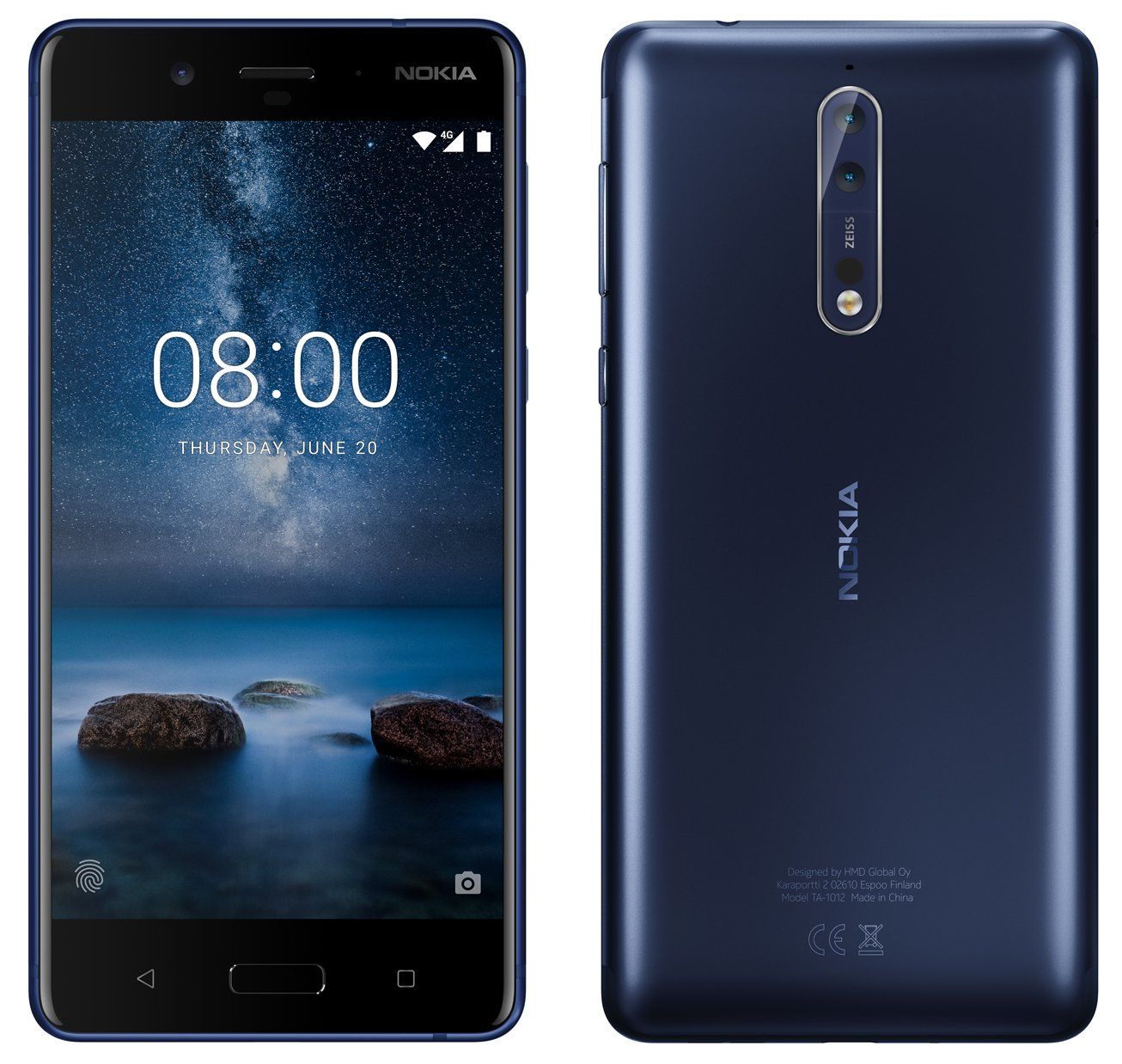 The leaked NOKIA 8 comes in a blue finish, the front is dominated by the display with curved edges wrapping into the edges. The home button below which will likely house the fingerprint sensor is flanked by capacitive touch buttons á la the HTC U11. Above the display, you can notice the earpiece flanked by the selfie camera and what looks like a proximity sensor below.
Flip the phone over and your attention is drawn towards the dual camera setup provided courtesy Carl Zeiss as mentioned with a CCT dual-LED flash. The entire module seems to be under a single piece of glass. Below the camera is the legendary Finnish companies logo below which is some manufacturing information but nothing more. If you notice carefully, HMD Global has retained the 3.5mm audio jack for the device as well in the top-right of the handset.
Read More: Registration for the NOKIA 6 are underway for the 23 August flash sale
Surprisingly the model number on this device is TA-1002 and not TA-1004. This is in contradiction to the fact that the NOKIA 8 was the device carrying the latter model number but we shall know more as we draw closer to the launch and would be sharing the same with you.
Follow us on our social media to keep up to date with the latest in the world of Android.