It was expected that Reliance Jio would hike prices in the latest tariffs updated on October 19. Thus, the prediction was correct. The 1-year old telco now has a Rs 459 plan that offers benefits of the previous Rs 399 plan. That doesn't mean the Rs 399 plan has been phased out. It remains but has been modified with less validity. The plan will now run for 70 days instead of 84 days offered previously. Other incentives like 1 GB data per day and unlimited voice calls remain the same.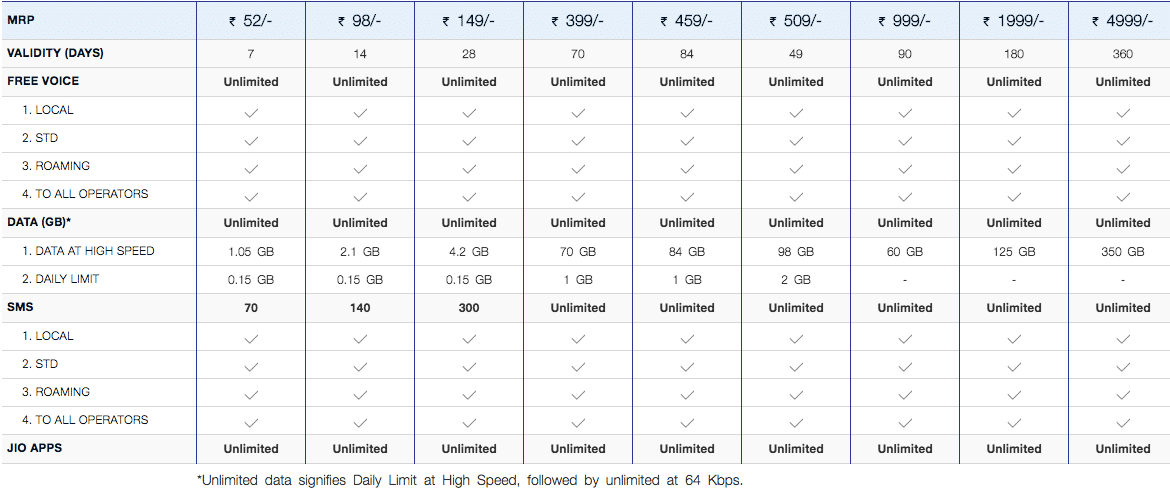 The new Rs 459 plan, presumably brings users 1 GB data/day and unlimited voice call for 84 days. The bundle also comes with access to all the Jio apps such as JioTV, JioCinema, JioMusic, etc. The mood spoiler here is the new FUP limit. The new limit is now 64 Kbps half of the 128 Kbps that users enjoyed earlier. We understand the price hike was inevitable and it would also be essential for the company to remain afloat but the decreased FUP limit doesn't look good.
Among other changes is the introduction of two affordable plans of Rs. 19 and Rs. 52. Both these plans offer unlimited voice and 70 free SMSes. The Rs 19 plan valid for a day gives 0.15 GB data. While the Rs 52 plan running for 7 days also gives 0.15 GB data per day but for 7 days. Additionally, the Rs 149 plan has been modified to present 4 GB data for 28 days and per day data cap of the plan is revised to 150 MB. Earlier the same plan offered 2 GB data.
These new changes will be in force from October 19for both new and existing subscribers. We'll leave you a table of the latest tariffs here so you can see all the latest changes but we've covered all the major stuff here.